Thanks to Litfuse this is my second review in a very short period of time and I still have one more coming up as well! If you didn't catch my review of Sue Ellen's Girl Ain't Fat, She Just Weighs Heavy, take a moment and check it out! Also look out for my review of My Foolish Heart!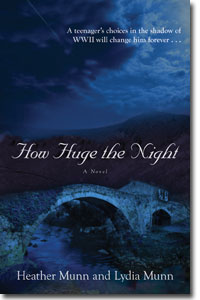 About How Huge the Night:
Fifteen-year-old Julien Losier just wants to fit in. But after his family moves to a small village in central France in hopes of outrunning the Nazis, he is suddenly faced with bigger challenges than the taunting of local teens. Nina Krenkel left her country to obey her father's dying command: Take your brother and leave Austria. Burn your papers. Tell no one you are Jews. Alone and on the run, she arrives in Tanieux, France, dangerously ill and in despair.
Thrown together by the chaos of war, Julien begins to feel the terrible weight of the looming conflict and Nina fights to survive. As France falls to the Nazis, Julien struggles with doing what is right, even if it is not enough-and wonders whether or not he really can save Nina from almost certain death.
Based on the true story of the town of Le Chambon-the only French town honored by Israel for rescuing Jews from the Holocaust – How Huge the Night
is a compelling, coming-of-age drama that will keep teens turning the pages as it teaches them about a fascinating period of history and inspires them to think more deeply about their everyday choices.
About the Munn's:
Heather Munn was born in Northern Ireland and grew up in southern France where her parents were missionaries like their parents before them. She has a BA in literature from Wheaton College and now lives in a Christian intentional community in rural Illinois, where she and her husband, Paul, host free spiritual retreats for the poor, especially those transitioning out of homelessness or addiction. When not writing or hosting, she works on the communal farm.
Lydia Munn, daughter of missionary parents, grew up in Brazil. She received a BA in literature from Wheaton College, and an MA in Bible from Columbia Graduate School of Bible and Missions. With her husband, Jim, she has worked in church planting and Bible teaching since 1983, notably in St. Etienne, near the small town in the central mountains of France which forms the background of How Huge the Night. The Munns now live in Grenoble, France.
Brief Character List:
Julian Losier
Papa- also the history teacher at school
Mama- Maria
Magali- Julian's younger sister
Benjamin Keller- German/Jewish boy – parents paying for him to live with the Losier's
Henri Bernard- (called Henri Quatre – Henry the Forth, King of France in the fifteen hundreds) a popular bully at school
Pierre Rostin- school mate
Gilles Perrault- school mate
Roland- school mate
Nina Krenkel- born 7/8/1924, Jewish – disguised herself as a boy and called herself Niko
Gustav Krenkel- Nina's younger brother
Notable Quotes:
"Do you know what it's called when you hate something you know nothing about? It's called prejudice."
In Papa's devotions he says of Joseph forgiving his brothers for the evil they had done, "That's how I know I didn't invent God. A God I invented wouldn't let evil men have their way. The real God does. And works it for good. Let's it look like he is doing nothing – and comes through in the end. I believe this: he always has, and he always will come through, with good, in the end."
Julien of getting Gustav out of town: "the strange moonlit walk; He'd started out feeling like a commando-hiding a fugitive from the enemy-but the night was so huge and the two of them so small, in the dark of the woods."
My Thoughts:
I was interested in reviewing How Huge the Night
as a possible book for my daughter to read. I find that history can be more interesting if there is a name and a face to it; a story behind it.
I found this book to be very strong in conveying a sense of integrity and responsibility through Julien, the main character. He certainly was not perfect, but he sought to make better choices, and be a good person. You found him struggling with himself to treat even his enemies (like Henry) in a loving manner, as well as realizing that despite how unpopular it made him that he needed to stand behind the injustices being done to the German/Jewish boy Benjamin who was living with him.  Even the child you started out feeling negativity towards, Henry, turned himself around to stand for what was right.
Where I feel How Huge the Night
 fell short was in completing the story. While it conveyed a sense of certain larger historical principles like the Nazi hate for Jews, how scary and desperate the life of a refugee could be, and how totally life could be changed by the taking over of a large political mass, I felt as though there was no real end to the story. The book dealt so beautifully with the daily life and struggles of these children during a horrific war time, but I came to the end of the book feeling no real resolution to the lives of these characters.
Disclosure: I want to thank the Munn ladies and Litfuse for the opportunity to review this book. I received a free copy of the book for review. However, my opinions are my own and have not been influenced in any way.