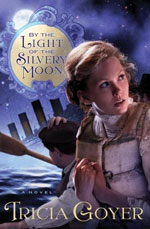 About By The Light of the Silvery Moon:
Amelia Gladstone's hopes are tied up in the Titanic — hopes for a reunion with her sister and an introduction to an admirer. But when she offers a spare ticket to a down-and-out young man, her fate is about to change.
Quentin Walpole is stunned when a sweet lady secures his passage to America — and even more surprised to find his wealthy father and older brother on board the ship.
Suddenly Amelia finds herself caught between the attentions of two men, but who should she entrust her heart to? As the fateful night arrives, will Amelia lose everything to the icy waters?
Watch the video Trailer:
About Tricia:
Tricia Goyer is the award winning author of thirty-two books including Beside Still Waters, Remembering You, and the mommy memoir, Blue Like Play Dough.
Tricia is a regular speaker at conventions and conferences and is the host of Living Inspired. She and her family make their home in Little Rock, Arkansas where they are part of the ministry of FamilyLife.
More info: Living Inspired and www.triciagoyer.com.
Purchase By the Light of the Silvery Moon
What I Thought:
I should probably start this by saying that I LOVE anything Titanic! I have been so fascinated with it for many years. Thus when I had the chance to review this book, I just couldn't refuse. All the details surrounding what the Titanic was like were so interesting. At one point you are given a glimpse behind the scenes on the huge ship by one of the workers on the Titanic. It was an unusual twist that I found gave some neat insight into the side of the ship you might not normally see.
As far as the characters and the story itself, I had a hard time buying into it. Amelia just didn't feel as though she had any real depth. Her struggle over "1st class" and "2nd class" seemed trite. I just never really felt connected to them, their stories, or their plights. Despite this, I read the book cover to cover and overall enjoyed the book, but more for the time period, and setting details than for any emotional engagement in the characters.
Check out what other reviewers on this Blog Tour are saying.
Disclaimer: I want to thank Tricia Goyer, and Litfuse Publicity for supplying me with a copy of this book for me to review. While I received this free of charge in exchange for my review, my opinions are my own, and have not been influenced in any way.