The idea of the cloud has been around a long time. It used to be called managed services. With the introduction of high speed internet access everywhere and technology at the tip of our fingers, inexpensive access to "The Cloud" is now a reality, and one that should have bloggers considering the My Cloud EX2 from Western Digital.
Many companies have tried to implement "The Cloud" and they have, to some degree of success. What I want to focus on is a fantastic, easy to use product – My Cloud EX2 that was graciously provided to me for review by Western Digital.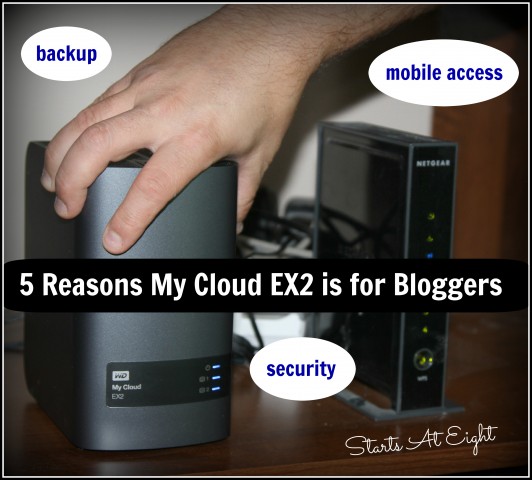 The Western Digital My Cloud EX2 provides the security of keeping your data local while at the same time provide cloud access anywhere. StartsAtEight.com and StartsAtEight Photography already have a rock solid off-site backup method. The final piece to the puzzle has been laid into place now that I have installed the My Cloud EX2. Mobile access to my data is now the killer app!
1. Mobile Access
When sitting down with clients that want ideas for photo shoots, I can show them my full body of work. No more bulky laptop, chargers, external drives, etc. I can just pull up everything on my ipad. My data is safely on my home network and not floating around on DVD's.  Secure cloud storage is available on Apple, Android and Windows mobile devices.
2. DLNA/UPnP for Streaming
While the My Cloud EX2 footprint is small, it really makes a huge difference! One of the many features it is packed with is a DLNA server. All this really means is that is has technology built right in to display your pictures and play music right over your video game console like the Playstation and the Xbox. This allows me to pull up my portfolio right on my existing large screen TV.
3. Backup
As I said before, I already have a remote backup solution in place. However, you can't have enough backups! A small business like mine cannot afford downtime. This is why I have to have a local backup in place. If I have a major failure on my existing computers, I don't have time to wait for an off-site backup provider to restore my data over the internet. I need a safe-secure local copy of everything. It takes just minutes to setup a backup routine and the piece of mind it provides is priceless.
4. Expandable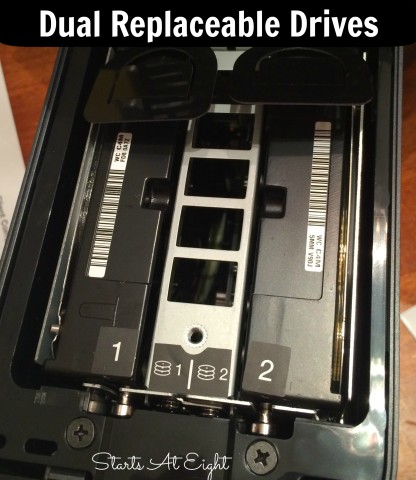 Not only are there dual replaceable hard drives in the My Cloud EX2 but I can easily plug in another USB drive on the back and poof, I have just expanded my storage capacity!
Western Digital was smart enough to know that one size does not fit all and allows you to plug in up to 2 different USB hard drives into the My Cloud EX2 for more space! It can easily make your old USB drive a smart drive.
The software built-in also gives you the option to use the expandable storage as a backup as well. Lots of options, and who doesn't love options?
5. Security
It seems like everyday companies are getting hacked. Credit card numbers stolen here, passwords shared there. It's a scary place. While no system is bullet proof, keeping your data in a private cloud storage is a layer of security in and of itself as most hackers target "high value" operations. Not that my business is not valuable. It's just that most hackers will spend their time trying to breach the big box stores and the Googles of the world. I can control who has access to my data and I can see how it's being used. The Western Digital My Cloud EX2 control panel allows me to mico-manage my data if I want to. (And of course the control freak in me LOVES this!)
Western Digital's My Cloud EX2 has offering's that no blogger/small business should ignore:
There are no hidden or recurring costs.
Once you get the drive its your space, you own it, period.
Use it as you wish.
Western Digital also backs it with a two-year warranty. (My experience with Western Digital tells me that it will last way beyond that.)

Western Digital Cloud Storage is a must-have device for small business.  In fact, this will be the defacto product I recommend to anyone needing network storage and backup.  I can easily see a future that most homes and small businesses benefit from network attached storage.  I feel you can't spend enough time trying to secure your data – it is too important to lose.  At StartsAtEight.com I always do a yearly technical needs assessment, storage and backup are first on my list and should be on yours!  Take a minute and check it out for yourself at the Western Digital My Cloud EX2 Landing Page!