Inspired by the series,
Great Black Heroes
, this is the fourth in a series of posts meant to honor Black History Month. Through this series we will cover some of the great, and not so well know contributions of blacks and African-Americans.  This fourth book is, 
Great Black Heroes: 5 Brilliant Black Scientists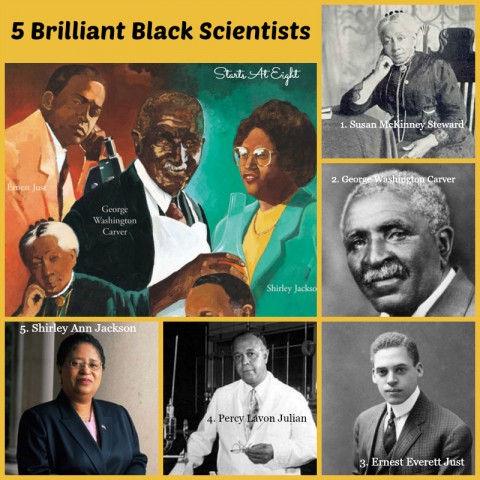 1. Susan McKinney Steward
Susan Smith McKinney-Steward was born in Weeksville, Brooklyn, and grew up on her father's pig farm. As a child, she studied with the leading organists in Brooklyn, then taught music in the public schools of Washington, D.C., and later led the choir and played the organ for twenty-eight years at the Bridge Street A.M.E. Church in Brooklyn.
In 1870, she graduated from the newly created New York Medical College for Woman as valedictorian and became the first black female doctor in New York State, and only the third in the country. While practicing medicine from her offices, she helped found the Brooklyn Women's Homeopathic Hospital and Dispensary in 1881. In 1882, she served on the medical staff of the New York Medical College and Hospital for Women, and pursued postgraduate studies at the Long Island Medical College from 1887 to 1888. She also worked as the resident physician at the Brooklyn Home for the Colored Aged, and served on its governing board from 1892 to 1895.
2. George Washington Carver
George Washington Carver was a prominent African-American scientist and inventor. Carver is best known for the many uses he devised for the peanut. He devised over 100 products using peanuts – including dyes, plastics and gasoline.
He was born into slavery in Diamond, Missouri, around 1864. In 1891 Carver moved to Ames and began his botanical studies the following year as the first black student at Iowa State.
3. Ernest Everett Just
Ernest Everett Just was born August 14, 1883 in Charleston, South Carolina. At an early age, he demonstrated a gift for academic research.  In 1907, he was the only person to graduate magna cum laude from Dartmouth College with a degree in zoology, special honors in botany and history, and honors in sociology.  Dr. Just then taught at Howard University where he was appointed head of the Department of Zoology in 1912.
Dr. Just received international acclaim for work he completed during the summers from 1909 to 1930 at the Marine Biological Laboratory (MBL) in Woods Hole, Massachusetts. At MBL, he conducted thousands of experiments studying the fertilization of the marine mammal cell. In 1922, he successfully challenged Jaacque Loeb's theory of artificial parthenogenesis, pushing the envelope. Using his research conducted at Wood's Hole, he published his first book entitled, Basic Methods for Experiments on Eggs of Marine Animals. He published his second book in Europe called, The Biology of the Cell Surface.
Featured in Time Magazine as a Black Unsung Hero.
4. Percy Lavon Julian
Percy Lavon Julian was an American research chemist and a pioneer in the chemical synthesis of medicinal drugs from plants.
In addition to an extensive teaching career at such colleges as DePauw University, which would not offer him a professorship because he was African American, Howard University and West Virginia State College, Percy Lavon Julian made significantscientific discoveries in the private sector.
In 1935 Julian developed physostigmine, a drug that is used in the treatment of glaucoma. He also worked with the soybean, developing a protein that helped to develop AeroFoam, a fire extinguisher used by the Navy.
Later,  Julian, who held a bachelor's degree from DePauw, a Master's degree from Harvard University, and a Ph.D. from the University of Vienna, founded Julian Research, focusing on the production of sterols. He synthesized the female hormone progesterone, and the male hormone testosterone by extracting sterols from soybean oil. His most famous exploit however, is his synthesis of cortisone which is used to treat arthritis and other inflammatory diseases.
Read more from DePauw University
5. Shirley Ann Jackson
Shirley Ann Jackson is an American physicist, and the eighteenth president of the Rensselaer Polytechnic Institute.
Jackson was born in 1946, in Washington, DC.  She attended Roosevelt High School, where she participated in accelerated programs in both math and science, and she graduated in 1964 as valedictorian. Jackson began classes at MIT that same year, one of fewer than twenty African American students. While a student she did volunteer work at Boston City Hospital and tutored students at the Roxbury YMCA. She earned her bachelors degree in 1968, writing her thesis on solid-state physics, a subject then in the forefront of theoretical physics. She stayed on at MIT for her doctoral work.
As a postdoctoral student of subatomic particles during the 1970s, Jackson studied and conducted research at a number of prestigious physics laboratories in both the United States and Europe. In 1976 and 1977, she both lectured in physics at the Stanford Linear Accelerator Center and became a visiting scientist at the Aspen Center for Physics.
Other Great Black Heroes