Over the past couple of years we have been dabbling in the Periodic Table of Elements with my younger two. It can easily become a dry swim of letters and numbers so I am always looking for new and fun ways to enhance their learning. We recently started using the Atomidoodle Periodic Table of Elements game on our iPad.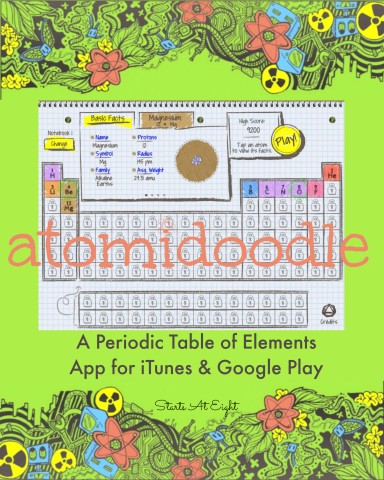 The Atomidoodle Periodic Table of Elements app, by Hero Factor Games is a chemistry app that was created to bring the Periodic Table of Elements to life. And that it does!
With a background of simple graph paper, and pencil looking sketches, the creators of  Atomidoodle have woven together logic, math, and science, all into one fun and educational game! The Atomidoodle app works on iPads as well as Android tablets. Check out this introductory video showing how the app works.
Playing Atomidoodle Periodic Table Game
Draw paths through tricky mazes, and get atoms safely to the goal!
Each level of the game varies in its layout and options.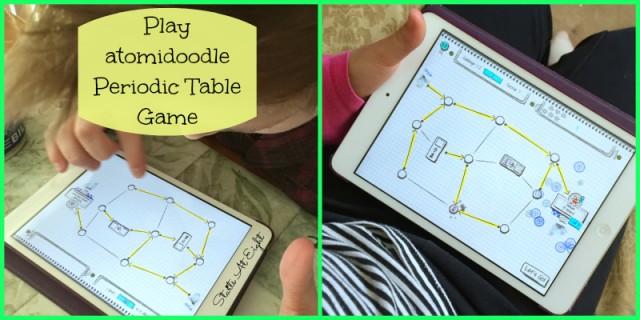 In the top right corner is the Queue of raw atoms that are ready to be shot out onto your grid space. Once you have shot out an atom the goal is to lead it to the examinator. To do this you will need to arrange the route for the atom to travel (the maze component). You may also need to use math and a fusion or fission widget to separate out the atoms that you need, or combine together the atoms to make the element you need.
All this is done in a fast paced manor while trying to keep the atoms from exploding! One element is introduced at a time as you master the one before it. So after you successfully complete a round, new elements are unlocked on the interactive periodic table that is contained within your profile.
Looking for key facts? Simply tap on any of your unlocked elements. This will bring up important facts about the element, such as symbol, family, and number of protons.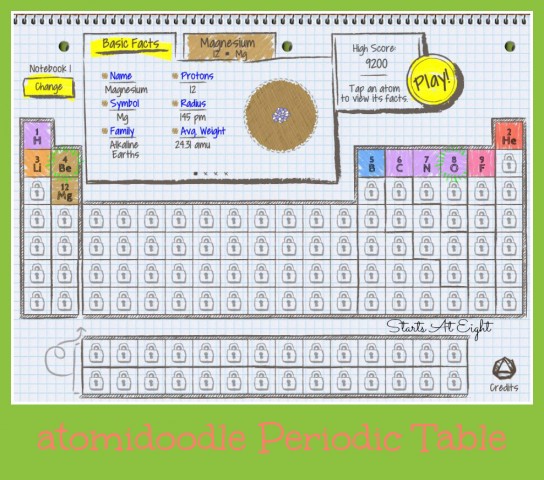 Interspersed throughout the game are more engaging and fun facts than just the basics you find in the Periodic Table.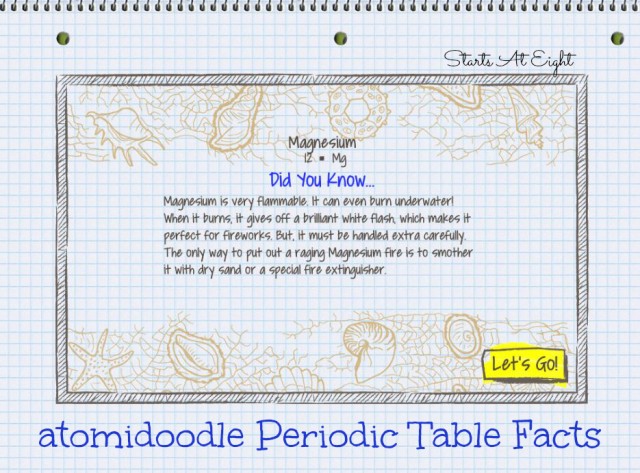 Example Facts:
"Your body is about 65% Oxygen. So if you weigh 150 lbs, 90 of those lbs are Oxygen. Most of the Oxygen in your body is mixed with Hydrogen in the form of water."

"Fusion is the process of combining the nuclei of two atoms into one brand new atom. It is not the same as bonding. Which is the process atoms use to share electrons so they can create molecules. Two Hydrogen can bond together and still remain Hydrogen atoms. But, the Sun uses fusion to permanently change Hydrogen to Helium."
Why We Love Atomidoodle
Atomidoodle is an affordable game at under $2 on either iTunes or Google Play.
It is simple enough that my 8 year old can easily navigate it, but complex enough to keep even my avid 12 year old gamer engaged.
The graphics are hand drawn creations that are beautifully done. Simple, yet engaging.
Educational and fun! Incorporating logic, math and science all disguised as a full puzzle/maze game.
NO Internet required! My children can play this on the iPad anywhere we go!
Multiple player accounts so that each of my children can play at their own pace without disrupting the other one's progress.
Get The Atomidoodle Periodic Table Game
Are you ready to try it our in your home? You can find the Atomidoodle Periodic Table of Elements game by Hero Factor Games on both iTunes and Google Play
Connect With Hero Factor Games
Other Periodic Table Resources