As the cold days drag endlessly on here in New York, we all crave the warm comfort foods like stews, potatoes, things with gravy. Here are 3 Warm Winter Crockpot Meals that are favorites in our house.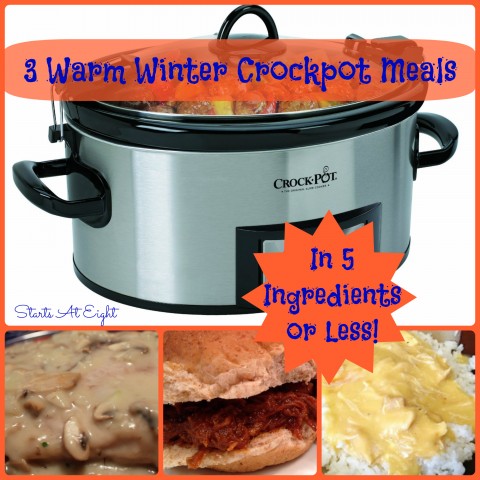 3 Warm Winter Crockpot Meals
1. Easy Cheesy Chicken
Ingredients:
6 boneless, skinless chicken breasts
2 cans cheddar soup
1 can cream of chicken soup
White Rice
Directions:
Rinse and pat dry the chicken breasts. Trim off any unwanted fat. Place 3 breasts on the bottom of the slow cooker. Pour soups in a mixing bowl and stir together. Pour half the mix over the 3 breasts. Then add the other 3 breasts and the rest of the soup mixture. Cook on low 4-6 hours. When you are ready to eat make white rice on the stove according to package directions.
2. Root Beer Pulled Pork Sandwiches
Ingredients:
3-4 lbs boneless pork roast
1 12 oz can of root beer (we like Mug)
1 Bottle BBQ Sauce (we use Famous Dave's)
Hamburger Buns (we like soft wheat buns)
Directions:
Place roast and root beer in slow cooker. Cook on low for 6-8 hours. Take the roast out and shred using with forks (it should just fall apart). Empty the root beer out of the slow cooker and place the shredded roast back inside. Stir in BBQ sauce. Keep warm in the slow cooker until serving.
3. Pork Chops with Mushroom Gravy
Ingredients:
6 boneless pork chops
2 cans cream of mushroom soup
1 can cream of chicken soup
2 cups sliced mushrooms (For those of us that really like mushrooms!)
6-8 medium-large potatoes
Directions:
Place 3 pork chops on the bottom of the slow cooker. Pour soups in a mixing bowl and stir together. Pour half the mix over the 3 pork chops. Then add the other 3 pork chops and the rest of the soup mixture. Cook on low 4-6 hours.

For the potatoes I usually peel and cut them ahead of time, leaving them in a kettle covered in water. When you are preparing to eat simply boil and mash the potatoes.


This post may contain affiliate links. Please see my