Monday: Today was Jayden's last science class at the RMSC.  They learned about insects.  He came home telling us that "bug" is not a scientific word.  At the end of every class they always get a chance to get up close with one of the animals they have in the classroom there.  This week was one of the snakes and the teacher let them hold it if they wanted to.  Both Jayden and Ava were very happy to get their hands on that snake!  I only had my phone which I took pictures on but I just had to share them anyways!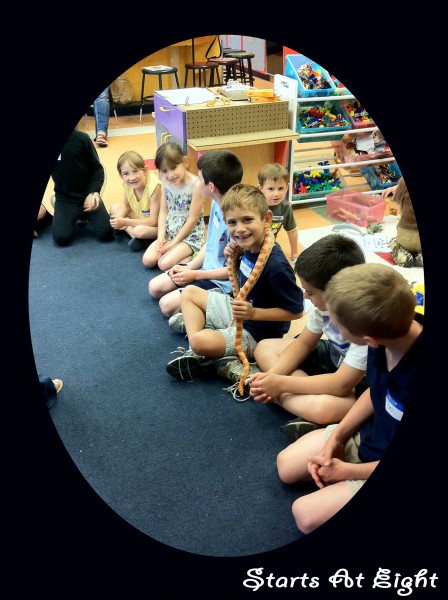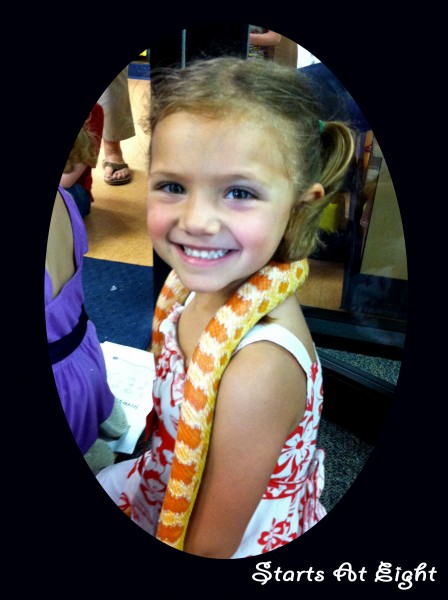 Tuesday: Our third of three Oil Pastel Art Classes was today.  The kids really enjoyed this class.  We participated in it live, but also bought the recordings to do a railroad one.  The one thing I felt was difficult with doing it live is that it was sometimes hard to keep up with the pace.  I am interested to see how it goes with just a recording that we can pause.  I imagine the one downside to that will be there is no one there to answer any direct question you might have! 🙂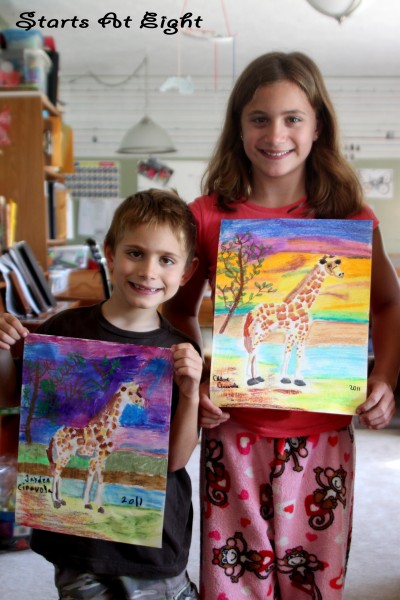 Wednesday: Today was a day of manual labor digging out the new garden expansion. Unfortunately, I took a picture on Sunday while we were working but I forgot to take one today. Now it has been raining ever since so I can't get out and do it. We are hoping for a break in the rain this weekend so that we can rake it even, add the compost, and then make the frames for the two 4×8 raised garden beds we are putting in. The other bonus of today was that the kids got the chance to play with 2 of their cousins we came over for most of the day.  I joined in the Homeschool Village Garden Challenge again this month.  Hop over and check out all the things people are doing with their gardens!
Thursday: Tuesday was a work day and so is today. It is dreary outside and thus we are stuck in the house. We lost power this morning and I thought maybe schooling would be derailed for today. Luckily after about 2 hours it came back on and we were able to get to work. Ava has been learning about the life cycle of a caterpillar to a butterfly (of which I will have a post up next week with books we read and activities we used). She particularly enjoyed making a mobile that included a caterpillar, a cocoon, and a butterfly!