We're in the heart of summer, and that means it's time to pack that suitcase, hop in the car with your family, and head off on the road to a wonderful vacation. Unfortunately, budget concerns can make the age-old tradition of summer vacation seem impossible. One solution is to do some vacation funding ahead of time to help ease the cost of your family vacation.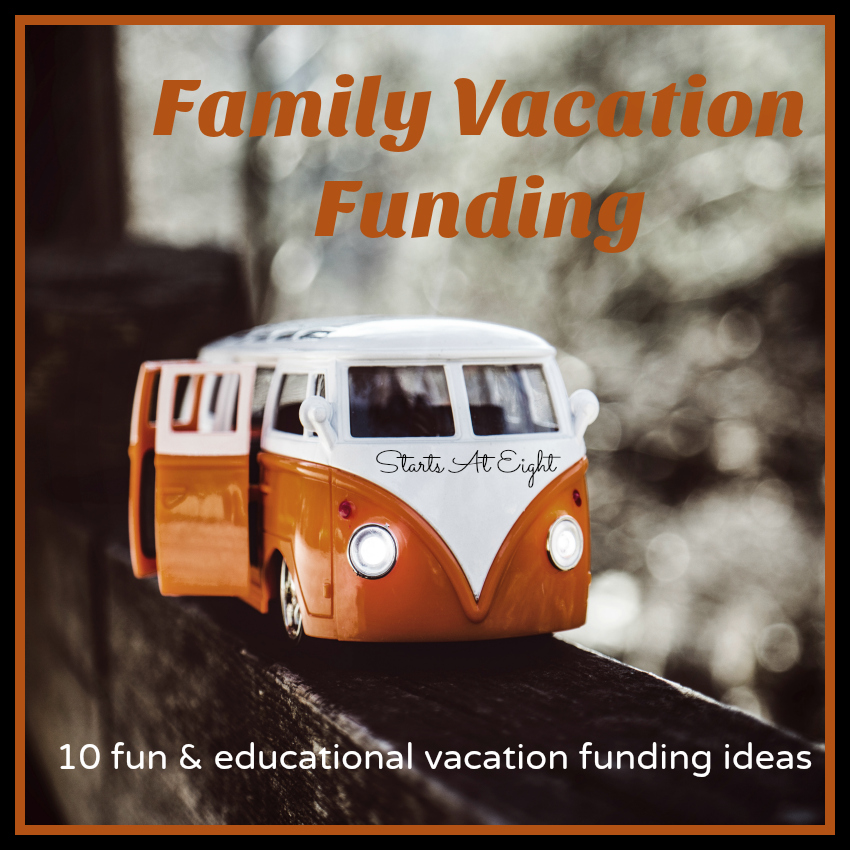 If you're looking for ways to fund your summer fun, and teach your children valuable skills, take a look at these 10 quick and lucrative vacation funding ideas and take your family on the adventure of a lifetime!
Vacation Funding Ideas
1. Write a Blog
Do you have a way with words? Are you constantly wishing you kept up that old journal to get out the odd thought here or there? Consider starting your own blog. If you can craft a creative and engaging blog post on a regular basis, and find a target audience that could benefit from your ramblings, you might find great success with this online venture. Be aware that as easy as this money making scheme sounds, it comes with its fair share of challenges. Check out these tips and put pen to paper…or rather, fingers to keyboard.
Educational Tidbit: Give your children a section for them to write, create, and explore. You never know when one of their works will go viral!
2. Review Local Eateries
If you love food and you love writing (like me), combine the two for an ideal after-work venture that could bring in some extra cash. Some local newspapers will pay individuals to check out local restaurants and write up an honest review of their experience regarding the taste and atmosphere of the place in question. You can also check out online food magazines and shoot them an email to see if they'll pay you a lucrative rate for your reviews.
Educational Tidbit: This skill is great critical thinking practice for your children. I suggest helping them create a 'pros and cons' list when thinking about their dining experience.
3. Become a Rideshare Driver
Ride sharing is all the rage, and for good reason; it's inexpensive when compared to taxi rates, is instant, and offers the utmost in convenience. Whether you drive for Uber, Lyft, SideCar, or all three, you can make mucho bucks with this on-the-road gig. Make sure to drive during peak times to garner yourself the most bucks—luckily these peak hours are usually after normal work hours so you can run double-duty if feeling so inspired!
Education Tidbit: This cannot be done with children, but during any math lessons, you can use real world examples of mileage and income per day to help teach your children about simple economics!
4. Rent your Home
If you want to head out on vacation, use your empty house to your advantage and rent it out to other vacationers. There are several sites to pick from, and I suggest starting with Airbnb or VRBO and going from there. You do not want to list on all sites at once as it may become too stressful. The most important consideration is to keep your family safe. Make sure you follow screening processes recommended by the various companies to ensure you don't have any unsavory guests staying in your home while you're away. This is especially true for long term rentals. I always ask my tenants to provide me with a background check. I have used this resource as it provides a lot of explanations, but as you will find out, there are a lot of options. The last thing you want to do is have an unwanted guest crashing at your home!
Educational Tidbit: This is another great option for teaching simple economics to your children. I suggest that you create a simple excel sheet with your income and expenses and practice math with each new renter or purchase.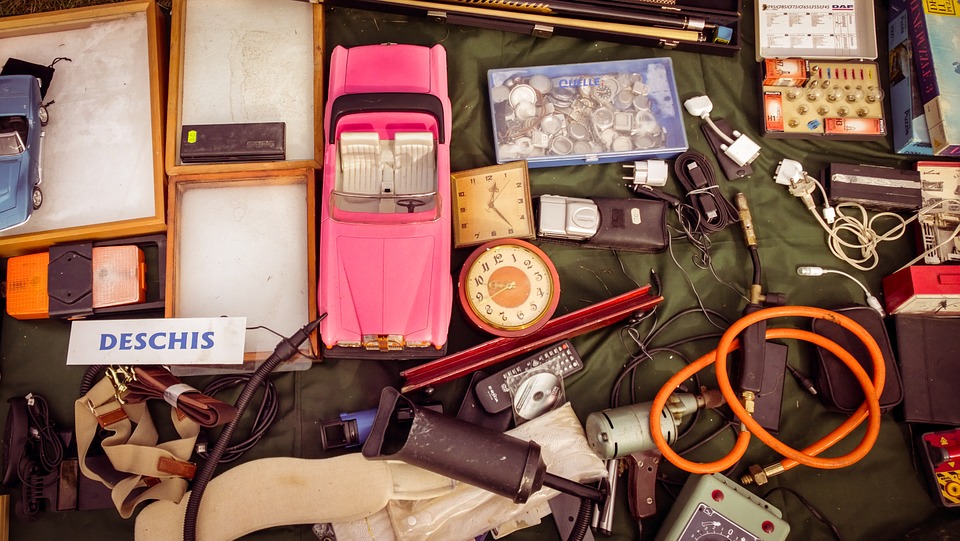 5. Garage Sale
How long has it been since you've gone through your home and purge it of all those things you don't need? If you can't put your finger on a date, it's time to get back to it. Go through each room and make a pile of non-essentials that you're willing to part with. Once you've got a cache of items, create an ad on Craigslist and set up your own garage sale for the weekend. Watch people roll in and trade you hard cash for old items you no longer use.
Educational Tidbit: Get your kids involved and have them set up their own little stand to sell their unwanted things. This will help with public speaking skills, and critical thinking abilities. You can also keep them engaged throughout the day with a lemonade or cookie stand.
6. The Odd Job or Two
Looking for a money maker that requires less commitment? Check out some of the odd jobs listed on Craigslist. It could be something as simple as weeding an elderly person's yard, or even washing a neighbor's car. Do you have some web development experience? Check out freelance jobs on Gigster or other sites and occasionally and see what you might be able to pick up. If you are working online your profile is one of the most important factors to getting a job in this industry. Check out this resource to get started. It has a great 'Ultimate Guide to Freelancing' portal.
Educational Tidbit: If you are working with your neighbors, get your kids involved to help out. I would not recommend bringing kids to an unknown place for a job, but if the job is on the computer, ask for ideas or even build it into a homeschool lesson plan.
7. A Quasi Day Care
Kids love playdates, so combine some summertime fun and offer babysitting services to the parents of your little ones' friends in the neighborhood. They'll feel assured that they're leaving their kids with someone they can trust, your children will reap the benefits of summer time friendship, and you'll make some cash for your upcoming vacation plans.
Educational Tidbit: Offer mini classes during your playdate to help keep the kids motivated. You can even ask your own children for help coming up with the lesson ideas. Check out this resource for more great homeschooling ideas.
8. Photographs!
It seems everyone these days is a photographer, and with a small investment in a great camera, you could be rolling in the dough before you know it. Stock photography is a great and easy thing to work on in your spare time. Not only will you capture great memories, but you'll also have great shots to sell to stock photo conglomerations. I have used ShutterStock in the past because they send over an awesome resource for getting started. Above all, have fun and be creative!
Educational Tidbit: Photography is an amazing skill to have. Challenge your kids to think of awesome shoot ideas and if you are feeling extra savvy, try to create a mini dark room for your kids to mess around with developing their own photos.
9. Officiate Weddings
While officiating weddings isn't as fun for children, if you do bring them along they'll get a fun taste of wedding atmosphere and love the vibe. Getting ordained is so easy, and if you can figure out the state and local laws in your area, you can make up to a few hundred dollars for every wedding you officiate. A quick google search will help you find the right resource for getting certified in your state. I suggest using the search term "Becoming a Wedding Officiant in (your town)" You'll need to be on top of your legal jargon, as the legal validity of a couple's marriage can depend on you, so do plenty of research before offering your marrying services.
Educational Tidbit: This is a great opportunity to talk with your kids about commitment and responsibility. They can also help you write any speeches you need for the ceremonies!
10. Sell on Etsy
Would you consider yourself a craft connoisseur? Do you have a creative streak that just won't quit? Get your kids in on the action and make crafts that you can sell on Etsy. Even the simplest of projects can appeal to an online shopper looking for a unique gift. You'll have wonderful bonding time with your kids, and make memories while making money—what could be better? Need inspiration? Check out this guide.
Educational Tidbit: I suggest setting up a store for your children to sell their own creations. Make sure to be careful with your language and personal information! Keeping your family safe is always the top priority.
With a little preparation you can implement some of these family vacation funding ideas, and ease the cost of your family trip!
In what was to you implement vacation funding in your home?
Author Bio: Preston is a silly, happy-go-lucky SAHD that loves to blog about the home, finances, and living with children. Check him out on Twitter! @withprestondavis
Image Sources: