Homeschooling high school is a whole new adventure from homeschooling the younger years. You child is growing up, they are moving towards independence, and the knowledge they are gaining is beginning to match that which you have. It is also a time when they need to be sure to use technology and the devices available to them to their fullest. So what gadgets for homeschooling high school do we use?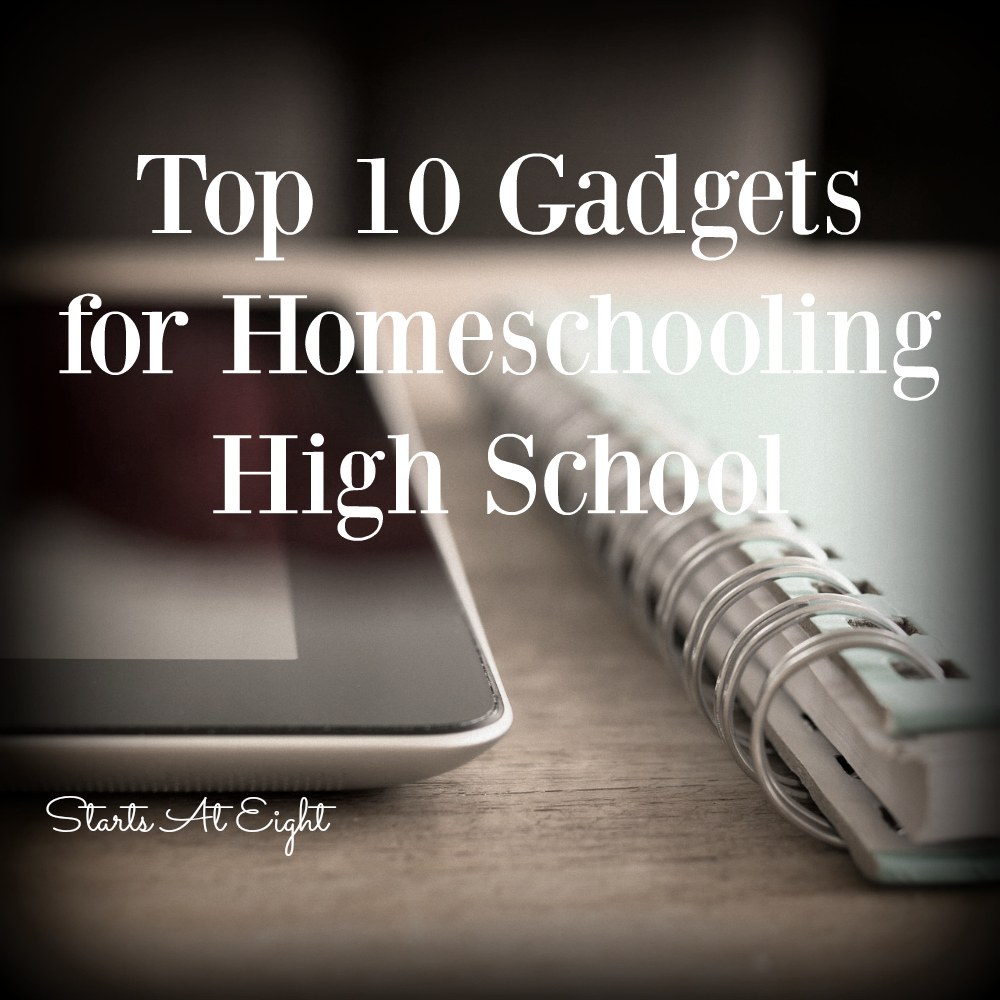 Gadgets for Homeschooling High School
Laptop – Having their own computer can help them to be more independent. It allows them to find their own system of organization for the data and programs as well as to move about and find their best learning environment. Here are two affordable options to get them started: Acer Chromebook HP Stream
Selfie Stick – While this may seem like a frivoulous one, if your child has a phone to use with it, it is a worthy purchase. We have captured so many moments using one of these. From field trips to family vacations. It helps your teen capture moments of time in their lives that mean something to them.
Thumb Drive – If they don't have their own computer, or if they are on the go and doing work in multiple places, a thumb drive is a great option for having their data be portable. When my teen is working on a paper, or project on the computer, having the thumb drive allows her to quickly store it there to transport to the library or a friend's house, or anywhere else she might be needing it to use or share.
Highlighters – While this one and the next one aren't very gadgety, they are an often forgotten tool. As my teen has moved into taken high school classes (even college classes) outside of our home, we have highlighters to be an essential study tool. They have helped her to focus in her study, color code her text, and sort out her chemistry problems on her page.
Note Cards – There are two kinds of note cards we have found handy in high school. First of course are your regular paper note cards. These have become essential when studying to pass major exams, including CLEP Exams. The second type of note cards are more gadgety and found on the computer. There are sites like Quizlet that allow you to create your own flash cards, as well as choose from ones others have made before you.
Kindle – Our Kindle has been an invaluable resource. We love it for reasons like how portable it is. You can have a seemingly endless supply of books right at your fingertips while on the go. From free high school textbooks, to most of the classic literature required for high school, we have used our Kindle to expand and explore with little cost to us beyond the initial purchase.
Headset – A headset is a life saver for both you and your teen! It saves you from always to listen to their music, while allowing them the freedom to play it. It allows them to do online work while their are other things going on around them. (We have other kids homeschooling and making noise!) We like having a larger set with a microphone for the computer, as well as earbuds for on the go.
Scientific and/or Graphic Calculator – As math gets more complex and science more in depth the need for a good calculator becomes more prominent. While I have my kids doing all their math in their heads through the early years, a calculator becomes a necessity in high school. This scientific calculator was required by my teen's college professor for Chemistry, and this graphing calculator is essential for upper level math in high school.
Google Drive – Google Drive is a great place to store projects and data. It means you don't have to have as much hard drive space available on the computer you are using (this is good when a teen is using a small laptop with minimal storage), it also means you can access your stuff from anywhere with Internet without having to carry anything with you! Google Drive has also been essential in sharing work with teachers of both online and college classes. It is an easy way to share your work with anyone when you need to!
Webcam – A webcam can be a must have if your teen is taking online classes. Many virtual classrooms use both video and voice during their class times.