With the growing popularity of Pinterest it is becoming increasingly important to have eye catching photos as a feature on your blog. We all are not equipped either with the skill to use or the budget to spend large amounts of money on products like Photoshop. Instead I have compiled a list of free web based or downloadable photo editing programs.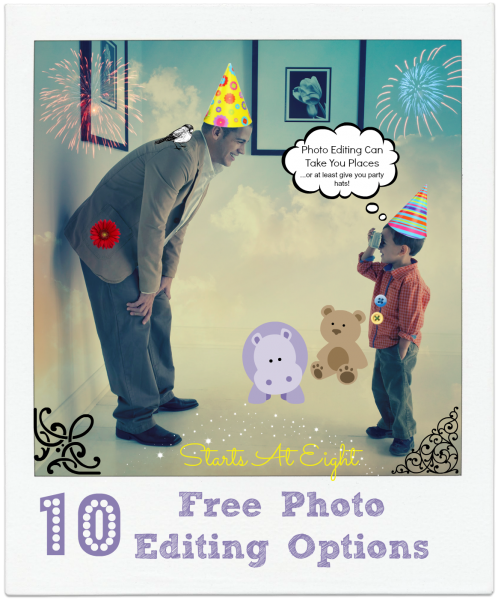 FREE Web Based Photo Editing Options
1. Pic monkey Free picture editor, no registration required. This is my go to multipurpose editor. There is also a paid upgrade for more fun features but is totally not necessary as there is so much in the free version.
2. Instasize is a photo editing app that lets you play around with your photos and videos using filters, text styles, border designs, beauty tools and collages. It integrates seamlessly with Instagram and works great for those who want to establish a consistent brand aesthetic. The app is available for both iOS and Android.
3. Fotor.com (has an iPhone App)
4. Ribbet.com Create oil paintings from your photos with 11 distinct brush strokes and a palette of up to 255 colors. Use Ribbet! Eraser Tool to
add someone new to a photo and delete areas from layers, stickers, frames & textures.
5. Picfull.com
6. Pixlr.com (also available in App Store More than 600 effects, overlays, and borders to personalize any image, free! Pixlr Express is a fun and free photo editor that lets you quickly crop, re-size, and fix any picture, remove red-eye, and whiten teeth.)
7. Photoshop Express is an online version of the popular digital editing software.
FREE Desk-Top (Downloadable) Photo Editing Options
1. Picasa Not only can you edit with this, but you can organize and share as well.
2. Gimp  is a FREE and open source, downloadable photo and image editing software program built to rival Adobe Photoshop.
3. GetPaint.net free image and photo editing software for computers that run Windows. It features an intuitive and innovative user interface with support for layers, unlimited undo, special effects, and a wide variety of useful and powerful tools. An active and growing online community provides friendly help, tutorials, and plugins.