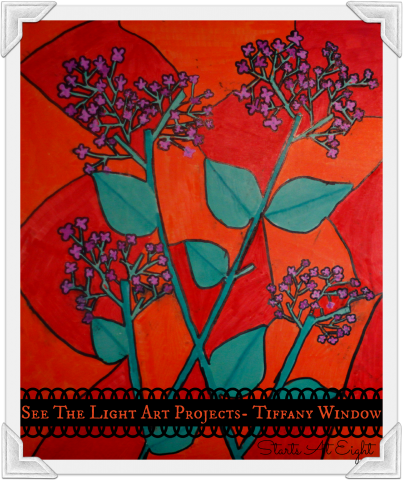 Do you often find you push art to the back burner? I know that when asked most people will say their "must do" subjects to cover are things like math, grammar, and even history or science. In our home art has always been pushed back. Over the past two years I have worked hard to remedy that by being intentional about our art. My goal has been to cover one art project a month during our schooling months. My favorite projects are those that are thoroughly laid out, don't require too many unusual art tools, and can be done by at least my two older children.
I received this product for free for the purpose of reviewing it. This post contains affiliate links. See my Disclosure Policy for more details.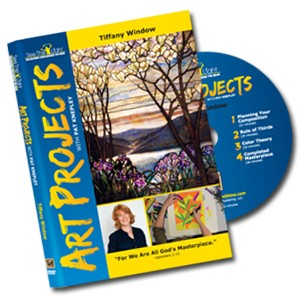 With all of that being said I am excited to tell you about our experience with the See The Light Art Project – Tiffany Window DVD. There are a couple of things I can tell you that I liked before even beginning.
The first thing that caught my eye was the break down of the lessons into 4 pieces, along with listing the time for each one. Just from that list you can see that multiple art techniques and theories are going to be included along the way.
The second thing that I noticed was the materials listed right on the DVD jacket. This made it easy for me to prepare for the lesson without having to delve too deep.
All three of my children ask for art projects and were excited to get started on this one. We started out by watching the first lesson on the video and then set to work on our project. Each one of the kids chose a different flower.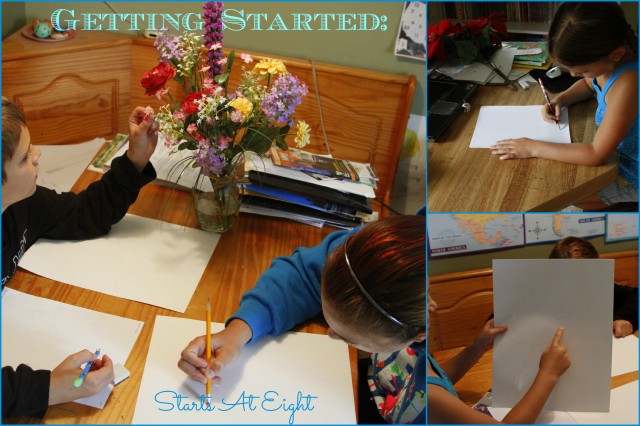 How to Implement See The Light Art Project DVDs:
The procedure is simple for these See The Light Art Projects: you watch the video, then do that step in your project. Pat breaks it into easily manageable sized steps. In this case we started with the stems and then added the leaves.  First in pencil and then in marker.  I loved how Pat encourages the kids to use their erasers, to adjust as they feel the need because it is their project.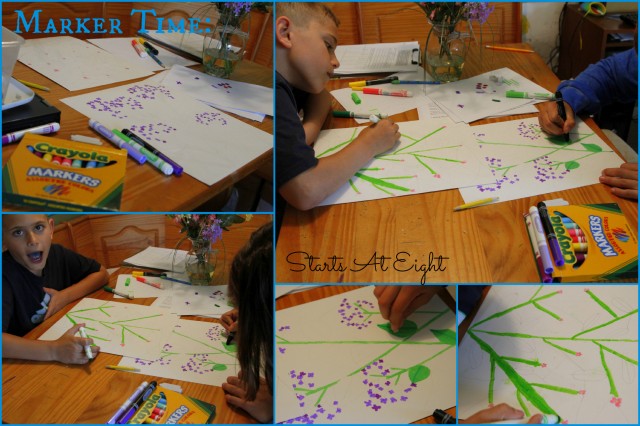 Our Pros of See The Light – Tiffany Window:
readily available supplies list
projects are broken down into manageable sized pieces
Step by step instructions from Pat with lots of positive encouragement made it easy to finish the project successfully.
We loved that it combined in art history with the style of art chosen.  It helped to feel more connected to and have a better understanding of the style of art we were creating.
Our Cons of See The Light – Tiffany Window:
included in each lesson is a Bible lesson.  While Pat does a wonderful job of connecting the concepts and verses together, we would have preferred to stick to the art.

using non-permanent markers (we used washable crayolas as the supply list calls for magic markers) made it difficult for our 10 year old to keep from smearing the marker in the stained glass part of the project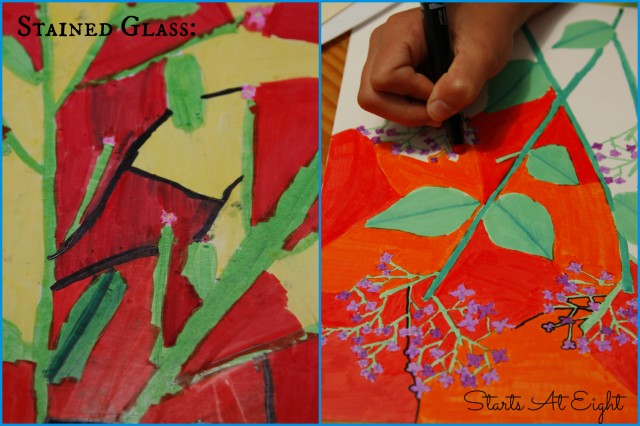 As you can see with the image on the left above, our son had trouble keeping his marker from smudging.  The image on the right is our 13 year old's project.  She really enjoyed this project but thinks she herself would have chosen bigger flowers as tracing everything with the black marker was a bit tedious.
All in all we love the See The Light Art Projects.  They are thorough in their content, and easy to implement in your home with multiple ages.
Tips For Completing See The Light – Tiffany Window:
Our 7  & 10 old old had trouble with the flowers in this project.  One picked flowers that we too small, and the other flowers that were too big and detailed.  I recommend picking a medium to large sized flower with very few shapes and details to it.

Instead of using magic markers with younger ones I would use permanent markers and caution the children about not putting their hands down on the paper until the marker is dry.  With older ones the magic markers are nice for the blending technique Pat teaches them and the are more skilled at managing it.
---
I received this product free for the purpose of reviewing it. The opinions expressed are my personal, honest opinions. Your experience may vary. Please read my full Disclosure Policy for more details.