The Things We Knew by Catherine West is a work of contemporary fiction involving the ties that bind a family together. Through old secrets, individual trials, and new obstacles, they find their way through to become stronger and closer, but not without scars.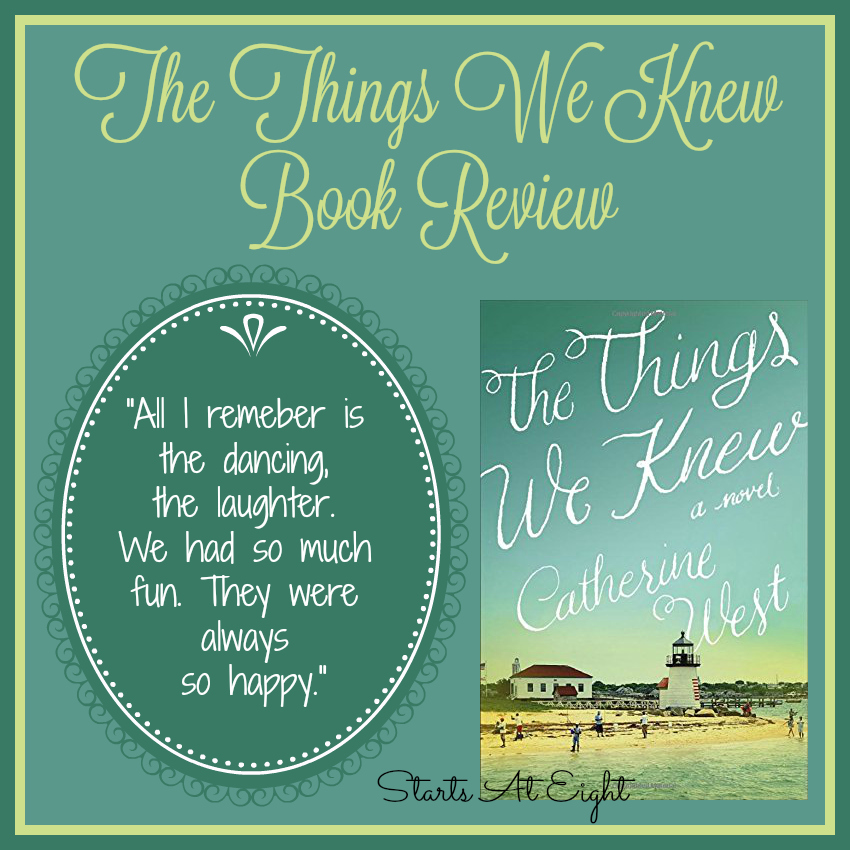 About The Things We Knew:
A tragedy from the past resurfaces in this tale of family secrets and reignited love.
After her mother's death twelve years ago, Lynette Carlisle watched her close-knit family unravel. One by one, her four older siblings left their Nantucket home and never returned. All seem to harbor animosity toward their father, silently blaming him for their mother's death. Nobody will talk about that dreadful day, and Lynette can't remember a bit of it.
But when next-door neighbor Nicholas Cooper returns to Nantucket, he brings the past with him. Once her brother's best friend and Lynette's first crush, Nick seems to hiding things from her. Lynette wonders what he knows about the day her mother died and hopes he might help her remember the things she can't.
But Nick has no intention of telling Lynette the truth. Besides the damage it might cause his own family, he doesn't want to risk harming the fragile friendship between him and the woman he once thought of as a kid sister.
As their father's failing health and financial concerns bring the Carlisle siblings home, secrets begin to surface—secrets that will either restore their shattered relationships or separate the siblings forever. But pulling up anchor on the past propels them into the perfect storm, powerful enough to make them question all they ever believed in.
Purchase The Things We Knew
---
Disclaimer: I want to thank Catherine West and Litfuse Publicity for supplying me with a copy of this book for me to review. While I received this free of charge in exchange for my review, my opinions are my own, and have not been influenced in any way.
---

About Catherine West:
Catherine West writes stories of hope and healing from her island home in Bermuda. When she's not at the computer working on her next story, you can find her taking her Border collie for long walks on the beach or tending to her roses and orchids. She and her husband have two grown children.
Website | Facebook | Twitter | Pinterest | Instagram
What I Thought:
While listed as Christian fiction this book is not overwhelmingly so. There are several references to God's grace and prayer, and some characters are definitely believers but it doesn't overtake the story. I think it strikes a good mix of a clean, faith based read without going over the top in that department and thus lending itself to a larger audience.
I love that each one of the siblings in this book is portrayed with their own distinct lives and issues. Life can be messy, marriage can be hard, relationships are not always smooth and happy. Catherine is not afraid to show those things in The Things We Knew and it makes it that much more engaging and believable. Along with this there are some heavy themes that run throughout the story like alcoholism, infidelity, drug abuse and domestic violence.
Despite the somewhat heavy or "not so perfect" life portrayals in this book, it is a story or perseverance, hope, love, trust, and family ties.  Lynette is the youngest in the family, left at home to take care of her dad's illness, and the financial issues all on her own. One by one her siblings come back and begin to help her, and in the process find themselves dealing with their own issues head on.
The tidbits of information from their past as well as what each sibling is dealing with in the present are well spaced out and flow nicely in the story. You are given this element of mystery as to what happened to their mother and how they are all interconnected to each other.
All in all this was a great Christian fiction read that dug deeper than some of your typical surface romances. It shines in its realistic portrayal of messy family life!