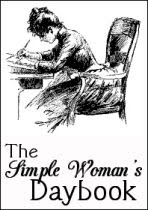 Simple Woman's Daybook
FOR TODAY:
June 29th, 2010…

Outside my window… it is barely light outside.  So much to get done that I am up early to check a few things off my list, starting with my blog for today.

I am thinking…that I would love to adopt a dog.  Joey will kill me when he reads that!  Chloe and I keep seeing the Pedigree commercial with the plug for shelter dogs and the cages always break her little heart! 🙁

I am thankful for…the "big girls" at the gym who are great role models for Chloe.

From the learning rooms…a whole lot of hard transitions to summer.  We are working on quality of work for the summer and lots of writing.  I am formulating a plan for the fall.  So many options to consider, and never enough time to do all I would like.

From the kitchen…no cooking for me today!  🙂  That always a happy Mommy makes!  It is out for a little girl time with a good friend.

I am wearing…pjs of course!  Do I ever answer any other way?  I am off to the shower after this to start my busy day.

I am creating…a book review of THE CORE: Teaching Your Child the Foundations of Classical Education.  I plan to have it up by the end of next week so check back and take a look!
I am going…to play Mom's Taxi again today.  Jayden is taking a TOPS Cooking Class at TOPS Cooking School.  The funny thing is he seemed most thrilled with making the trail mix than the stuff they baked!
I am reading…a few different things.  I am still rereading parts of The Core: Teaching Your Child the Foundations Classical Education for my book review as well as referencing The Well Trained Mind: A Guide to Classical Education at Home, The Secret Garden so I can chat about it with Chloe when she reads it, and The Girls by Lori Lansens for my adult book discussion.

I am hoping…for some good weather this weekend so that everyone can enjoy a long holiday weekend.

I am hearing…the even buzz of the fan in our room, and not a whole lot else.  Only a brief amount of time left before all the munchkins start appearing from their slumbers!
Quote for the week…People take different roads seeking fulfillment and happiness.  Just because they're not on your road doesn't mean they've gotten lost.  -Dalai Lama

One of my favorite things…knowing all my babies are "Snug as a bug in a rug" in their beds.  All is well when you have a house full of healthy, happy children.

A few plans for the rest of the week: Girl time with Kelly, Walk n Talk with Shana, camping and fireworks with the Reed family

Here is the picture for thought I am sharing…