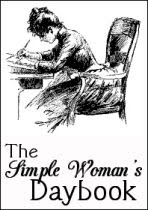 Simple Woman's Daybook
FOR TODAY:
July 27th , 2010…

Outside my window…the sun is shining, and it is looking like another beautiful day here in NY!  Looking forward to some more sun and swimming today.

From the learning rooms…still nothing formal going on.  I am still working on filing away last years work, and setting up for this coming year.  Chloe is working on a review project for The Secret Garden, I am trying to work on book summaries with Jayden, and Ava is learning the 50 States song.

From the kitchen…nothing.  Our side by side refrigerator/freezer is broken and it is going to be a week or two before we either get it fixed or get a new one.  Thus we are living out of the small one we have in the garage so our food supply is limited.  It is off to Mom and Dad's for dinner tonight!

I am wearing…pjs still.  This is the first morning in weeks that I have not had to race out of the house by 8:30am to get someone somewhere.  Therefore, I am enjoying a slow morning at home.

I am creating…a history plan for this coming year.  I have probably said this in previous Daybook entries but the subject is plaguing me.  I originally set out to tackle the US Presidents this year.  Now I am thinking about adding map drawing and possibly starting a long term (like year long) project of creating a history timeline to go around the homeschool room.

I am reading…Fortunate Harbor, by Emilie Richards for myself.  I read the prequl to it, Happiness Key and as soon as Fortunate Harbor came out I just had to read it.  I love Emilie Richards as an author.  I have read almost all of her books.  Then for my adult book discussion in August I am starting to read, What Did I Do Wrong?  When Women Don't Tell Each Other the Friendship is Over, by Liz Pryor.

I am hoping…to get the lyrics for the 50 States and Capitals Song, and I am also on the hunt for a song to learn the 44 US Presidents in order.  This Animaniacs Presidents one is cute.


Here is the Animaniacs 50 States and Capitals song as well.

I am hearing…Handy Manny on the TV that no one is watching and the sound of Jayden and Ava "playing", more like arguing, in the other room.

One of my favorite things…pouring rain and flooding while camping…it seems to be a Kron Family Camping staple.  Be sure to check out the lovely picture from this past weekend down below!

A few plans for the rest of the week: Walk n Talk on Wednesday (I think), Nails and Tye Dye on Thursday, maybe Hilton Parade and Carnival on Thursday night as Jayden could march with his Hilton Raiders Football team in the parade, spending time with my brother and niece who are in town for the week.

Here is the picture for thought I am sharing…