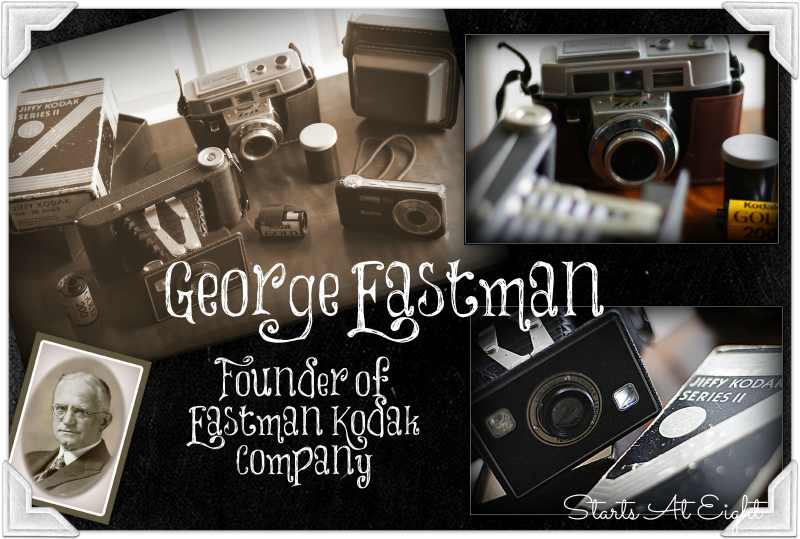 My dad worked for the Eastman Kodak Company for over 40 years. Not only was I was born and raised in Rochester, New York, but my home is still in Rochester, New York and my parents still live in the house I was born in. The image you see above contains items from my dad's personal collection of Kodak products. We had a slide projector, slides, and slide trays, cameras, film and more. The Eastman Kodak Company was a symbol of Rochester business and commerce, and the place everyone wanted to work.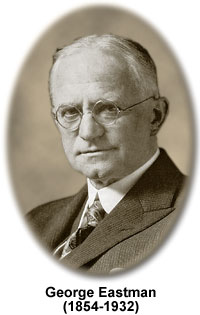 George Eastman was born in Waterville, New York on July 12, 1854. The youngest of three children, George Eastman was born to Maria Kilbourn and George Washington Eastman. The house on the old Eastman homestead, where his father was born and where George spent his early years, now resides at the Genesee Country Museum in Mumford, N.Y.
When Eastman was 24 he decided to spend his summer vacation in Santo Domingo. A fellow employee at the bank suggested that he make a photographic record of his trip. Eastman bought the necessary photographic supplies, which included a large camera and tripod (the camera was as big as a microwave oven), glass plates, paper, boxes for storing the glass plate negatives, a tent that could serve as a darkroom, and assorted chemicals. He then paid $5 for lessons to learn to use the equipment he had purchased. Although he never made the trip to Santo Domingo, Eastman became interested in the simplification of the photographic process after he had mastered the complicated art of wet plate photography.
He was a modest, unassuming man… an inventor, a marketer, a global visionary, a philanthropist, and a champion of inclusion.
Important Developments From George Eastman
1. By 1880, after 3 years of experimenting, he had not only invented a dry plate formula, but had patented a machine for preparing large numbers of the plates. He quickly recognized the possibilities of making dry plates for sale to other photographers. In April 1880, Eastman leased the third floor of a building on State Street in Rochester, and began to manufacture dry plates for sale.
2. Eastman called this early flexible film Eastman American Film. In 1888 the Number One Kodak went on the market. Loaded with enough Eastman American Film for 100 exposures, it sold for $25. The camera and exposed film were returned to Rochester, where the film was developed, prints were made, and the camera was reloaded. When the Number One Kodak was introduced Eastman coined the famous slogan, "You press the button – we do the rest." to explain his new system of photography.
3. Eastman continued to expand the Kodak line of cameras and to look for a transparent flexible film base. In 1889 cellulose nitrate film was introduced. This film made the development of motion pictures possible. Another significant addition was the introduction of the Brownie camera in 1900. Designed for children, the Brownie sold for $1.00 and used film that sold for 15 cents a roll and took six pictures. In 1908 safety film, with a cellulose acetate base, became available.
4. Beyond his inventive genius, Eastman blended human and democratic qualities, into the building of his business. He believed employees should have more than just good wages. Early in his business, Eastman began planning for "dividends on wages" for employees. His first act, in 1899, was the distribution of a substantial sum of his own money — an outright gift — to each person who worked for him. Later he set up a "Wage Dividend," in which each employee benefited above his or her wages in proportion to the yearly dividend on the company stock. In 1919, Eastman gave one-third of his own holdings of company stock — then worth $10 million — to his employees.
4. In 1903 Eastman began to build his own home at 350 (now 900) East Avenue. The construction of the 37 room mansion took two years, and Eastman celebrated its completion with a housewarming dinner on October 7, 1905. This mansion is the site of the George Eastman House Museum.
Near the end of his life Eastman began to suffer from a disease that caused hardening of the spinal column. The disease curtailed his activity and his doctor informed him that his condition would progressively worsen. On March 14, 1932 at the age of 77, George Eastman altered his will, leaving the bulk of his estate to the University of Rochester. He wrote a short note and then committed suicide.
Great Museums: Picture Perfect: George Eastman
George Eastman House International Museum of Photography and Film, the world's oldest photography museum and one of the world's oldest film archives, opened to the public in 1949 as an independent, non-profit museum. It combines the world's leading collections of photography and film with the stately pleasures of the landmark Colonial Revival mansion and gardens that George Eastman called home from 1905 to 1932. The Museum is a National Historic Landmark. Mr. Eastman, the founder of Eastman Kodak Company, is heralded as the father of modern photography and motion picture film.
George Eastman: The Wizard of Photography
American Experience on PBS – The Wizard of Photography -this site includes more about the film, a timeline, a gallery of photos and more.