Welcome to the second day of 10 Days of The How To's of Book Clubs. Today we are going to talk about the types of book clubs. Over the years I have been involved in a multitude of book clubs. I think you might be surprised at what you can find or create if you put your mind to it!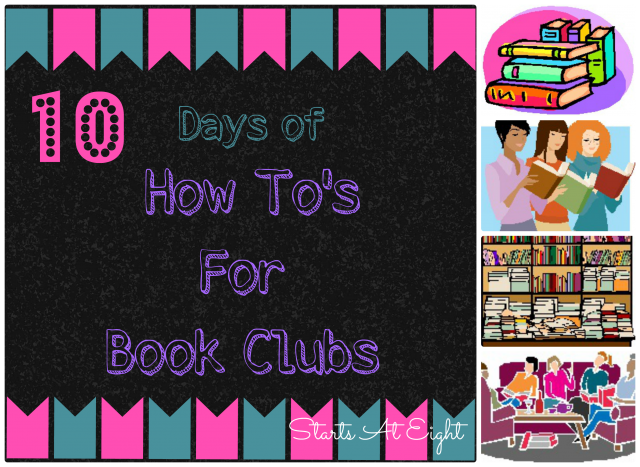 Types of Book Clubs:
Adult Book Club
Adult book clubs offer an opportunity for you to gather with other adults to interact and discuss the literature you chose to read. I have had the privilege of being a part of multiple adult book clubs. One I started myself with a friend, another consisted of a group of homeschooling mothers.
Library Book Club
Libraries often offer book club sessions for both adults and children. The great thing about a library book club is that everything is done for you! The book is chosen, the location is set and convenient and any facilitating or activities are done and created by the library staff. (Plus they take care of set up and clean up!)
Parent/Child Book Club
Parent/Child book clubs offer many advantages, such as designated time for the parent and child to spend together. A Parent/Child book club is a great way to help engage children in discussion and activities related to the topic book. It also offers the children a chance to see reading and discussion modeled by the adults.
Online Book Club
Given the age of technology that we live in, there are many opportunities to take advantage of virtual, or online book clubs. This is great for those that are not conveniently located near a like minded group of people to gather with, or if you are looking for a specific themed club, or even a specific book. Places like Goodreads and Barnes and Noble and have a multitude of book clubs to choose from.
Themed Book Club
Themed book clubs are based around a specific them, or even a specific series of books. Maybe your interests fall into a technology category so you read books either fiction or non-fiction that are related to technology in some way. For kids one popular book series to base a book club and activities around is the American Girl Doll series
.
Activity Based Book Club
Some book clubs are simply a discussion of a book. You could also choose to have a book club that was activity based. This could be either for adults or children. For each book that is read you would pick a related activity. For instance maybe you read a book set in Paris, or where the main character spent most of their time, or traveled to. You could have a French themed activity night with French foods, activities and more.
Gender Specific Book Club
With both adults and children alike, it is sometimes nice to gather and have just "girl" time or just "boy" time. It could give moms a chance to gather and commune about motherhood, while discussing books and having a brief time away from the children. A boy specific club could give the boys a chance to gather, read books, and do activities that may interest them such as aliens, sports, and sci-fi.
These are some varied examples of types of book clubs, but by no means an exhaustive list. Using what you are interested in and a little imagination, the possibilities for book clubs and gatherings are endless.
On Day Three we will talk about how to find a book club that suits you. Or if you can't find a book club that works for you, how to start one of your own!
Topics in This Series:
Day One: Overview/Landing Page
Day Two: Types of Book Clubs
Day Three: Finding or Starting Your Own Book Club
Day Four: How To Host a Parent/Child Book Club
Day Five: Guest Post – Kids Books to Rev Up The Imagination
Day Six: (Monday, October 21st) Elementary Aged Book List
Day Seven: Favorite Books For Boys
Day Eight: Favorite Books For Girls
Day Nine: Popular Children & Teen Book Series
Day Ten: Example of a Teen Themed Book Club
BONUS DAY: (Monday, October 28th) A Book List of Children's Classics & Other Favorites