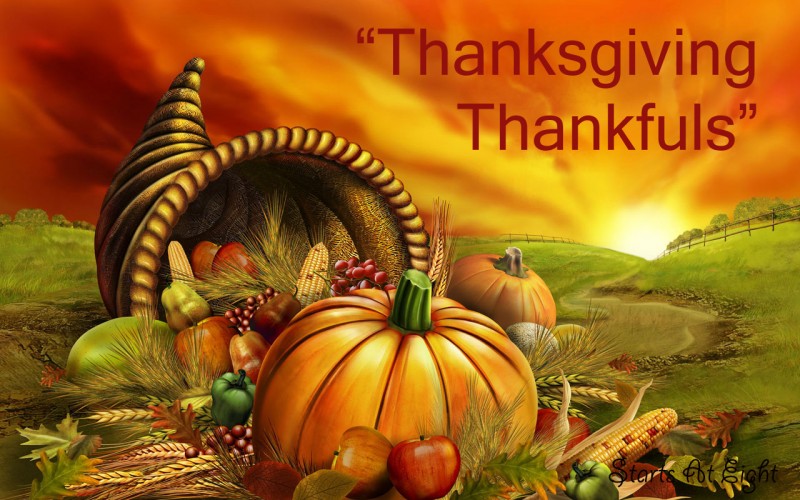 November 1st: I posted my first Thanksgiving Thankfuls on Facebook and this is what it said, "On this the first day of November 2011 I am thankful for the incredible authors/books/etc that we have to enjoy in print, audio, and digital format these days!"
November 2nd: I am thankful for the opportunity to sleep in late and start our days on our terms. Sometimes the days/evenings can get very hectic. It is nice to know that if the kids need extra sleep that their bodies can rejuvenate themselves by sleeping until they wake in the morning.
November 3rd: I am thankful for the sound of music. Whether it is from Jayden playing the piano, Chloe playing her violin, guitar or piano, or from the radio/computer, I so enjoy listening to music. There is something to suit every mood which is one of my favorite things about music. I have certain songs that soothe my soul, make me want to get up dance, encourage the tears to fall, or remind me of some past memory. Yes today I am thankful for the sound of music. (I write this as Jayden plays the piano in his unmistakable "turbo" style! There is little finesse or musicality to it for him at this stage, just speed.
November 4th: I am thankful for our friends the Kinsler family. It has been such a blessing to have met a homeschool family that we ALL connect with. Each child has a matching counter part and we as adults enjoy spending time together. Plus, Michalene informed us that there can be absolutely NO yolk in the meringues Chloe was having no success with! 😉
November 5th: I am thankful for access to a great library system. Books get very expensive to be buying everyone you want to use. Our county has so many great libraries and a vast expanse of books inside their walls. For instance, Ava is in a book & tape phase right now. I could never buy her all the book & tape sets that we have borrowed and that she has enjoyed from our library.
November 6th: I am thankful for the furnace that heats our home. The biting cold is seeping in here in NY and we are blessed to be inside our warm home (even if the kids complain that I keep it too cold).
November 7th: It is a Museum and Music Monday in our house. I am thankful for the opportunities my children have to choose and play an instrument, and for having a long time teacher who is so great with them.
November 8th: My husband had off from work today. It is Election Day and state workers get the day off. Today I am thankful to live in a country with all the freedoms that we have. The system isn't perfect, but it is so much better than so many other countries.
November 9th: We had lunch with my dad today. I am so grateful to still have him here to be a part of our lives.
November 10th: We attended our first Homeschool Ice Skating of the season today. I am so thankful for the little community's within the larger scale of homeschoolers in the Rochester area that we connect with in our lives.
November 11th: VETERAN'S DAY: Today I salute all the men and women who did, currently do, and will fight to protect the United States, both it's freedoms and the people who enjoy them.
November 12th: I am thankful for our "commune" family. It is a sort of joke between us and good friends of ours that when the economy tanks completely we will take up residence together and share the expense and work load of our lives. Beyond this, I am just plain grateful to have good friends. Good friends to spend time with, and good friends whom you know will help you out in a pinch.
November 13th: Today I am going to be thankful for NFL football. Silly? Maybe. But we have spent many years now gathering around the tv on Sundays, Joey making homemade pizza, and all of us watching football. Today we were blesses to spend the day with friends, who not only cooked for us, but tolerated our football watching just to have us over!
November 14th: Thankful today for a day to be spent at home. It was a hectic, fun, busy weekend, but now it is nice to be home today.
November 15th: Today I have to give kudos to our computers. Without them homeschooling would be so much more challenging. With technology as it is, there is just so much right at your finger tips.
November 16th: Despite the fact that I hate running, today I am thankful for our community center that has an indoor track for us to use during the long winter months of bad weather.
November 17th: I am taking a water aerobics class on Monday and Thursday nights right now. It is about my only time away from the kids these days. I am thankful for the chance to squeeze a little exercise into my life.
November 18th: Thankful today for all the good years we have had with our dog, Muffin. In this past year she has been getting sick fairly often. It makes the reality of her not being around for too many more years that much clearer. She is a dog like no other and we will forever be grateful for all the years we have had with her (and hopefully we will have a few more).
November 19th: Thankful for the 16 years I have had with Joey thus far and looking forward to many many more.
November 20th: Thankful for the access to things like Wal-Mart, Wegmans, doctors, and healthcare (medicines). We often take for granted how easy it is to hop in the car and drive 5 minutes to our destination for almost anything we could want.
November 21st: Incredibly thankful for the 3 healthy children I have been blessed with.
November 22nd: As I write out a check I am reminded of our move almost 4 years ago. The reason I am reminded is that our checks still have our old address on them so I always have to write our current address in. I am so thankful for the move that we made. This house has given us the space to stretch our legs that was much needed!
November 23rd: Joey took the day off today to grocery shop and prepare for our Thanksgiving feast tomorrow. I am thankful for a job. (I could stop right there, being grateful he has a job!) But I am also grateful for the flexibility he has in his job.
November 24th: On this Thanksgiving Day I am thankful for the large bounty of food spread a top our table. Joey cooked our first Thanksgiving turkey and it turned out fantastically!
November 25th: We were blessed again this year to have a "Kron Family" gathering at my Aunt and Uncle's house. I am grateful to them for their dedication in gathering us all together every year.
November 26th: Ava and I sit at a live show of Barney today. I am thankful for the many opportunities we have had recently to enjoy new products, books, shows, etc. at no cost to us.
November 27th: Unseasonably warm the weather has been. (That is my Yoda speak that Joey is always picking on me for!) We have enjoyed such nice weather well into November this year and are grateful for the extra time outside it has given us!
November 28th: Thankful for photos today. It is a pain in the behind to take them sometimes, but it is such a joy to have them to look back on!
November 29th: Thankful for those friends you have that even if you haven't seen or spoken in a little bit, you know they are still your friend and will be happy to hear from you!
If you would like to join me in Thanksgiving Thankfuls this year please grab my Thanksgiving Thankfuls button to add to your post, or blog, and leave me a comment with a link to your Thanksgiving Thankfuls post. I will compile all of them and put them together in my Thanksgiving Thanksfuls post at the end of each week. If we start to get a bunch of people participating then I will start adding a linky.
---
Here is the code for my Thanksgiving Thankfuls Button:
<a title="Startsateight.com" href="http://www.startsateight.com/?cat=42″><img style="border: none;" title="Thanksgiving Thankfuls" src="http://www.startsateight.com/wp-content/uploads/2010/11/ThanksgivingThankfuls-800×500.jpg" alt="Startsateight.com" width="200″ height="175″ /></a>
---