There is no denying that smartphones and social media play a significant role today in the lives of most individuals. Older and newer generations alike generally have some sort of social media presence. While it might seem cute to see grandparents using Instagram or Tik Tok, some parents are hesitant to let their young children get in on the craze, lest they get addicted.
Smartphones and Social Media for Your Homeschooler
Although most older kids and teenagers today are already addicted to social media apps, smartphones do not have to be a bane for you as a parent. Rather than letting social media become the thing that comes between you and your children, it can actually be used for good—so long as you teach your kids to use it right and set good boundaries.
There are numerous ways that smartphones and social media can be used as educational tools, for example. It's all about helping your child find the right balance and setting restrictions or guidelines to avoid abusing it—especially for younger homeschoolers. But if you use them right, smartphones can be powerful tools that allow your child access to things that might otherwise be unavailable to them as a homeschooler.
Using Social Media as an Educational Tool
Though many older adults view social media as a distraction that today's younger generations are obsessed with, teachers and even professors are starting to use social media in the classroom setting to engage students and support their educational development. As most kids today already use smartphones and social media, instead of trying to fight it, it's better to use it to your advantage to keep them interested and engaged in their studies.
Social media platforms, for example, offer more than just a place for kids to post photos and videos for "likes"—they also offer students a space where they can share information that facilitates collaborative communication, critical thinking, and creative processing. It can also improve their cognitive processing by teaching them to seek out answers and make independent decisions.
Social media is also, at its foundation, a way for people to connect across boundaries. Using social media in the classroom can broaden a child's perspective of the world and the people in it, teaching them critical awareness. Being able to connect with others on a global scale beyond the classroom will help prepare students for the different people and experiences they will come across when they leave school and enter the professional world.
Social Media Guidelines and Boundaries for Your Homeschooler
Of course, if you are going to use s smartphone and social media to help educate your homeschooler, there will need to be boundaries and limitations put in place. Smartphones are a useful tool, but there are still some things that parents and caregivers should be mindful of when using social media in the classroom or homeschool setting.
Basic internet safety, for example, is something every parent and their child or teen should know about before using social media—especially when using it in an educational setting. The last thing you want when setting your child up to use a smart phone for learning purposes is to find they've come across something inappropriate or explicit. So make sure you use parental controls and safety settings to avoid unwanted content.
Additionally, it's important to set boundaries, especially with older kids and teenagers, around the use of their phones during "school" hours. Make it clear that the apps they are using are for educational purposes and social time with their friends, and general posting should be saved for after homeschooling. Some kids might be more tempted than others to abuse the use of access to their phones during school time, so it's important to set boundaries from the start.
Furthermore, don't just give your kids a phone and assume they will find the right educational channels. It's helpful to find the right educational spaces for them and save them, so they are easy to find next time. You should also do a bit of research to make sure that something that claims to be an educational resource is, in fact, appropriate and run by someone genuinely interested in helping children learn in the social media setting.
Ways to Use Social Media for Your Homeschooler's Education
There are various ways to use social media as a learning tool. How and when you use it during homeschool hours will depend on the age of your child and their capabilities. For younger children, for instance, you might simply use YouTube initially to set them up to watch educational videos, but as they get older, they can start using apps that allow them to start engaging on their own and interacting with other students.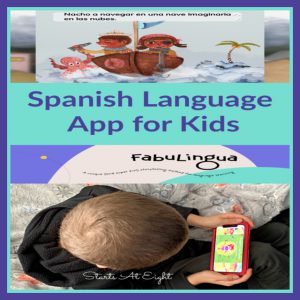 Below are some of the top ways you can use social media for your homeschooler and their educational development:
Facebook groups for live streams of educational lectures and discussions.
Twitter and specific hashtags to learn about certain topics and encourage an open forum for debate.
Instagram to create a separate account where students can share their research and educational interests or post photo essays for digital storytelling.
Start a blog where your child or teen can start writing posts about educational topics, or you can assign blog posts as essays.
Use Pinterest to make an educational imageboard or to collect ideas for educational activities.
Form study groups with other homeschoolers using FaceTime
YouTube to watch educational videos or create your own course or student presentations.
Above are just a few of the many ways you could use smartphones and social media for learning purposes with your homeschooler. The goal is to make it fun and engaging for your child or teen, so they can develop various skills while using platforms they are already highly familiar and comfortable with. This can even help them gain a healthier perspective surrounding the use of social media both in and out of the classroom setting.