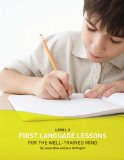 Being a homeschool parent who loves Susan Wise Bauer's, The Well Trained Mind A Guide to a Classical Education at Home, I decided it was time to give Jessie Wise's First Language Lessons curriculum a try.
First Language Lessons
Even though Chloe was in 6th grade last year, I was unsure how well of a job I had done using random workbooks to teach her the basics of grammar. Then I had Jayden in second grade who was really just getting into memorization and usage of sentence structure and grammar.
We started using First Language Lessons: Level 3 for both of them.
While most of it seemed like easy review for Chloe (thank goodness), there were still new concepts for her to take in as well. We had never done any sentence diagramming in our other workbooks, thus First Language Lessons was a great step by step look at sentence diagramming from picking out the subject, verb, as well as identify the prepositional phrases in more complex sentences. Thus making it easier to find the subject and verb.
We have found First Language Lessons method of memorization of each of the grammar components to be invaluable. Even though most of them were first covered in books 1 & 2, they are revisited in book 3 so that if you start there (as we did), you can easily catch up!
This year we are continuing on with First Language Lessons Level 4. I debated about using this with Chloe again this year, but in the end opted to include her. Grammar is so important in future writing, and I love the way First Language Lessons moves through the concepts, so I felt it could only increase her retention and skills.
Then there is also review built in to the book. After a large handful of new lessons, then review of one or more of the concepts is covered. This has proved to be very important for Jayden. He is in 3rd grade this year, and thus more at the academic level that these books were geared for. Thus I notice that he may get a concept after we have completed the lessons on it, but when we see it again in review, he doesn't always remember it.
First Language Lessons also includes memorization and dictation. While my children don't love the dictation, it is an important part of being able to translate the words they are hearing, into words on the paper in written form.
Now the memorization on the other hand, is a big hit with my kids! They look forward to each new poem, and to seeing who can memorize it in the least amount of time. The very first one I did with them I printed out and let them illustrate a picture for it.
Another option is to stop over to Homeschool Creations and download their free printables for the poems in all 4 levels of First Language Lessons.