This school year we are trying to work our way through one major art project each month.  For the Halloween/Fall season I wanted to do something that related to the season, but something a little different.  I found a unique Oil Pastel Resistant Pumpkin Art Project to try with the kids.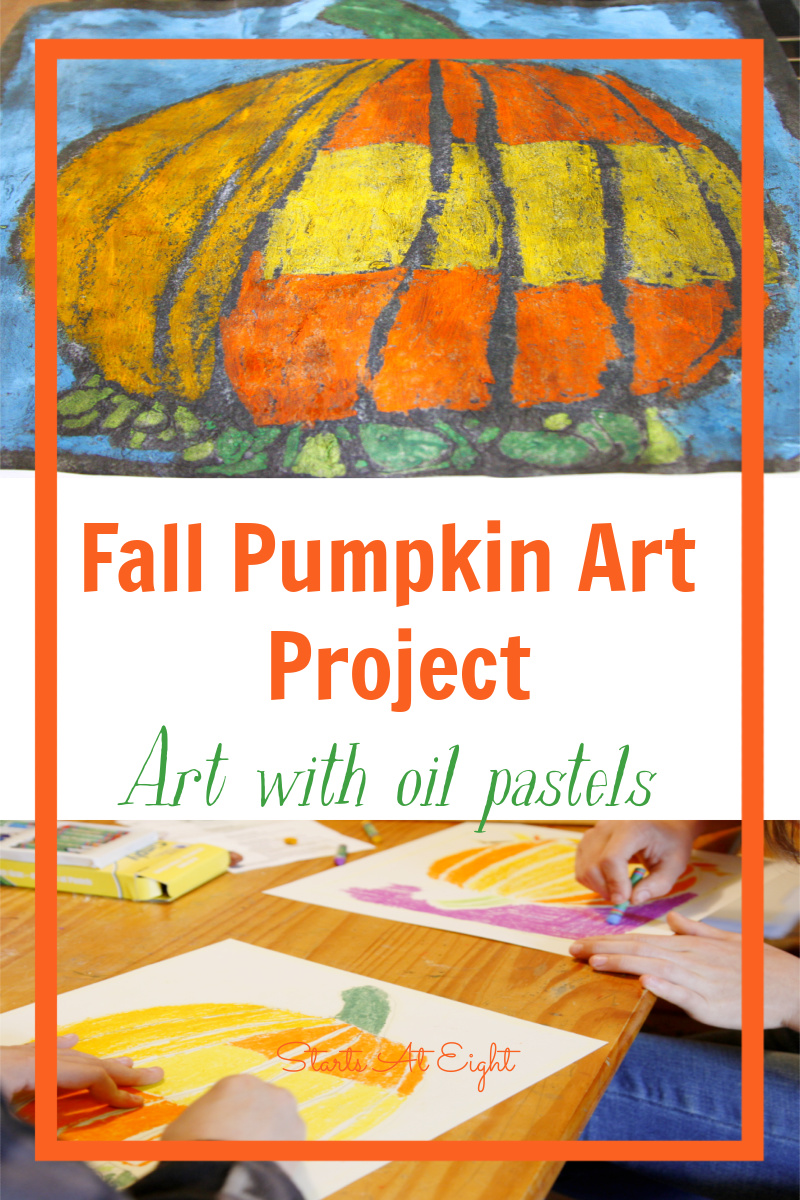 Oil Pastel Resistant Pumpkin Art Project
Supplies:
oil pastels

chalk (regular chalkboard chalk)

black acrylic paint

heavy white square cardstock
Each one of the kids sat down and drew their own pumpkin. We used regular pencil and I encouraged the kids to use it very lightly as not to dent the paper too much and to make it easier to erase if they needed to.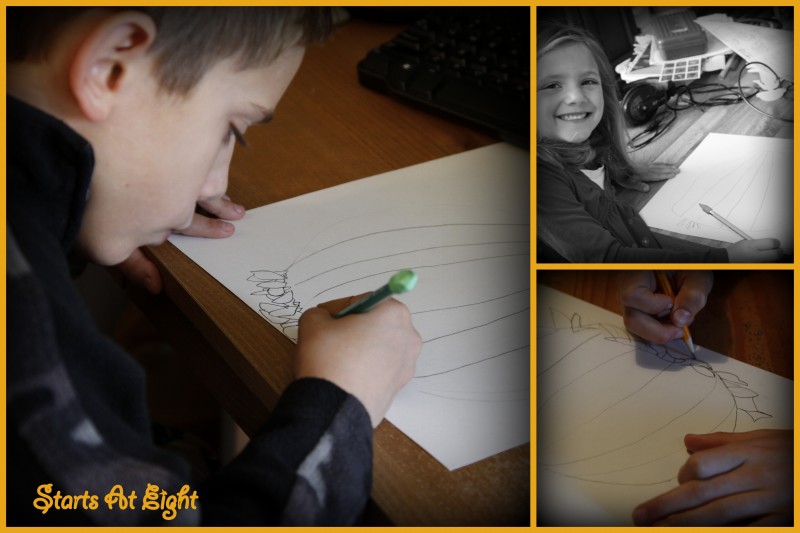 After finishing their pencil sketches we moved on to tracing over the pencil lines with the basic chalk.
The reason this is done is too ensure there will be paper that does not get oil pastel on it. These sections are supposed to hold the black paint, creating a bold outline of your work.
You could easily skip this step and go straight to the oil pastel part as long as you make sure to not color all the way to the lines with the oil pastel.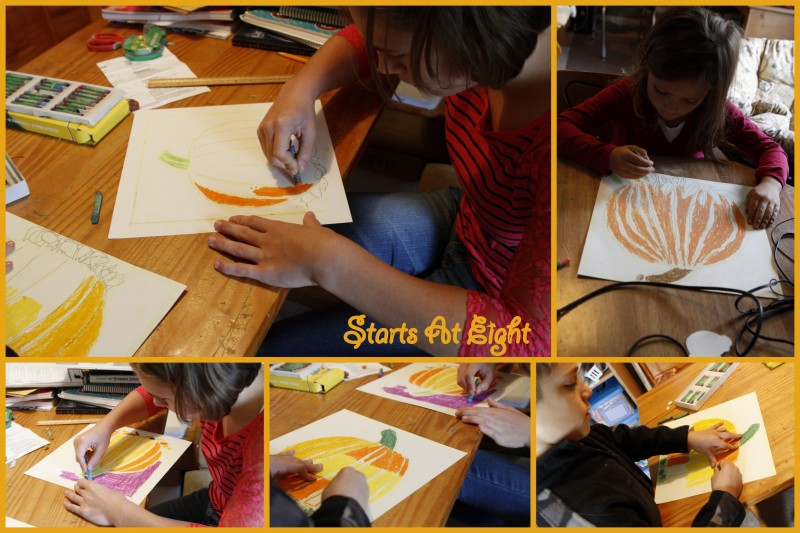 The next stage is the tricky part.  The directions warn you it may be tricky and to try it first.  I just dove in with the kids.  After doing it ourselves I have some useful tips for this part of the process.
For starters, when she says water down the black acrylic paint, you really need to water it down!  Make it closer to a water color, a thick water color, when you paint with it.
Also I can't imagine how dark leaving it to dry for 5 minutes would make it! I would say pretty much don't let it really dry.  Paint over the whole thing with the black paint, do it quickly, and then begin the process of washing it all off.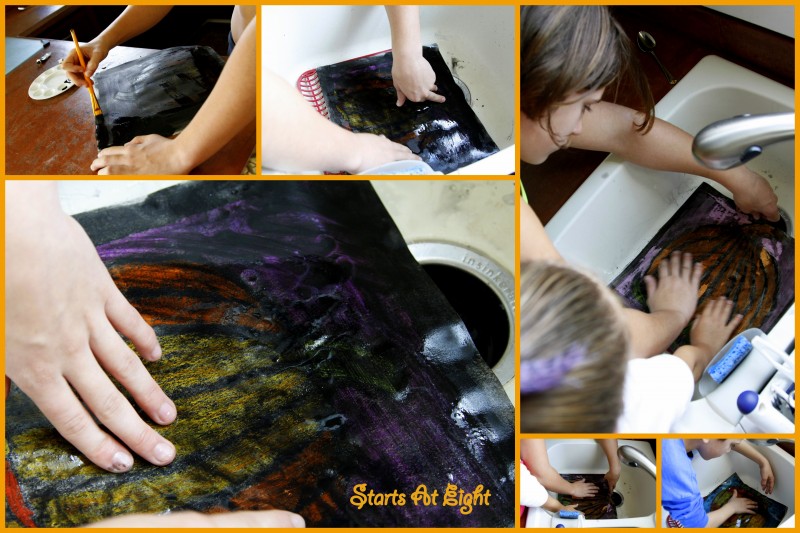 After rinsing as much of the black paint off as possible, we left them to dry on a drying rack.
The effect of the black paint sticking to the paper where there was no oil pastel was very cool.
We believe the projects would have come out brighter, and more vivid if we had altered with the steps I talked about above.  Too much of the black paint stuck (dried) on top of the oil pastel, leaving them darker than we would have liked.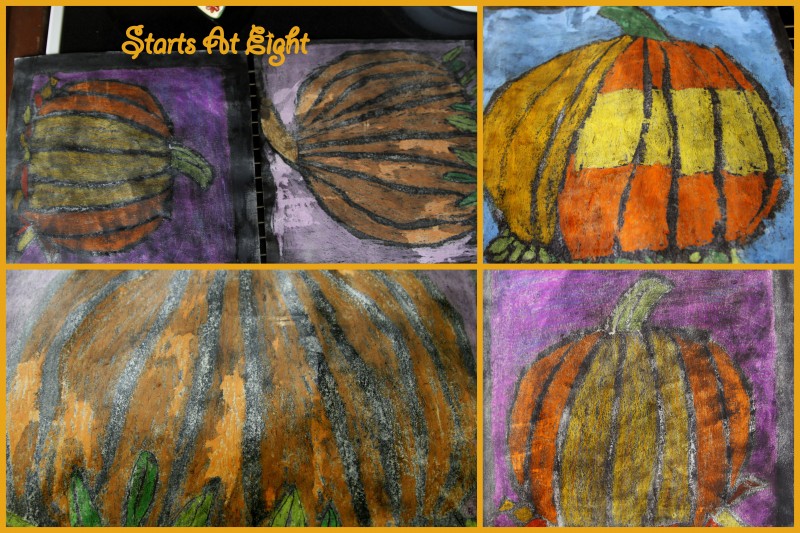 More Pumpkin Fun