Planners, calendars, check lists, to-do lists…..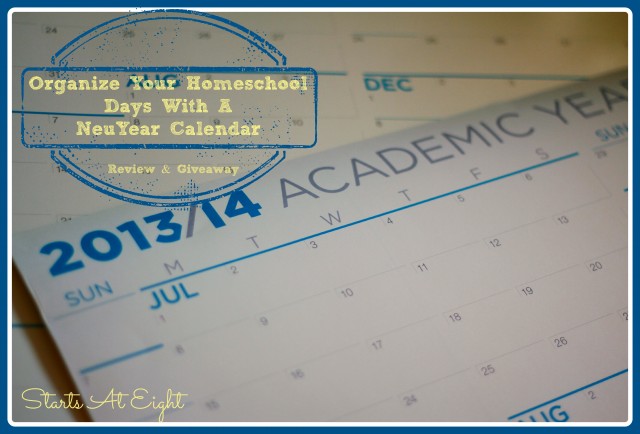 What do these have in common? The fact that I love them of course! For that very reason I am so excited to tell you about this new Academic Wall Calendar I am using!
We have three kids, and therefore lots of activities to keep straight. With daytime homeschool classes and events, to the necessary family appointments and multiple sports activities for each child, we have lots to keep track of. I have gone to using a digital calendar for myself, but what about the kids? How are they supposed to know and keep track of what is on our schedule for the coming days and weeks?
Features of the NeuYear Big Calendar
First I just have to say that it arrived in a large, sturdy mailing tube!  Not only was it secure and undamaged but the kids were overwrought with excitement over what could possibly be in this unusual package!
The actual size of this big calendar is 27″ x 39″ which allows for the displaying of all 12 months at once, while still giving you big enough boxes to write in.  This big calendar is the perfect fit for most walls.
One of the things I love most is that you can choose which side of the calendar to use!  One side has all twelve months in vertical orientation and the other in a horizontal orientation so you can chose what will best fit the space you have to hang it in.
Another big scheduling pro is that the months flow together, leaving no gaps in your calendar from month to month.  This makes flowing through the transition week much easier as it is not broken into two parts.
The bottom of the calendar contains a KEY so you can code things to make it easier to use.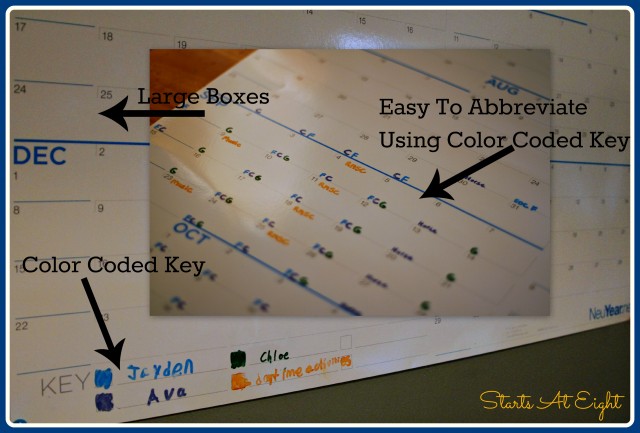 How We Are Using Our NeuYear Big Calendar
We are using the dry erase version of the NeuYear 2013-2014 Academic Calendar because I am a little (ok, a lot) type A and I don't want to have to scribble anything out.  I even bought a brand new set of dry erase markers just for this!  That being said you could also use the regular paper version and scribble things out, or use the regular paper version with colored pencils that can be erased if something changes!
In the photo above you can see the KEY my 10 year old son created to help us keep the calendar cleaner and easier to read.  We opted to use color coding for each child specific activity like their sports, and then used one color for their joint daytime activities.
To break it down even more, once a color is chosen, like blue for Jayden, we then were able to easily shorten to one letter the activity and still have them know what it is. F for football, S for soccer, C for cheer, G for gymnastics, and so on.  This makes our calendar less cluttered, and easy for each child to know when and whose activities are on any given day.
Buy A NeuYear Big Calendar
When you use the code "SEPTEMBER20" (through September 30, 2013), you can save 20% off your purchase from NeuYear.net. Just enter the code on the second page of the checkout process for your discount. And I have even more Great News! If you purchase a NeuYear Calendar and then win the giveaway, NeuYear will refund your purchase price!
Become a NeuYear Affiliate
After you buy your NeuYear Calendar and realize how much you love it, you can spread the wealth and even earn a little money by becoming an affiliate and encouraging  your friends to buy one too!
Sign-up for the NeuYear Affiliate Program, and you get a link you can share with friends. Your friends save 10% on their purchases, and you earn 10% cash (paid via paypal) on the sales you refer.
You can also sign up for NeuYear's Newsletter