Homeschooling has given me a valid excuse for indulging in my book loving habits. Whether that be by toting home stacks of books from the library, spending countless hours at used book sales, or by filling the walls of our homeschool room with bookshelves. One of the things I have invested time and money in is quality non fiction books.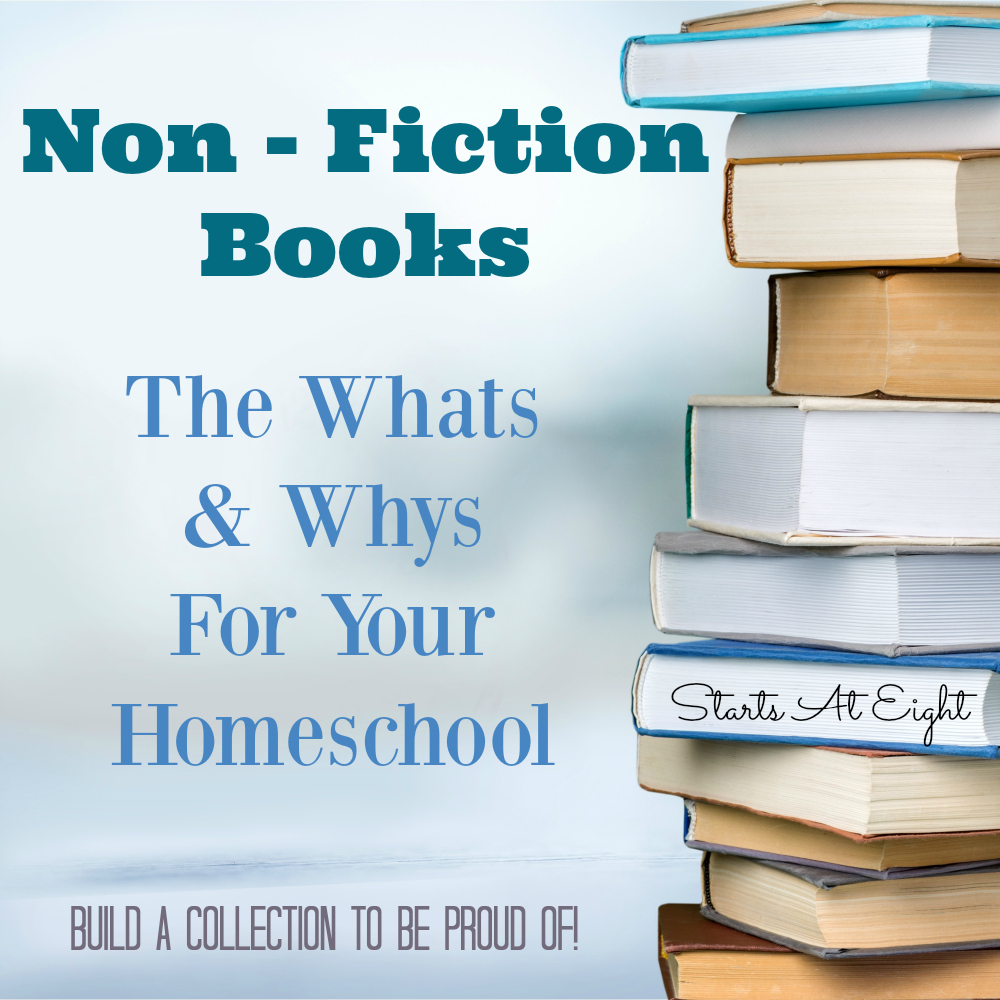 I feel that being surrounded by good books is an important piece of the puzzle for the learning process. We have always had lots of books around, from board books to picture books, including historical fiction, chapter books, classic literature and more!
Another part of our book collection consists of shelves of non fiction books. I have found it very helpful to acquire a collection of solid non fiction books on a variety of topics including history, science, art, music, and more. These have been great reference material for projects as well as fun reading and learning when the kids get excited about a particular topic!
You can see how we Organize Our Homeschool Bookshelves: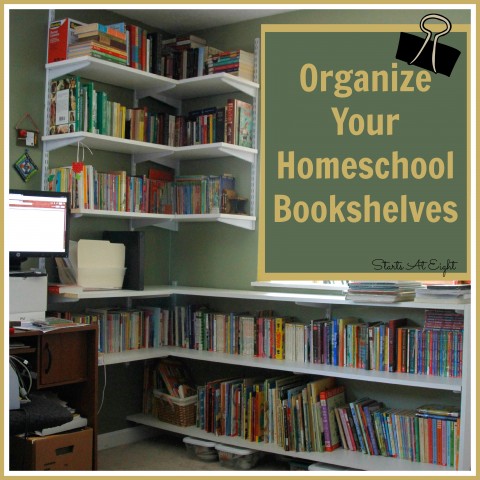 Why Non Fiction Books?
Non-fiction books offer the facts. When my little one was obsessed with dinosaurs not only did we read fun stories about dinosaurs and watch cartoon shows about them, we also watched documentaries and read tons of non-fiction books about real dinosaurs.
Non-fiction books offer real photos. While whimsical pictures, painting or drawings are fun, it can be really beneficial to see actual photos of that anteater you read about, or the toucan your little one just made up a song about.
Choosing What Non Fiction Books
It can be difficult to narrow down what books are worth buying and what books are better left to be borrowed from the library. When we are studying a topic, or one of my children gets excited about a topic, I will often check out resources online and then take out as many as I can find from the library first. This gives us a chance to see if we are going to love the book, or find it a useful tool before spending the money to have it in our personal collection.
Important reference books to add to your homeschool collection:
We are very heavy weighted in the science and history sections. Not only do we have more general history and science reference books, but we have much narrower topics such as horses/equine science or a time period like medieval times.
Art/Music
Classical Music for Dummies – We love many of the books in this series. They offer a solid foundation in the basics of so many topics.
Drawing With Children – This invaluable teaching aid not only guides readers through the basics, but also gives important advice on creating a nurturing environment in which self-expression and creativity can flourish
Child's Introduction to Art – The book highlights 40 painters and sculptors, including Leonardo da Vinci, Claude Monet, Diego Velasquez, Vincent van Gogh, Salvador Dali, Mary Cassatt, and Andy Warhol, providing information on their life, inspirations, influences, technique, and a full-color photo of one of their signature works of art. It also includes an overview of various styles and periods (Renaissance, Impressionism, Cubism, etc.), instruction on how to view and appreciate art, and information on the color wheel and other tools artists employ.
Getting to Know the World's Greatest Artists Series – These books are great for digging in to individual artists – especially if you have a kid who really gets into this topic. They also have Getting to Know the World's Greatest Composers
The books in the 13 Series offer a variety of art related information and activities. From art techniques to art movements and even art mysteries.
Science
Fact books have been a big hit with my little one who has always been the most interest led of all my children. This 999 Amazing Animal Facts is just one example.
The Kingfisher Science Encyclopedia – This is one we will be adding to our collection this year as part of my 8th graders science curriculum (an inside look coming soon). This volume provides in-depth insight and succinct authoritative answers to all areas of scientific inquiry-avoiding the need to hunt and peck for information across multiple sources. An impressive supplementary section at the end of the book includes mini-biographies of famous scientists, and an illustrated time line of key inventions and discoveries. Arranged thematically into ten subjects, with reference summaries for each chapter and a full index.
For the hands on kid in your life these 101 Easy Experiment books from Janice VanCleave are a must! Some of the topics included are Biology, Chemistry, Physics, and Earth Science and SO many more!
The Science Book (Just one of many books in the Big Ideas series) – The Science Book, is an inventive visual take on astronomy, biology, chemistry, geology, and physics. With eye-catching artwork, step-by-step diagrams, and illustrations that break down complicated ideas into manageable concepts.
DK offers a host of Visual Encyclopedias that are great for the upper elementary and early middle school years. Some topics covered are Geography, Dinosaurs, Animals, the Human Body and Space.
These Basher Science books are a super find that I found a couple of years ago. Their unique spin and original ideas for teaching science topics is awesome! Topics like The Complete Periodic Table, Physics, Astronomy, and Mircobiology are just a few of the titles they offer.
Field Guides are a staple in our house for nature studies. We love Peterson Field Guides, National Geographic, and DK Smithsonian Handbooks like this Shells one. We have ones for birds, trees, flowers, rocks, butterflies, insects and so many more!
The following posts offer some great book ideas on specific science topics that we have spent more time digging in to. These are just a taste of what you can do with non fiction books relating to one specific topic.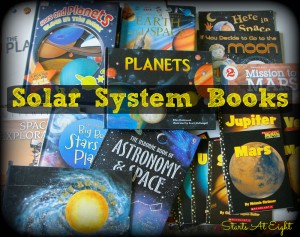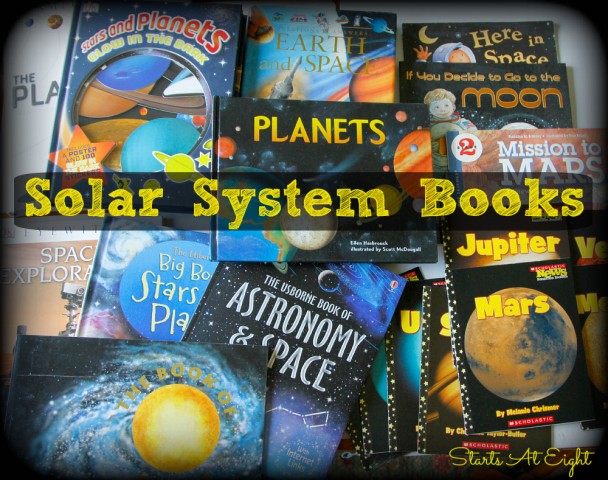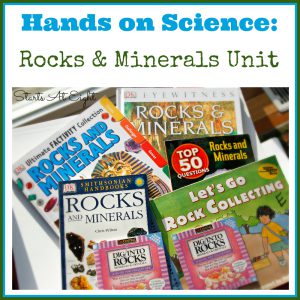 History
History Year by Year presents the world through a detailed timeline, letting children follow the influences, patterns, and connections between historical events.
The Kingfisher History Encyclopedia – From man's earliest history right through to the technological and social revolutions of the current day, this trusted reference provides a one-stop source for research, and is the perfect companion to any study of world history. The encyclopedia is organized chronologically and then thematically within each time period. A timeline runs across the top of each page for context.
The New Big Book of U.S Presidents – Fascinating facts about each president and an American History Timeline.
The Everything Kids Series of books were designed to make learning fun with puzzles, dot to dots, mazes and more! From The States to French, Soccer, Cooking and so much more!
The If You Series books are great for a more in depth at specific events in history such as If You Were There When They Signed the Constitution, If You Lived in Colonial Times, If You Traveled West in a Covered Wagon
Both a World Atlas and United States Atlas are staple reference books on our shelf. Geography is an important piece of understanding history and the world around us.
To go along with any of the non-fiction books you use in your homeschool, consider using the Who Was Biography series to learn more about scientists, inventors, writers, musicians, athletes, presidents and more!
Now by no means would I expect anyone to have everything listed here (although I have most of them)! Instead this list is meant to give you an idea of the types of staple non fiction books to consider for your homeschool collection. These are books I have collected not only over my 10+ years of homeschooling, but since I started having children. We are always on the look out for good books to add to our collection!
Other Book Related Topics