I started these New Year's Resolution Posts in 2010 on a whim. I made it my goal to read Gone with the Wind. I did that wish ease. Then in my New Year's Resolution Post 2011 I decided to try Sophie's Choice.
I am having less success with Sophie's Choice. I tried reading it earlier in the year, but got sidetracked. I picked it up again around the beginning of November and have only made it about half way through. I am still hopeful that I will finish it at some point, but am not sure that I actually will. The good thing that has come from the book is my knowledge of other things. I have listened to pieces by Mozart such as the Sinfonia Concertante, I have read poetry by Emily Dickinson, and I have researched more about the Holocaust.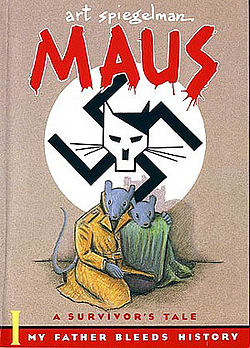 In researching the Holocaust and talking with others both about Sophie's Choice, as well as the Holocaust, another book was recommended to me called Maus: A Survivor's Tale I: My Father Bleeds History. It is a graphic novel about a Holocaust survivor in which the Jews are mice and the Nazis are cats. My full review of it will be coming soon but I have to say it is a must read! History to me can become boring, and seem out of reach (not relevant to me). Art Spiegelman brings it to a place where you can read the story, feel the strife, follow the timeline, and learn along the way.
There is a second book, Maus: A Survivor's Tale II: And Here My Troubles Began that begins at the doors of Auschwitz. From what I understand the second book is tough to read. One reviewer writes,
"It's dark, bleak, miserable and completely relentless. When you read it, try to experience it in one sitting but be sure to set aside a good hour after to recover. It's Vladek's disarmingly frank recounting of events that makes his experience so difficult to stomach."
I have yet to read this second volume, but intend to do so in the coming days. (My thoughts and review will of course follow.)
This year as I was planning for this post, my goal started out as trying to read the first Harry Potter book. Since conceiving this idea, it has turned into trying to read all of them, but with the older two kids (Chloe and Jayden). I found a great series of Novel Studies which include vocabulary, basic and more in depth comprehension questions, as well as a guide to writing a well organized book summary for each of the seven books. I am not sure how fast or how slow we will get through each book, and I don't want to set a time and then feel rushed to meet that goal. I am thinking a chapter or two a week as time allows, but we will see how it goes.
So we begin our journey into Harry Potter's world this coming week, beginning with Harry Potter and the Sorcerer's Stone and hopefully working our way through all 7 books in the series.
Harry Potter Books:
1. Harry Potter and the Sorcerer's Stone
2. Harry Potter and the Chamber of Secrets
3. Harry Potter and the Prisoner of Azkaban
4. Harry Potter and the Goblet of Fire
5. Harry Potter and the Order of the Phoenix
6. Harry Potter and the Half-Blood Prince
7. Harry Potter and the Deathly Hallows