Music is many things; it's a transcendent language, a connecting force, and an infinite mathematical universe with rhythms and melodies that correspond to the very laws of nature. It's simultaneously simple and complex, with patterns of both uniformity and complementary incongruity. It may sound like a tough idea to wrap your mind around, but hey, that's the beauty of music: it flexes your learning muscles.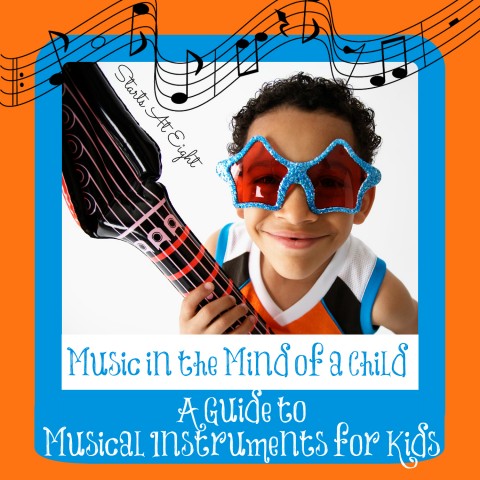 Three Benefits That Musical Instruments Provide Your Child:
Confidence – Every new note, song, and instrument the child learns to play will slowly start to develop self-esteem. As kids overcome struggles to perfect pieces and witness their own rapid growth, they'll be amazed to learn how truly capable they are. This will undoubtedly instill in children's young, impressionable minds that self-doubt and frustration don't have to block them from accomplishing their goals.
Responsibility – Tell your child that it is his/her instrument and they are responsible for anything that happens to it. Also, give them a practice schedule and encourage them to play for their own enjoyment outside of this. By committing to this routine and their own growth, little ones will develop the virtue of responsibility that will be need later in life as their education becomes more advanced.
Creative Outlet – Every kid finds their own niche way of self-expressing themselves. A large percentage of kids do this through play music. Your kid may or may not find a musical instrument to be their outlet, but it very well could be. Give them a chance to experiment with instruments to see if it is their outlet of choice.
So how do we teach all these beautiful musical complexities to our kids? Well, just like learning a new language, early exposure is key. This list of common and not-so-common musical instruments for kids is specially tailored to help the younger of minds acclimate to the world of rhythm and tone. Your child needs to start off with a basic instrument, thus we have included some examples to get you started.

Basic Musical Instruments for Kids:
Piano – The piano is both the easiest and hardest instrument to learn. It is basically an entire orchestra at your fingertips. An entire orchestra that you can learn one note at a time, one chord at a time, or one octave at a time. That makes it quick to pick up, with infinite learning potential in the years to come. Because a piano is a pricey investment, consider starting out with a rental or a keyboard like the ones on sale at Amazon.
Xylophone – A great joy to play, the xylophone is a classic kid's instrument. Something about striking these tuned chimes just feels good in the soul. It's playful, unique and oddly intuitive no matter what your skill level. What's more, with many Orff xylophones, you can remove bars in order to equip groups of beginners with only notes that harmonize well with one another. They can improvise together and, regardless of what they strike, have the produced chords sound lovely.
Ukulele – With just four strings and a soft, mellow sound, the ukulele is probably the best stringed instrument for little musicians-in-training. It's small and lightweight, yet tough enough to survive those rambunctious elementary-aged hands. A good set of nylgut strings will ring beautifully with the slightest touch, allowing even the littlest of fingers to learn how to strum gorgeous chords.
Drums –  Djembes, bongos, congas and other hand drums are a great way to introduce rhythm and improvisation to young minds. While there are high quality options available for avid learners, you can also obtain inexpensive toy drums for kids from West Music so you can introduce music to children as young as three-years-old.
Wind Instruments – Flutes, clarinets, trumpets, saxophones… these can be a little much for young minds and muscles to handle. However, the smaller, simpler wind instruments found in folk music are great for kids. Skip the cliché recorder and find something with more soul, such as the kazoo, the irish whistle, the melodica or the harmonica.
Homemade Instruments – The Internet is full of cheap, easy DIY music projects. Xylophones are built using wood planks, PVC and metal scraps. Gourds are covered with beads to create homemade cabasas. Woodwind mouthpieces are attached to plastic tubes, pipes and even vegetables to make eclectic clarinets with truly amazing sound. Rainsticks can be assembled with a cardboard tube, some nails and beads. And of course, we've all seen what the Blue Man Group can do with their junk collection. Find yourself a fun project and get the family together for a day of musical engineering. By the time the instruments are finished, the urge to jam will be unavoidable. Check out this Make Musical Instruments Pinterest Board for loads of fun ideas!
This list is just the beginning of your child's musical journey. Learning to play an instrument, even just a little bit, will help expand the developing mind. With direct effects on creativity, memory, math skills, motor skills, and spatial temporal reasoning, the benefits go far beyond basic entertainment. A little bit of music today is the secret ingredient to a bright, if not brilliantly-shimmering future.
Author Bio:
Katy Comal – Katy is a proud momma of two adventurous and quick-witted boys (Eric, 9 and Franklin, 6). After graduating from the University of Oregon (go Ducks!), she hopped around the states with Americorps and ended up finding her soulmate, Rob, on the way. She teaches her sons about everything under the sun and enjoys every minute of the adventure.