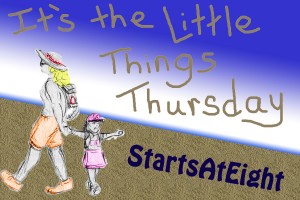 Earlier this week I was thinking about the things I have been working on with Ava and where I might like to start working on new things.  She recognizes numbers 1- 12 and can count to at least 50.   She can count by 5s and 10s as well.  I thought to myself, "wouldn't it be great if she could start to add?".
Ava has this thing with not finishing her milk at each meal.  So she has taken to saying, "Mommy, if I take 4 gulps (holding up 4 fingers) can I be done?"  On Tuesday, after she had taken 4 gulps and she had told me she had done so, I told her she needed to take 4 more and then she could be done.  So she holds up 4 fingers on one hand, 4 fingers on the other and begins to count them.  "One, two, three, four…….eight!  Mommy 4 gulps and 4 gulps makes 8 gulps!"  Much to my delight, she has begun the counting process all on her own.  Now I am wondering, do 4 fish and 4 fish make 8 fish? Or does that only work with gulps in her world!  🙂
Please join me in celebrating the "Little Things" that make this crazy journey called "Motherhood" all worth it in the end!  Add your link to the Mister Linky and then leave me a comment. I would love to hear from you!
Mister Linky's Magical Widgets — Easy-Linky widget will appear right here!
This preview will disappear when the widget is displayed on your site.
For best results, use HTML mode to edit this section of the post.