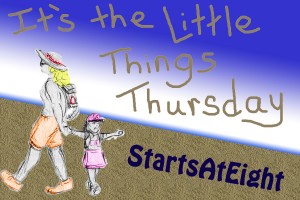 We spent this 4th of July holiday camping with friends on their 40 acres out in the southern tier of NYS.  It was a much needed and enjoyed break from our busy lives.  For us there was no internet, no tv, and just a little PSP for Jayden.  We hiked the creek, played soccer, tried to fly kites, and had lazy afternoon of reading and napping.  This type of lazy lay around mornings and napping afternoons happens about NEVER in my life.  It was wonderful!
My Little Things moment is really encompassed in the whole weekend, but to pick a single moment would be equally as easy.  It was afternoon nap time and Ava was settling down in the camper.  Joey went in to thaw the hot dogs for dinner.  A little while later someone asked where he was (I was lounging in a comfy chair reading my book in the sunshine).  It was then that I realized he went in to the camper and never came back out.  I could only assume that he had laid down with Ava.  I assumed correctly.  I went in to the camper to find the two of them snuggled up in Ava's bed sound a sleep and a little flush and sweaty looking from their lovely lazy afternoon nap.
I plan on cherishing this past weekend for a very long time, as I am not sure we will have one like it soon, or maybe ever!  Although I do hope to work towards duplicating this lazy, laid back camping style during future camping excursions! 🙂
Please join me in celebrating the "Little Things" that make this crazy journey called "Motherhood" all worth it in the end!  Add your link to the Mr. Linky and then leave me a comment. I would love to hear from you!
Mister Linky's Magical Widgets — Easy-Linky widget will appear right here!
This preview will disappear when the widget is displayed on your site.
For best results, use HTML mode to edit this section of the post.