Children are born philosophers. They love asking questions and often the questions they come up with are very philosophical. If your kids are asking questions that begin with the word "Why?" they're already doing philosophy! You can harness that curiosity and introduce them to a wonderful world of questions using some of these homeschool philosophy resources.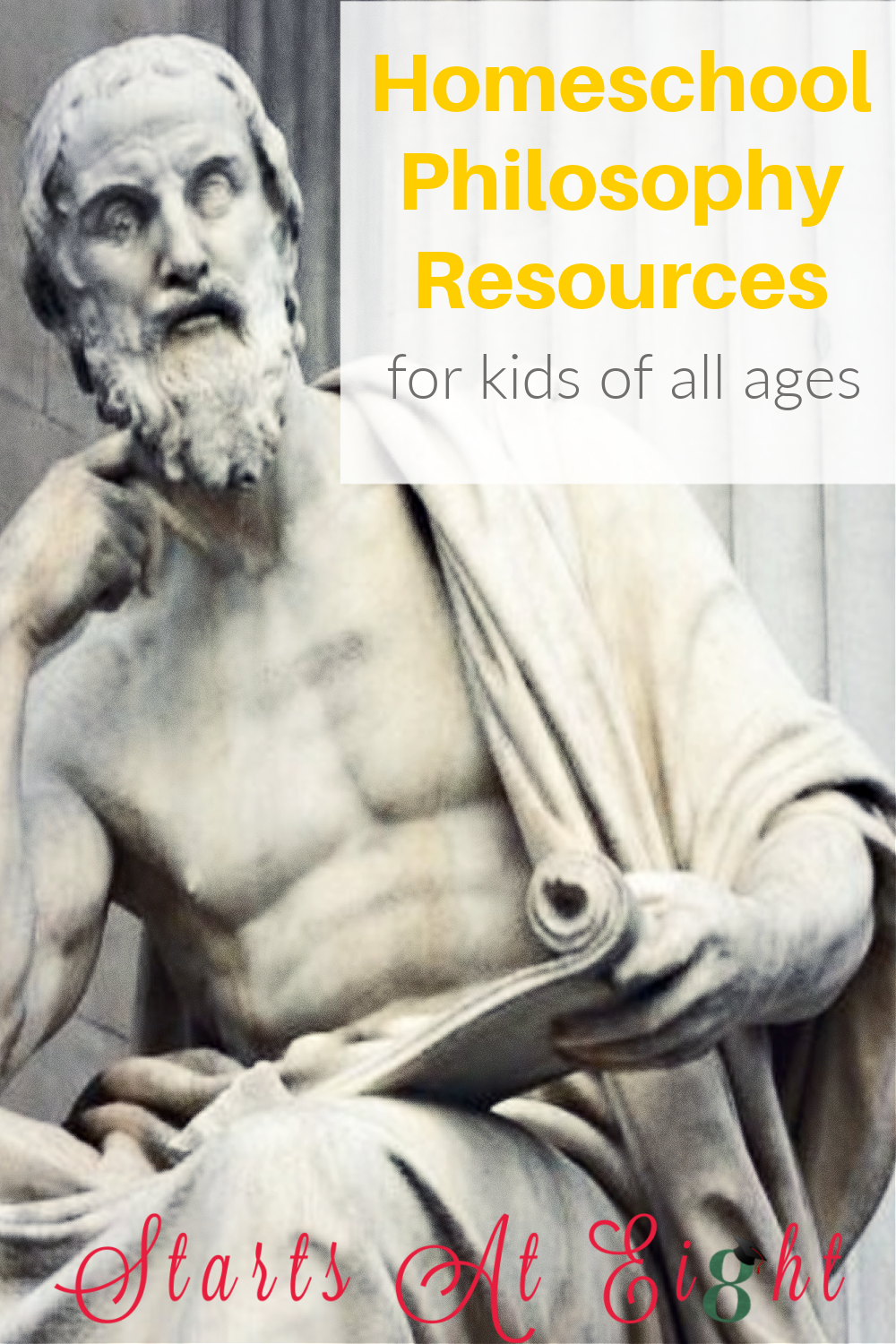 Integrating Philosophy Into Your Homeschool Curriculum
Philosophy is a subject that is often overlooked in school curricula. But, the advantage of homeschooling is that we can cover topics left out in traditional schooling. Teaching philosophy doesn't require an in-depth knowledge of the subject. You can learn to do philosophy together and there are some excellent resources for every age level!
Philosophy for Young Children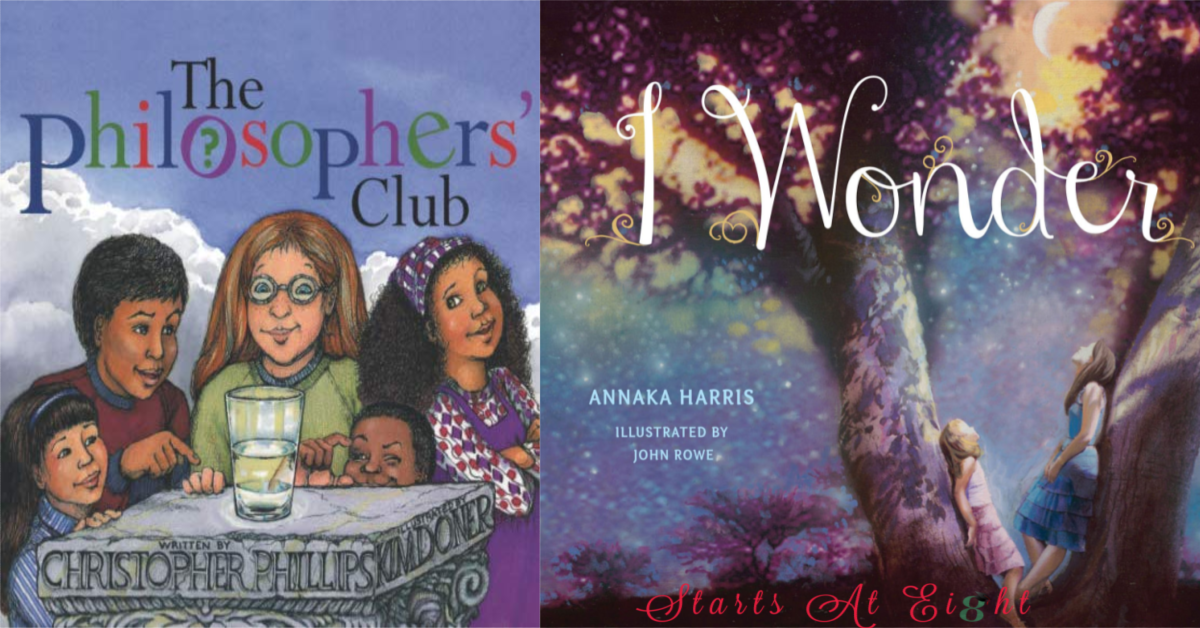 For young children, a good place to start is with Christopher Phillips' book The Philosophers' Club. The book is filled with interesting questions to get your young philosophers in the thinking spirit. Some of the questions he discusses include: "What is silence?" "Why do we ask questions?" and "What is the difference between the truth and a lie?"
Another good book for young children is I Wonder by Annaka Harris. The book places the source of questions in wonder and encourages not only mindful awareness of the natural world but also a wonder that can lead to interesting philosophical questioning. In it Eva takes a walk with her mother and encounters a range of mysteries: from gravity, to life cycles, to the vastness of the universe. She learns that it's okay to say "I don't know," and she discovers that there are some things even adults don't know—mysteries for everyone to wonder about together! I Wonder is a book that celebrates the feelings of awe and curiosity in children, as the foundation for all learning.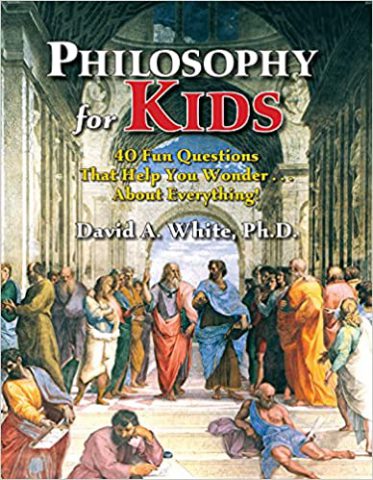 For a more structured approach, There are two books by David White: Philosophy for Kids and The Examined Life: Advanced Philosophy for Kids (for older kids).
Philosophy for Kids contains 40 questions organized into sections on values, knowledge, reality, and critical thinking. Each question is addressed in a short 2-3 page chapter and is connected to a specific philosopher. There are further questions in each chapter for deeper discussions as well.
Philosophy for Kids offers young people the opportunity to become acquainted with the wonders of philosophy. Packed with exciting activities arranged around the topics of values, knowledge, reality, and critical thinking, this book can be used individually or by the whole class. Each activity allows kids to increase their understanding of philosophical concepts and issues and enjoy themselves at the same time.
For Older Children
Philosophy can make a wonderful high school elective credit. Below you will find options for high school level philosophy.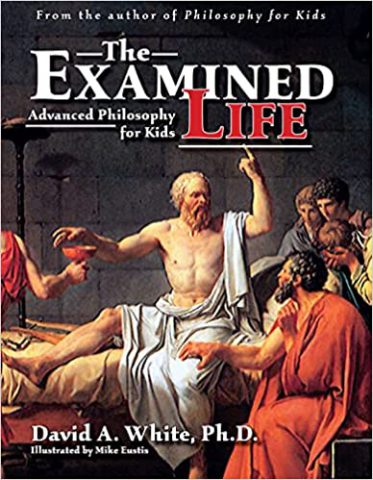 The Examined Life: Advanced Philosophy for Kids (grades 7-12) offers a more in-depth treatment of philosophical questions and would be appropriate for tweens or early teens interested in taking their philosophical examinations further. Each chapter also contains hands-on activities nicely illustrating that philosophy can be an activity, not just something to do by reading or sitting and thinking.
The Examined Life: Advanced Philosophy for Kids is divided into three sections:
Part 1 presents primary source readings that will encourage discussion and debate.
Part 2 offers easy-to-use activities that focus on the direct application of philosophy to areas such as critical thinking, language, and the arts.
Part 3 offers a unique perspective just for teachers – a philosophical look at how teachers can become more reflective philosophers themselves.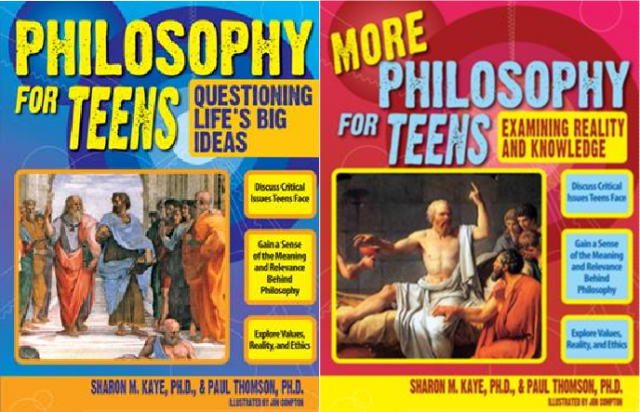 For teens interested in philosophy, Sharon Kaye has two excellent books titled Philosophy for Teens – Questioning Life's Big Ideas and More Philosophy for Teens – Examining Reality and Knowledge. Their structure is similar to the Philosophy for Kids books.
Philosophy for Teens is organized by sections on lying, cheating, love, beauty, truth, justice, God and more, each of which contains four questions. Both sides of the debates are covered on every issue, with information from some of the world's most noted philosophers included in a conversational style that teenagers will love. Each chapter includes discussions questions, thought experiments, exercises and activities, and community action steps to help students make reasoned, informed decisions about some of life's greatest debates.
More Philosophy for Teens contains questions and activities in the areas of the self, knowledge, the universe, and God. Like the first book, there are also activities and further discussion questions.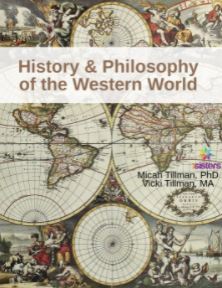 History and Philosophy of the Western World Homeschool Philosophy Curriculum is written for the average high school student to read and enjoy (independent study and NO busywork).
Teens learn about the philosophers and philosophies throughout history while learning the history they influenced. Keeping in mind that teens do not like to be bored when they read their textbooks, it shares history and philosophy concepts in a light-hearted manner. Even average-level (non-philosopher) high schoolers have told us that they enjoy what they are learning!
It is a text that helps students understand the ways people have thought throughout time and how they made cultural decisions based on that thought. The text also includes additional readings and assignments that help the college prep and honors students get their appropriate levels for their transcripts.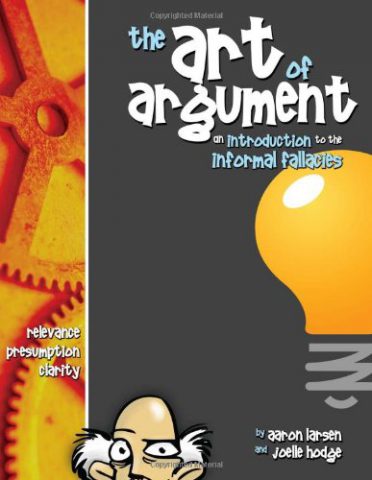 The Art of Argument is a critical thinking homeschool curriculum for middle and high school students from Classical Academic Press.
Students who complete The Art of Argument will know how to reason with clarity, relevance, and purpose . . . and have fun along the way! They will study and master 28 logical fallacies, which will provide an essential lifetime framework for filtering good and bad reasoning as well as writing and speaking effectively. This mastery of informal logic is a foundational subject by which other subjects are evaluated, assessed, and learned.
The Art of Argument (Student Edition) features clear explanations and illustrations, along with dialogues, worksheets, and dialectic discussion questions, making this text easy to follow and engaging. The fallacies become relevant with practical applications through an analysis of current social, commercial, and political issues, as well as over 60 comical and clever phony advertisements.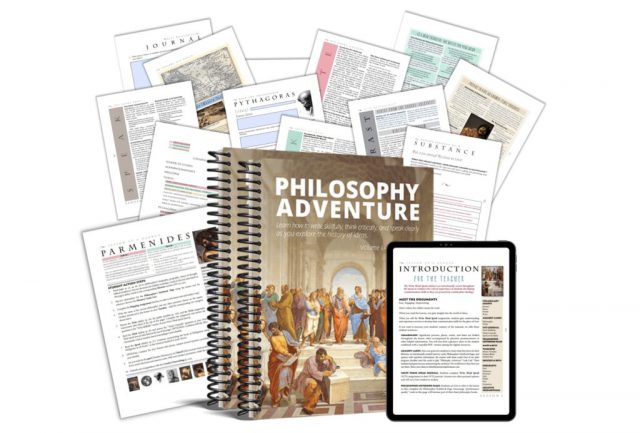 Philosophy Adventure will take your student on a trip back in time, studying the lives of 8 pre-Socratic thinkers, learning about the time and place in which they lived and what they believed.
Some of these philosophers include:
Thales
Pythagoras
Heraclitus
Lesson assignments explore how to contrast the beliefs of each philosopher against a biblical worldview and how to express these contrasting views in writing, thought and speech.
More Tips on How to Introduce Kids to Philosophy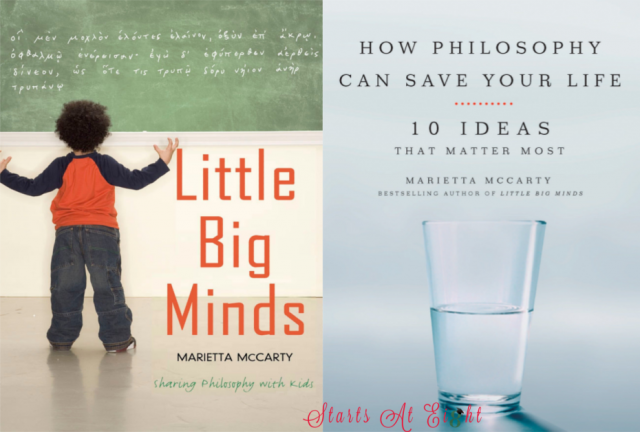 Marietta McCarty has a wonderful book titled Little Big Minds: Sharing Philosophy With Kids which has several useful tools and suggestions. Arranged according to themes-including prejudice, compassion, and death-and featuring the work of philosophers from Plato and Socrates to the Dalai Lama and Martin Luther King Jr., this step-by-step guide to teaching kids how to think philosophically is full of excellent discussion questions, teaching tips, and group exercises.
For a longer treatment of ideas, she has written How Philosophy Can Save Your Life: 10 Ideas That Matter Most.
How Philosophy Can Save Your Life is framed around ten "big ideas"-themes that, according to McCarty, are necessary to grasp if one wants to live a truly fulfilling life. They are:
Simplicity (philosophers include Epicurus and Charlotte Joko Beck)
Communication (philosophers include bell hooks and Karl Jaspers)
Perspective (philosophers include Bertrand Russell and Mary Wollstonecraft)
Flexibility (philosophers include Socrates, Plato and Alan Watts)
Empathy (philosophers include the Dalai Lama and Martin Luther King, Jr.)
Individuality (philosophers include Jean-Paul Sartre and Elizabeth Spelman)
Belonging (philosophers include Albert Camus and Rita Manning)
Serenity (philosophers include Epictetus and Lao Tzu)
Possibility (philosophers include John Stuart Mill and Simone de Beauvoir)
Joy (philosophers include Shunryu Suzuki and Jane Addams)
Philosophy for Groups
If you are part of a homeschooling group you might want to look into her book titled The Philosopher's Table: How to Start Your Philosophy Dinner Club.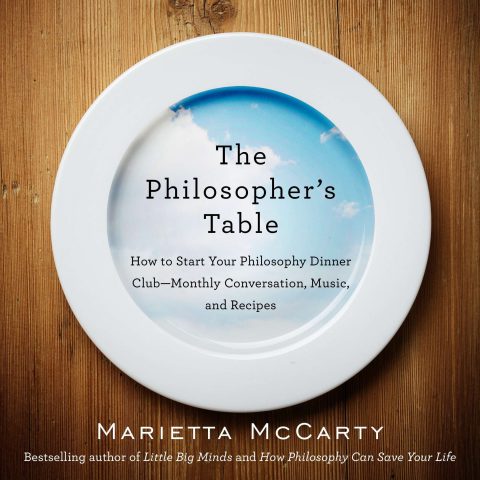 In this book, you will find all of the necessary ingredients to start a Philosophy Dinner Club, taking a monthly tour around the world with friends to sample hors d'oeuvres ofsucculent wisdom and fill your plate with food from each philosophers' home country. With recipes, theories, and insights both old and new—all peppered with McCarty's charming and informative prose—you and your friends will:
Enjoy fresh homemade lamb meatballs and tzatziki, and the simple pleasures of life in Epicurus's ancient Greek garden.
Practice nonviolence (in life and at the dinner table) while sharing tofu curry with Burma's Aung San Suu Kyi.
Learn the fundamentals of rational decision-making with a mouthful of bratwurst from Germany's Immanuel Kant
In the spirit of accepting change, ditch the familiar take-out containers and dine on homemade shrimp dumplings with China's Lao Tzu.
And so much more!
Philosophy is often regarded as a college-level topic (see below for a few college level options) written in difficult-to-understand jargon. But, philosophy is an expression of wonder and curiosity directed at some of life's biggest most interesting questions. Young children are ready to engage in such questioning. They already ask philosophical questions! You can support that curiosity in a fun exchange of big questions and big ideas!
A Few College Philosophy Options
This 10-lecture series by John Sanders at the Rochester Institute of Technology, covers all the most fundamental questions you might have about philosophy. What is philosophy? What did Plato and Socrates do? How do we think philosophically? These questions and more are discussed, examined from a dozen different angles, and occasionally even answered. The course is accessible to the complete beginner and requires no previous experience with philosophy.
You can find the entire course playlist on YouTube here.
Coursera – Professional Certificates, and degrees from world-class universities and companies.
EdEx.Org – Study the philosophy of god, political ethics and more with in-depth online courses from leading institutions. Explore the moral philosophy and thought process behind major decisions or learn about the science of everyday thinking.
Study.com – Philosophy 101 has been evaluated and recommended for 3 semester hours and may be transferred to over 2,000 colleges and universities. With this self-paced course, you get engaging lessons, expert instructors who make even the most challenging philosophy topics simple, and an excellent resource for getting a head start on your degree.
See how Study.com has been used for homeschooling by clicking on the images below: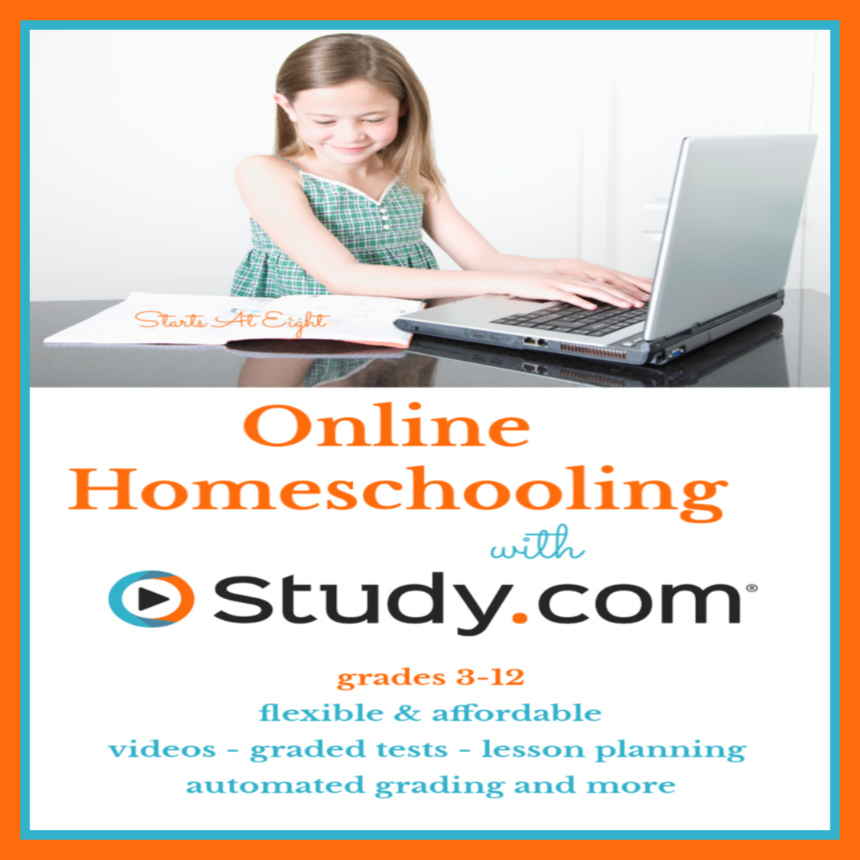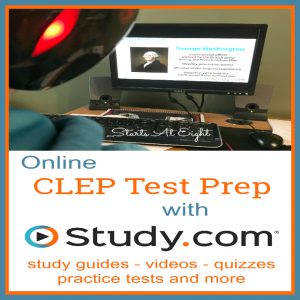 This post is a collaboration between Heidi from Starts At Eight and Kevin Browne. Kevin is an online adjunct professor of philosophy at Jefferson Community & Technical College in Lousiville, Kentucky, and a stay-at-home dad who has been homeschooling his daughter for over 10 years. He also writes and records original music and regularly posts to his blog on topics such as homeschooling, education, and applying philosophy to everyday life. He can be found online at http://kevinjbrowne.com. Many thanks to Kevin for his insights on homeschool philosophy resources.