As a parent, we all want the best for our children and that's why many of us take to homeschooling. We understand our children, the way they learn, their interests, and we can tailor their education around them. This knowledge can help children succeed where they may have once struggled.
Sometimes physical education or PE can be overlooked while homeschooling. It can be challenging to find the time, resources, and organization to bring about proper PE to the homeschooler. After all, it's not like we have 30 kids at our disposal every day in order to break out for recess or to have a game of kickball.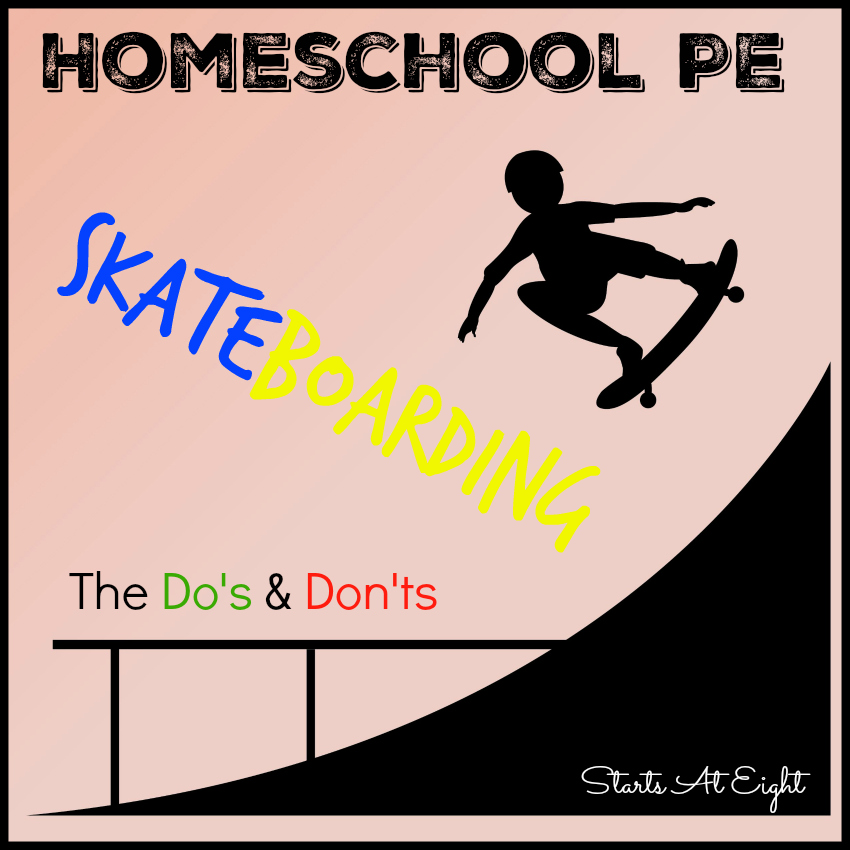 Homeschool PE Skateboarding
Don't let this discourage you with regards to promoting physical education during homeschooling. Instead look outside the box and consider more individual types of sport and activities like skateboarding, swimming, or even martial arts. The key is to get the kids moving every day. The benefits can be enormous for both the body and mind.
Consider trying out Homeschool PE Skateboarding! I am going to give you a few helpful do's and don'ts for introducing skateboarding to your child.
Safety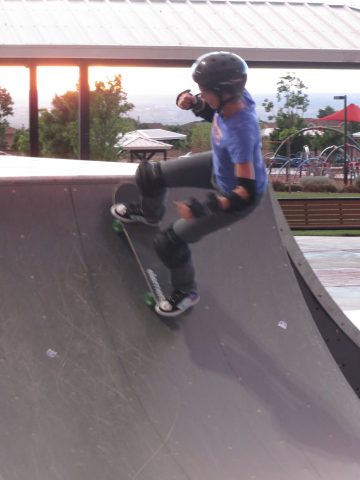 The first thing to teach your child who's learning to skateboard is safety. During the span of their skateboard career, there are inevitably going to be falls. Be sure they are equipped with a properly fitting helmet, wrist, elbow and knee guards. Let them get familiar with skating close to home until you both feel they are ready to hit the skatepark. This allows you to be close by if there is an accident.
Stance
One of the first things a skateboarder should learn is their personal stance. Help your child figure out if they prefer a Goofy-Foot stance, where their left foot is in back towards the tail of the board, or a 'regular' stance. Most skaters stand 'regular' with their left foot forward, but there is no right or wrong way.
Have them learn to push, stop, carve, kickturn, and skate small ramps before hitting the skatepark. Find additional tips to learn to skateboard at fatherly.com or view one of the many YouTube videos on the topic.
Skatepark Etiquette
The first visit to the park should be during the morning hour, when parks tend to be less busy. This is great for the homeschooler trying out Homeschool PE Skateboarding because you can plan your PE time around this consideration. After all, you don't want your child to feel intimidated, so the fewer number of people watching, the better. Also of note: Don't ever leave your child unsupervised at the skatepark. Some parents do but it's frowned upon.
Other skatepark don'ts:
Don't over coach. There's nothing worse than an overbearing dad or mom calling a how-to in a sport that is unstructured and creative.
Don't snake. Train your child not to interfere with other skateboarders when they are in the middle of their run. This can cause a collision and a bad reputation.
Don't linger. Little kids love to roll back and forth in the bowl as they learn, but avoid these marathon runs. Give others a chance to play.
Don't have a bad attitude. And, don't come in expecting the worst. Other skaters are there for the same reason, to skate and learn new things. Teach your child to ask for tips and tricks from others, and they'll be off to a great start in no time.
Don't lie about not being hurt. Your child should ask for help immediately if they get hurt. They won't be the first to be injured while skating and definitely won't be the last. It kind of goes with the territory.
Don't be too bold. If they are scared to drop in, it is probably for a reason. They might not be ready yet, and that's OK. Have them take more time on the sidelines skating around until they feel comfortable trying one of the bowls or jumps.
Don't consider the skatepark a playground. It's serious business here. Don't bring toys. Come to skate.
Skatepark Dos:
Laugh it up. Whether they kill a run or completely blow it, laughter is the best medicine. No temper tantrums allowed at the skatepark.
Teach them to yell "Board!" upon losing control of a skateboard so anyone in the vicinity can dodge the oncoming potential disaster.
Get up. If you fall, get back up again. Try, try again. It's the only way to learn.
Be respectful of other skaters. Your little skater will earn back that same respect.
Congratulate skaters. If they accomplish a good trick, high fives and board taps all around.
As a parent and teacher, it's important to find a physical activity that your child really enjoys so why not Homeschool PE Skateboarding?
Author Bio: James Houser is former Navy and a father of two. He has a 4yr old son who is currently training to become a Jedi and a 21 month old daughter who is already prepared to rule the galaxy. When James isn't building forts or being used as a climbing gym by his kids, he enjoys writing, gaming, and listening to the Truth & Justice Podcast. Follow him @sifuhouser.
PE Related Articles