Homeschool middle school science can be tricky because you want something more than the elementary years, but not as in depth as might be tackled in high school.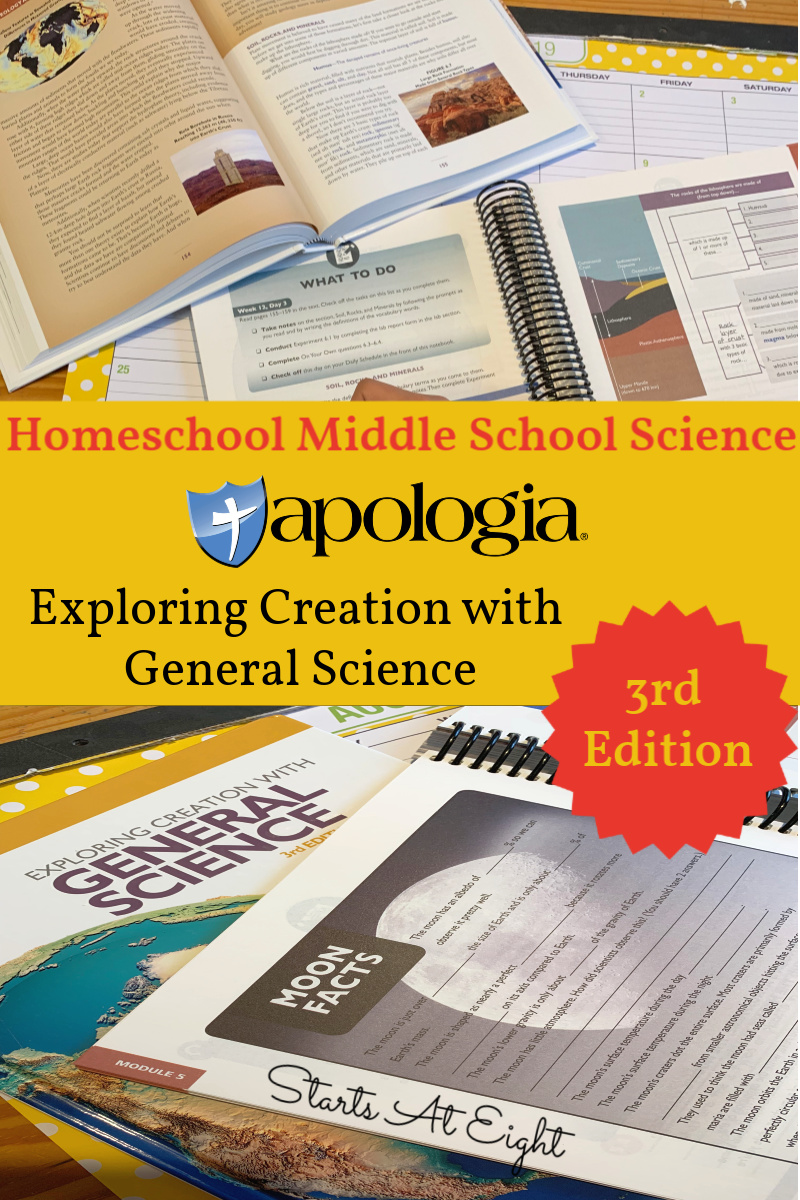 Homeschool Middle School Science
Middle school is a time for transition from elementary school to high school. A move from everything being laid out for you to becoming independent and self-motivated. 
Science is one of the subjects in which I have tried a myriad of approaches and curricula for. We have done unit study style science where I gathered and created units on things like volcanoes, rocks and minerals, bugs and insects, and so many more.
We have tried full on school textbooks (those were the early years and it was tough), as well as solely for homeschoolers science curriculum.
What I have found is that we need a curriculum that is well laid out, gives us a plan to follow, makes assignments and grading easy for the parent, and is age level appropriate.
Exploring Creation with General Science 3rd Edition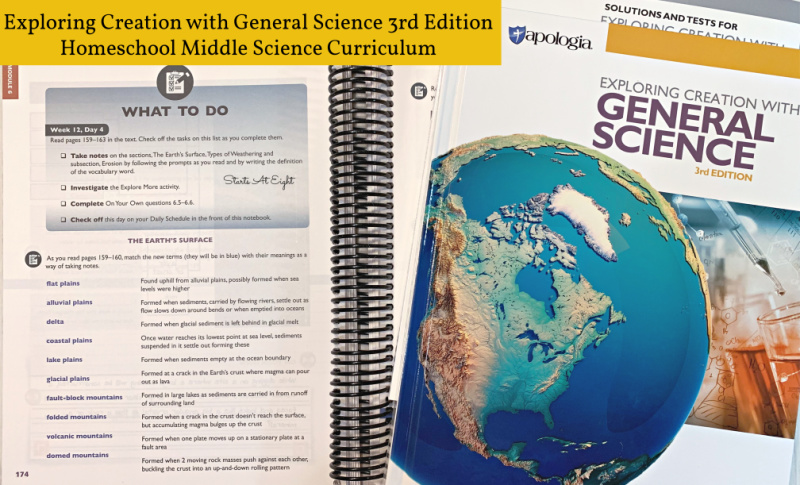 Apologia's Exploring Creation with General Science 3rd Edition has some features that are really geared toward these transitional years. I received Exploring Creation with General Science 3rd Edition as part of this review and I was compensated for my time in writing it. All views are my own and I was not required to write a positive review. Please see my full Disclosure Policy for more details.}
This 3rd edition has 14 modules covering:
The History of Science
Scientific Inquiry and the Scientific Method
Documenting and Interpreting experimental Results
Scientific Analysis and History
Earth Science – Astronomy
Earth Science – Geology and Paleontology
Earth Science – Meteorology and Oceanography
General Chemistry
General Physics
Life Science
General Biology
The Oceans of the Earth
Environmental Science
Science and Creation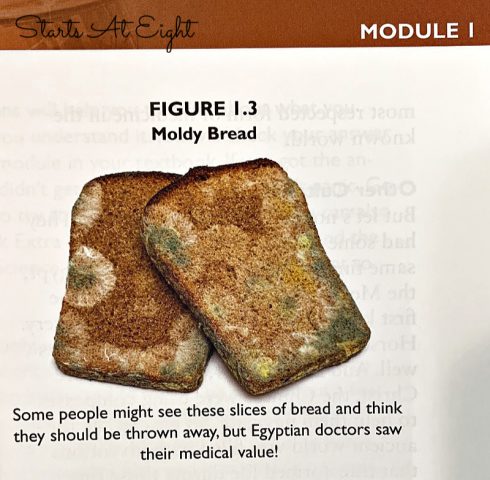 I love the vivid images, added charts, and extra information that is included within the pages of the Exploring Creation with General Science, 3rd Edition.
For instance, the above moldy bread image. Module I  focuses on the history of science, the text says, "Although the trial and error method of medicine sounds primitive, Egyptian doctors came up with some pretty successful treatments. For example, they learned that a good way to treat an open wound would be to cover t with moldy bread. That would make the wound heal quickly."
Guess what? Today we know that some bread molds produce penicillin – which kills the germs that would make wounds become infected! 
Features of Exploring Creation with General Science 3rd Edition 
Develops Note Taking Skills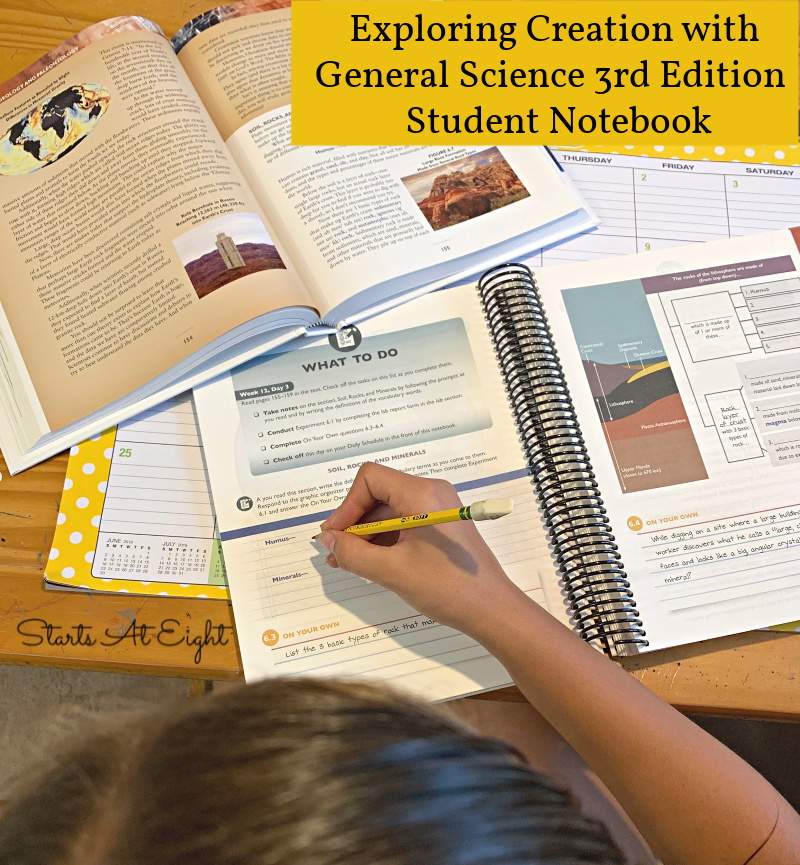 Note-taking is a skill that must be learned. That's why the Student Notebook introduces the student to several methods for taking notes. At the beginning of each module in their Student Notebooks, students are encouraged to take mindful notes using techniques that expand as the school year progresses.
The Student Notebook also includes tips for writing good notes.
This course is designed so that the first 2 exams are open book – meaning that students can use their textbook and notebooks when answering questions. After taking these the students are encouraged to evaluate their note-taking efforts.
"Were their notes helpful in the exam? If yes, they are capturing the important information. If no, they need to learn to pull information out of the textbook. Using colored text and prompts to steer them in the right direction, this course essentially walks your student through the note-taking experience."
Simple Step by Step Lab Instructions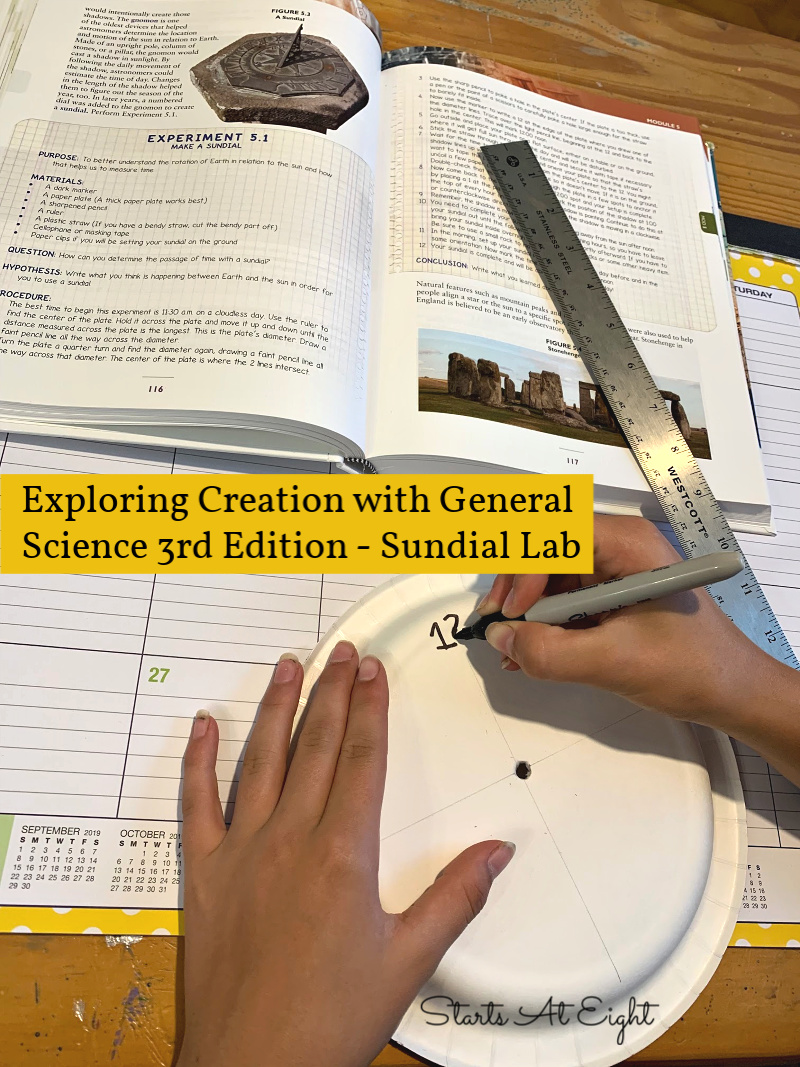 As you can see in the Sundial Lab image above, labs ("Experiments") are clearly designated in the book with fun looking graph-like paper. The purpose, materials, question, hypothesis, procedure, and conclusion are all located there.
In early modules, students are walked through each step of the scientific method. Specific portions of the text are highlighted so students know where to find important information for lab write-ups, and they are guided through that process too.
In other words, this curriculum sets our middle school students up to not only learn but to succeed in not only lab documentation but formal write ups too.
Flexible Scheduling
Last year we switched to a 4 Day Homeschool Week because I felt it would afford us more flexibility and time built in for set backs, unexpected field trips, and down time.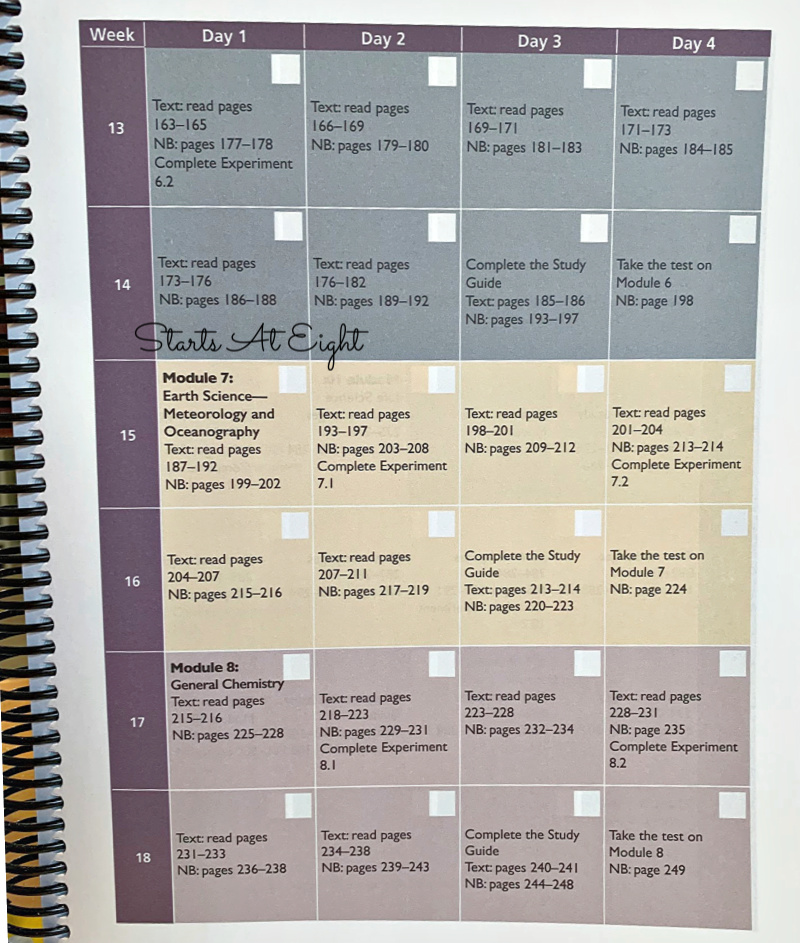 How awesome is it that Exploring Creation with General Science, 3rd Edition designed to be done 4 days a week. There are 14 modules. It is a full school year course,with plenty of room for your family to adapt the schedule to fit your needs.
The Student Notebook
STUDENT NOTEBOOK IMAGE
I'm sure I have said this before about Apologia's products but their Student Notebooks stand out heads above the rest! This was our first experience with a middle school science one but we have used and loved multiple Elementary Science ones.
They designed this new edition Exploring Creation with General Science, 3rd Edition to interact with the student, teaching them how to take proper notes. They accomplish this in multiple ways such as the use of specially designed icons to let the student know when things are specifically required, interactive graphics in the student's notebook, as well as colored fonts to make important data stand out.
After having used both the elementary and now the middle school level, I can safely say that I LOVE what a great job they have done in this middle school edition with helping kids learn to take proper notes, detail their lab experiments, and how to analyze and create graphic materials,
Optional Audio and Visual Options
An audiobook version of the textbook is available as an MP3 CD or download.  
Exploring Creation with General Science, 3rd Edition has a complete module-by-module instructional video option. There is an instructor (Sherri Seligson) presenting all the material within a module via animations, power points, diagrams, and on-location videos so students are able to learn the information in a more engaging format and see practical connections to the material presented.
Additionally, videos of all the experiments and Explore More activities are included, so parents and students can better understand how to set them up at home. Complete explanations of the labs are provided too.
This is a PRICELESS added option for kids like my older one who learned best with video based curriculum!
FREE SAMPLE and Preview
Be sure to VISIT Apologia's Website and check out the Full Size Preview of the Exploring Creation with General Science, 3rd Edition text and student notebook.
While you are there you can also view a sample video from Module 2!
Connect with Apologia: Facebook : Twitter : Pinterest : YouTube : Instagram  
GIVEAWAY