Full of stories and wonder, libraries are remarkably enchanting places of learning. There's something decidedly intoxicating about the smell of books, and with many of the world's libraries set in inspirational and beautiful buildings, there's more than one good reason to pay them a visit. So beyond visiting your local library, consider a homeschool field trip consisting of various libraries around the world.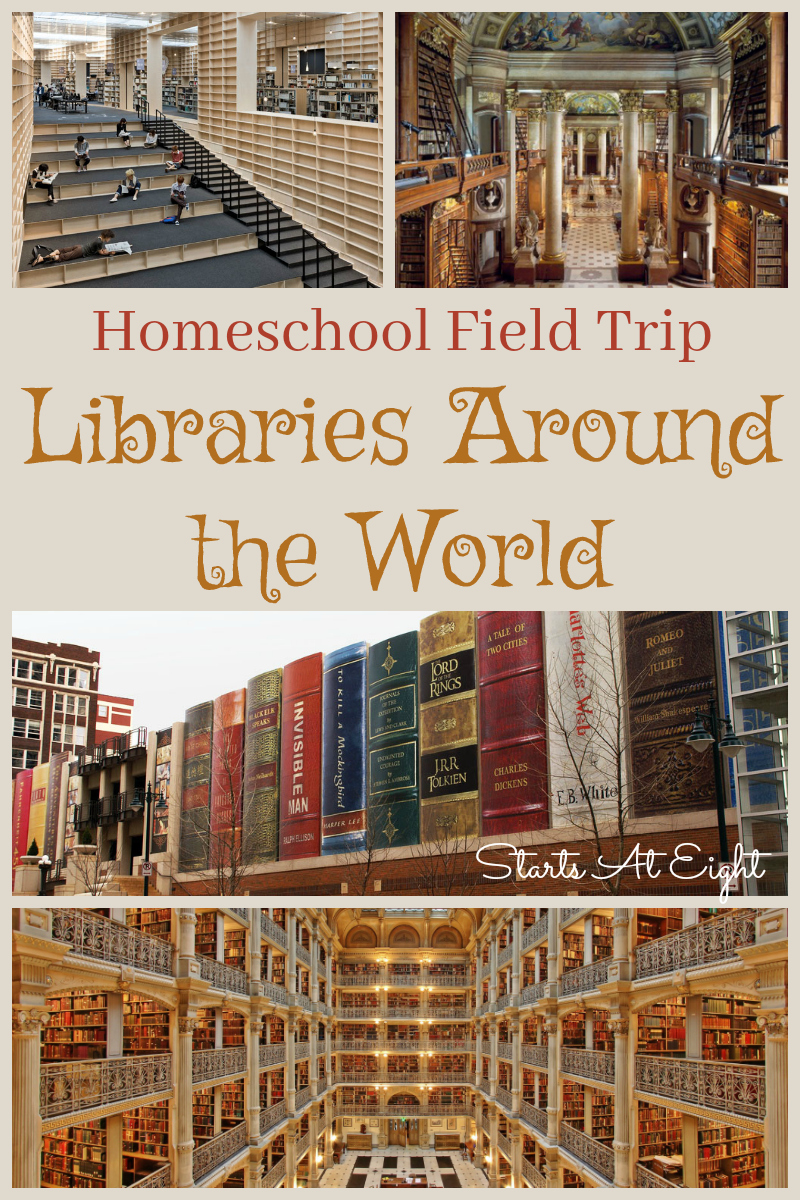 Homeschool Field Trip: Libraries Around the World
With the internet usurping the need for collections of books, lovers of the digital age might easily question if libraries are still relevant. If recent funding issues and subsequent library closures in the UK are anything to go by, the future of the provincial community library has somewhat of a gloomy outlook.
On the upside, research still suggests that libraries are a critical component of early literacy. While a UK funding crisis ensues, it is clear that libraries are adapting to save themselves. Book collections may be dwindling, but digital material and interactive media are coming to the forefront.
There's a revolution going on in the world of libraries. They are becoming social and media hubs. And, while admittedly new stocks may dwindle, the book is definitely not dead. In fact, with the rise of the digital age, there's even more of a call to preserve the precious collection of books we have in this world. Dakota Murphey, an independent content writer in a project with Artichoke has taken a peek at some of the most beautiful libraries in the world as a homage to the world's most incredible collections.
1.The simple concept for Tokyo's Musashino Art University Museum and Library speaks volumes: it consists entirely of bookshelves, with a glass exterior. While the walls depict empty bookshelves, the actual library and art museum exists within.

2. The Strahov Monastery Library in Prague, Czech Republic contains 18,000 religious texts and 42,000 ancient philosophical texts, as well as many rare volumes. With gilded wood-carved decorations and beautiful cabinetry, this is as jaw-droppingly beautiful as any library gets.

3. It would be hard to concentrate on reading in this stunning library. The Austrian National Library's 18th-century, baroque-style State Hall is adorned with carved wooden galleries and captivating frescos. The library is home to impressive treasures of the past centuries, with over 200,000 volumes of scholarly books.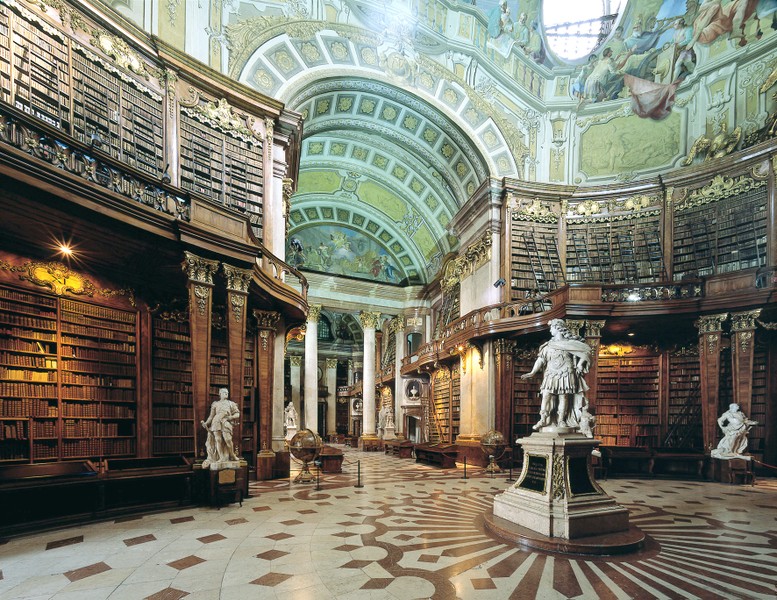 4. Wiblingen Monastery Library in Ulm, Germany is a sight to behold. A masterpiece in Baroque architecture this monastery and church was founded in 1093. The interior of the library is considered one of the finest examples of Rococo architecture. It's an ornamental delight. Numerous statues and sweeping frescoes represent the architect's vision that the library is a space for preserving treasures of wisdom and science.
5. The George Peabody Library, Johns Hopkins University, Baltimore hosts an impressive atrium with graceful columns and wrought-iron balconies. Nathaniel H. Morison, its first provost, called it a "cathedral of books." In addition to its traditional use as a research library, the George Peabody Library has now become a premiere wedding and event venue in the city of Baltimore.
The library contains more than 300,000 titles dating from the eighteenth to the early twentieth centuries. Reflecting the scholarly interests of the nineteenth century, the library consists of a general reference collection on virtually every subject but music.
George Peabody, a Massachusetts-born philanthropist, dedicated the Peabody Institute to the citizens of Baltimore. The library, opened in 1878, was designed by Baltimore architect Edmund G. Lind, in collaboration with Dr. Nathaniel H. Morison.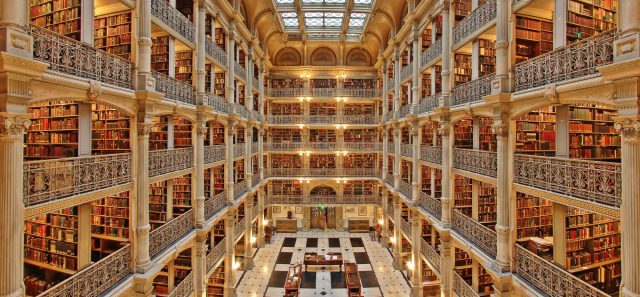 6. Kansas City Public Library located in Kansas City, Missouri. " The Community Bookshelf is a striking feature of Kansas City's downtown. It runs along the south wall of the Central Library's parking garage on 10th Street between Wyandotte Street and Baltimore Avenue. The book spines, which measure approximately 25 feet by 9 feet, are made of signboard mylar. The shelf showcases 22 spines which list 42 titles, reflecting a wide variety of reading interests as suggested by Kansas City readers and then selected by The Kansas City Public Library Board of Trustees. Their final selection was made on March 16, 2004. The bookshelf was completed between March and the fall of 2004."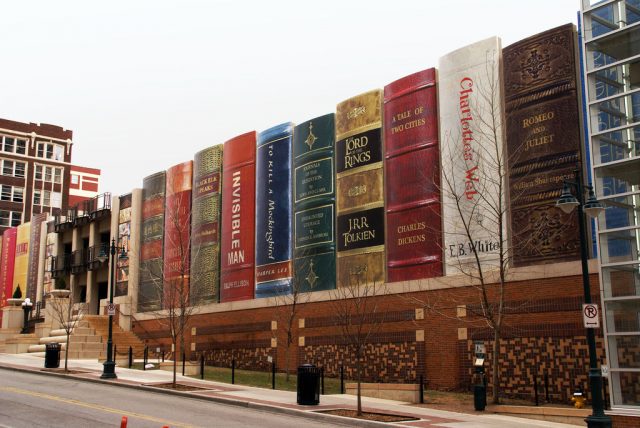 Each of these are unique structures, with special content, offer architectural, artistic, and historical opportunities to those that visit. Thus making them great homeschool field trip opportunities. Include them in a vacation, make a day trip or weekend if they are closer, also check out their websites to see more photos and information for a more virtual field trip experience if you can travel there directly!