I remember being in high school and being frustrated by the fact that I didn't have time to read the books I wanted to. Summer came and I was thrilled to be set free to read what I wanted!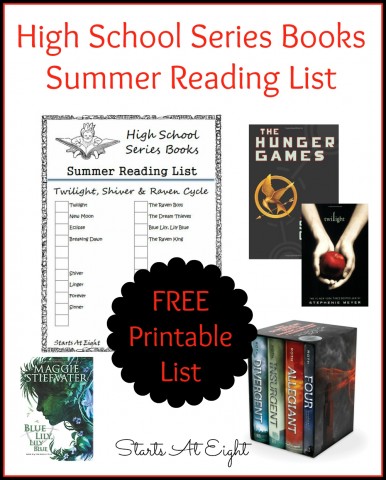 Summer reading can help keep teens minds engaged and in motion during these months of downtime from school. If they don't have ideas of their own, an easy way to get a list of books going is by finding a great series or author for your teen to get involved in reading.
For this reason I am compiling a list of series, or authors with multiple books to help you in your quest for filling your teen's reading list. High School Series Books for Your Summer Reading List is the last of these posts. You can also check out K-2 Series Books Summer Reading List, Grades 3-5 Series Books for Your Summer Reading List, and Middle School Series Books for Your Summer Reading.
1. The Hunger Games Trilogy
The Hunger Games
Catching Fire
Mockingjay
2. The Giver Quartet
The Giver
Gathering Blue
The Messenger
Son
3. John Green books
The Fault in Our Stars
Looking for Alaska
Paper Towns
An Abundance of Katherines
4. Divergent Trilogy
Divergent
Insurgent
Allegiant
Four: A Divergent Collection – a companion volume that includes four pre-Divergent stories plus three additional scene from Divergent, all told from Tobias's point of view.
5. Twilight Series
Twilight
New Moon
Eclipse
Breaking Dawn
6. Shiver Triology
Shiver
Linger
Forever
Sinner (stand alone companion book)
7. The Raven Cycle
The Raven Boys
The Dream Thieves
Blue Lily, Lily Blue
The Raven King
I want to note that many of the titles here also have movie adaptations. It can be not only great fun, but a good learning experience to read the books and then watch the movies. Here is a Free Printable for comparing and contrasting between a book and a movie.
FREE Printable High School Series Summer Reading List
To help you head to the library, bookstore, or purchase online, as well as to keep track of what your child has read already, I have created a free printable of these High School Series books.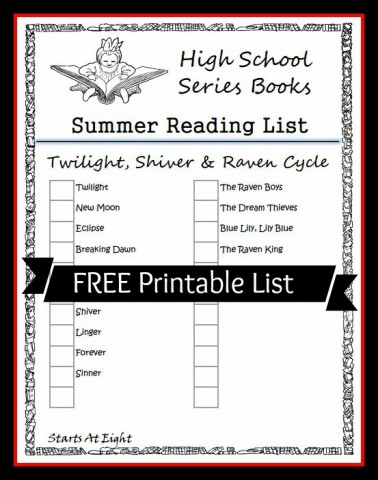 Click here to download your High School Series Books Summer Reading List FREE Printable from Starts At Eight
Need Help Encouraging Summer Reading?


Other Book Related Posts: