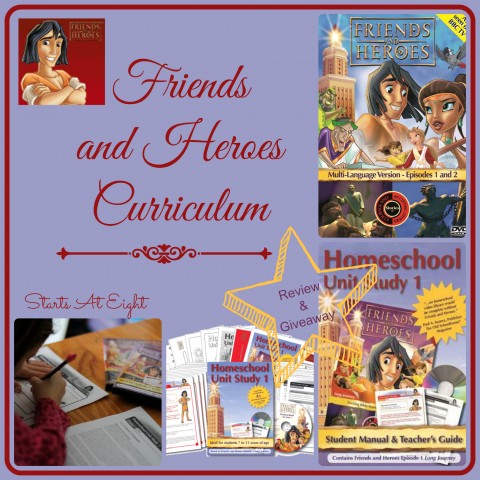 What is Friends and Heroes Curriculum?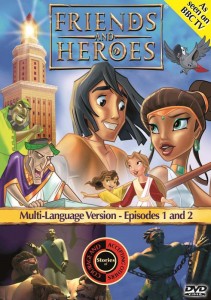 Friends and Heroes is an animated children's adventure based in ancient Egypt, Israel and Rome. The story follows two young friends, Macky and Portia, as they fight for justice against the Roman Empire. Each episode consists of two Bible Stories in which children can learn about characters from the Old and New Testament.
There are three series, each series containing thirteen episodes. All three series of Friends and Heroes are available for purchase on DVD.
Friends and Heroes offers the Friends and Heroes Homeschool Curriculum, the Friends and Heroes School Curriculum, and the Friends and Heroes Church Curriculum to accompany the DVD series.
The Homeschool Curriculum  includes a DVD, containing the Friends and Heroes episode which inspires the teaching material, plus PDF files containing the self-guided Student Manual—usually around 50 pages—and a comprehensive Teacher's Guide with internet links, background information and teaching support.
The Friends and Heroes School and Church Curricula are great for:
Before and After School Programs
Chapel
Children's Sunday School Programs
Classroom center time
Bible curriculum enrichment
What We Love About Friends and Heroes Homeschool Curriculum:
The animated cartoon videos are engaging and the stories are entertaining to watch.
The menu system on the DVD is clear and easy to use.  Breaking the episode down into sections to more easily watch bits when they relate to a specific part of the curriculum.
The featured song Looking For a Hero is beautiful and catchy.  I find my son whistling it during the day.
Everything you need to easily execute this program in your homeschool is right on the separate Homeschool Curriculum disc.  It allows to you to easily pull up the separate student and teacher/parent sections to reference and print.
The Unit 1 DVD spans over 3 weeks with each of the 3 weeks having their own activities.  I love how each week you re-watch the episode and dig deeper into the people, geography, history and stories from that episode.
Engages multiple modes of learning, from watching the episodes, to reading material, writing and hands on activities.
Convinced this program is for you?  Use this link to take advantage of the January Specials.
Possible Drawbacks to the Friends and Heroes Curriculum:
For the younger aged children who may not be reading at all or very well this would require much more hands on involvement from a teacher/parent
View a Sample From Episode 1 – Daniel in the Lion's Den
How To Use In Your Homeschool:
Friends and Heroes Homeschool Curriculum is a great spine to use for elementary aged curriculum. With a strong base in bible stories and character building this will feed not only your child's mind, but also their soul. Simply add in a math curriculum and you will have what you need for an easy to implement, well rounded homeschool year.
For those looking for a solid child centered bible based curriculum for the elementary ages look no further!  This combines bible stories, with history, geography, science and more!  Just add math and you are set to go!