Among the homeschooling community, I often see and hear of people who are struggling with math. Parents often have a hard time teaching it, and kids often have a hard time learning it. Which of course turns into both parent and child dreading it! Anytime I can find a resource that can help with this dilemma, I am super excited, and if it is in the form of free online math practice, I am even happier!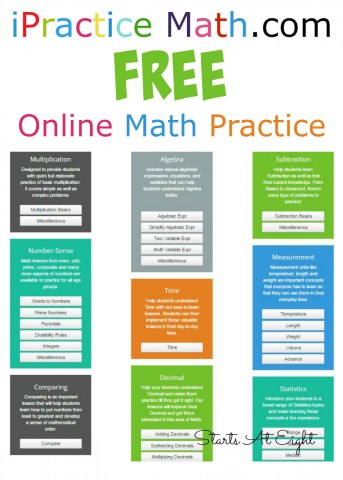 Throughout our years of homeschooling, we have had our share of math struggles. Our oldest has been through many tears and distress on our journey to find the right math curriculum for her. Our son on the other hand, loves math. But this year he has hit a bit of a sticky spot and has been in need of review and extra practice in certain areas.
We have recently been introduced to a site called iPracticeMath.com. This is a free online math website dedicated to teaching kids important math concepts and offering them fun, engaging ways to do it. Ok, let me just say this one more time as I think it bears repeating, this is a FREE online math website!!
This has proven to be a fabulous and cost effective resource to use with our son as he works his way through 6th grade math.
Free Online Math Practice
iPracticeMath.com offers free online math practice for all grades! (At the time of this post Grades 10-12 were coming soon.) Use it as a helpful tutor in sticky areas, use it for extra practice for those areas that are trickier for your student, or use it as your regular math curriculum.
For 6th grade this year our son is using it to help him with the trickier math and to get extra practice to help solidify the math in his mind.
With iPracticeMath.com your student can:
Topics Covered:
Addition
Algebra
Comparing
Decimals
Division
Fractions
Measurement
Multiplication
Rounding
Statistics
Besides the fact that this program is FREE, it covers all ages, and offers both learning and practice options, it has something else I totally love, built in scrap paper!
Built In Scrap Paper:
My son is forever skipping out on writing out the problems because he doesn't have paper or pencil in front of him. With iPracticeMath.com the scrap paper is built in so there is never an excuse for not working out the problem! Even this feature works on our iPad which I was totally surprised by, and of course thrilled with because when you are mobile it is even harder to tote around pencil and paper!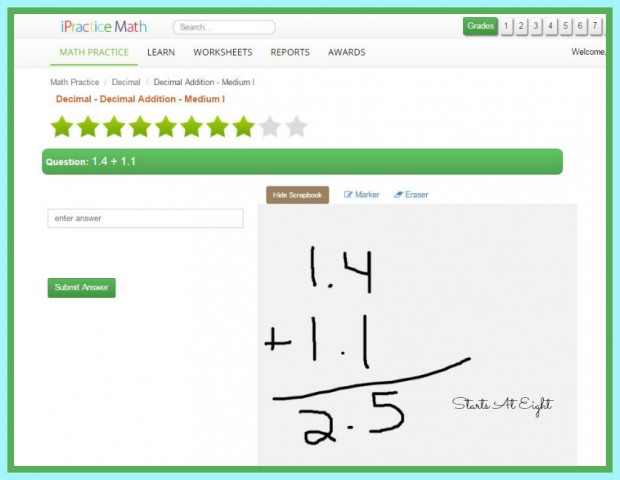 Get Started With iPracticeMath.com
To start your free membership as a homeschooling parent, visit the iPracticeMath.com Registration Page.  You can also follow iPracticeMath.com via social media: