If you follow me at all here at Starts At Eight you know I love reading and books. I am a big proponent of learning with living books and we often fill much of our history studies with historical fiction. So when I was offered the opportunity to check out this book Pirates of Financial Freedom for teaching financial literacy for tweens & teens I was all in!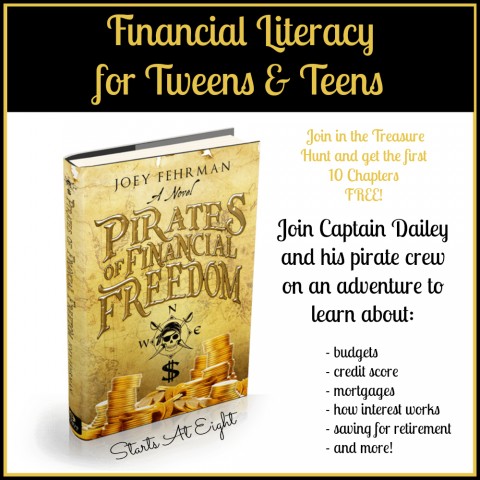 Financial Literary for Tweens & Teens
About Pirates of Financial Freedom
Pirates of Financial Freedom combines a pirate adventure with personal finance learning! Who knew pirates could teach you so much about managing your money in a fun and engaging way! The author, Joey Fehrman, labeled his book as an "edutainment" book, meaning both educational and entertaining and he hit the nail on the head!
This book is geared toward teens but I used it with my tween son. The action-adventure of the pirates with treasure hunts, sword fights, pirate lingo, and humorous dialog all made for a fun and engaging read for my high energy tween.
Pirates of Financial Freedom takes you on a journey with Captain Dailey and his crew who have serious money troubles. The captain's son Joey, who had left the pirate life to become a financial adviser, comes back to help the crew learn how to navigate things like budgeting, interest, mortgages, saving for retirement, and more. Interspersed with their pirate adventures are math lessons about saving, interest, paying off debt and more.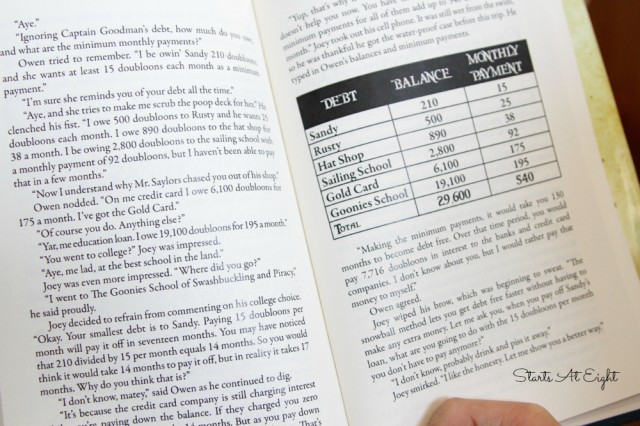 Benefits of Financial Literacy for Tweens & Teens Taught with A Living Book
This book is all inclusive. There are no workbooks, teacher manuals, or answer keys. Just one book to manage.
Teaching subjects like this can be boring but presenting it within a fun story makes it more fun to learn, and more relatable for tweens and teens.
Real life terms and concepts are taught! While they are stuck within a fun story, real concepts and terms are used! I loved this about Pirates of Financial Freedom. As we read and talk about things that come up we have been writing down the terms – almost like creating a glossary of terms – for us to reference and refresh our memories as we talk.
The final chapter is a bonus chapter that gives you step by step guidelines and advice for setting your own goals toward financial freedom.
 Not sure Pirates of Financial Freedom is the financial literacy choice for your tween or teen?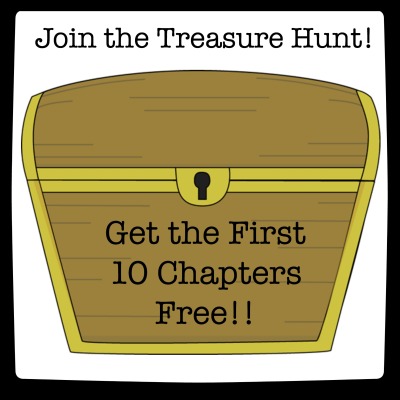 Then join the treasure hunt!
Each of five bloggers reviewing Pirates of Financial Freedom have a treasure for you!
Each blogger has two chapters of the book, for a total of 10 FREE Chapters!
Once you have these chapters and realize you must have the book, you can purchase Pirates of Financial Freedom as a hardcover or ebook!
For more information connect with Pirates of Financial Freedom on: