We are currently homeschooling high school and have decided to work towards earning college credit while we are still homeschooling high school. Our thought is that if we are putting the time and energy into taking a course like Psychology in high school, then why not take it one step further and earn college credit too? Want to learn how to earn college credit in high school with online CLEP Prep? Check out how we are saving time and money by simultaneously homeschooling high school and earning college credit too!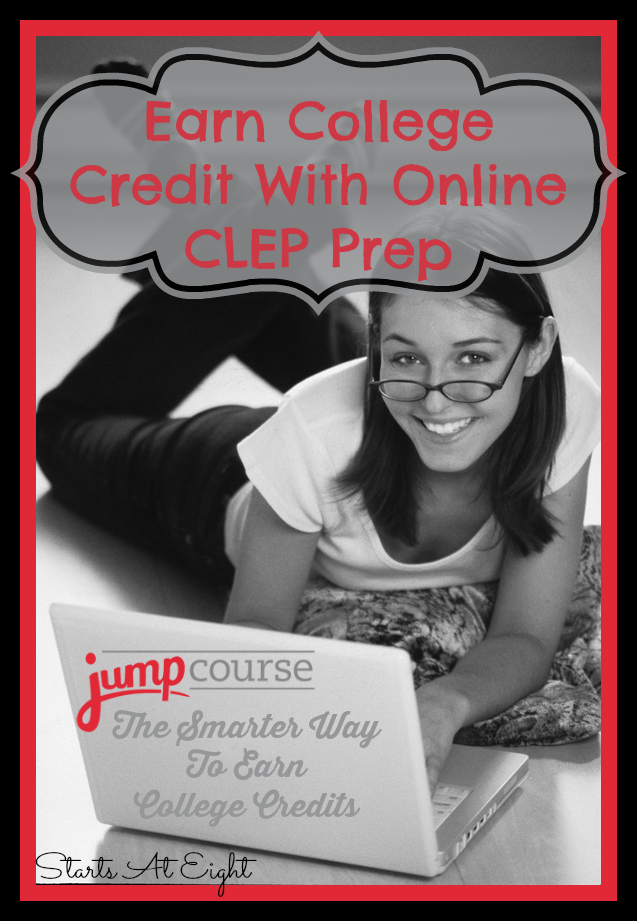 Using JumpCourse.com for Psychology and Sociology our daughter plans to earn college credit by going through the JumpCourse.com course for each and then taking the CLEP Exam in each area of study.
Your first question might be, "What is CLEP?"  For starters, CLEP stands for College Level Examination Program and is a series of exams brought to you by The College Board as a means of earning college credit for knowledge earned outside the college classroom.  For more on the CLEP Exams read What is a CLEP Exam?
Now you want to know how this is an advantage?  Earning college credit in high school serves multiple purposes for us.
The Smarter Way To Earn College Credit:
As a homeschooling parent, the burden of education, both in the actual carrying out of the education, and in the cost of doing so falls to the parent.  JumpCourse.com offers many benefits in this manner, and even speaks to homeschoolers specifically about how they can benefit from using JumpCourse.com.
1. Save Money
This can happen in multiple ways. The most obvious is that paying $99 for one JumpCourse.com course plus around $120 for the exam is significantly cheaper than taking the equivalent course in a college classroom. Also these courses can be used as courses in our homeschool high school as course curriculum, thus serving a dual purpose.  That means we can use a JumpCourse.com course that will count both for high school credit and college credit all in one!  Now that is saving money!
2. Save Time
The fact that you can earn college credit while taking a course for high school can save your student tons of time!  It will allow them the freedom to explore other interests, start college sooner if they chose, or ease their course load when they do begin college.  There is also the physical time of not having to transport to and from a college course, and sit through a course at a specific time and day.  JumpCourse.com offers your student the flexibility to work through the course at their own pace and time and allows for access to each course for one whole year after the purchase date.
3. Utilize Multiple Learning Styles
We have come to realize that my daughter learns best using videos as her teacher.  This was much to our surprise given that she has to physically read a book in order for the information to stick!  Nonetheless most of her high school courses are video based making JumpCourse.com a perfect fit for her!  What's even better is that JumpCourse.com doesnt just present the material in video format, they also offer the lesson in written form so you can read it or do both based on your preference.
Then they include an adaptive learning format that gives each person a personalized learning path based on their own grasp of the information given.  Got the information? Great!  Your mastery level will then increase. Aren't quite understanding or able to remember?  That's alright, you don't lose any mastery ground but instead will continue to work on the concepts that are sticky for you.
 4. Flexibility
All of JumpCourse.com's material is online! You do not have to buy books, labs, or paying extra for anything other than the exam you take.  Every course includes  interactive video lectures, lecture notes, and activities to help you learn the material.  That means nothing extra to lug around, purchase or worry about.  If you have a computer and Internet access you can log in and learn!
My daughter is a competitive gymnast and therefore spends many hours each day in the gym.  All of the above  features offer her the opportunity to get a good quality education, for an affordable price, and on her timetable.
JumpCourse.com Currently Offers 5 Online Courses:
My daughter is currently using the Introduction to Sociology and plans to complete Introduction to Psychology as well during the coming year.
Financial Accounting
Organizational Behavior
Introduction to Psychology
Introduction to Sociology
Macroeconomics
Introduction to Sociology:
From JumpCourse.com:
This JumpCourse will most commonly replace Sociology 101 at your college!

Learn Sociology the hands on way. JumpCourse Introduction to Sociology will help earn college credits by providing interactive multimedia videos, lecture notes, fun activities, and social learning. Our patent pending adaptive learning technology ensures you understand before moving on. If you need a little extra help, we have a subject matter coach ready to answer any questions.

Each course offers a wide variety of activities and quizzes to ensure you are prepared for your final exam!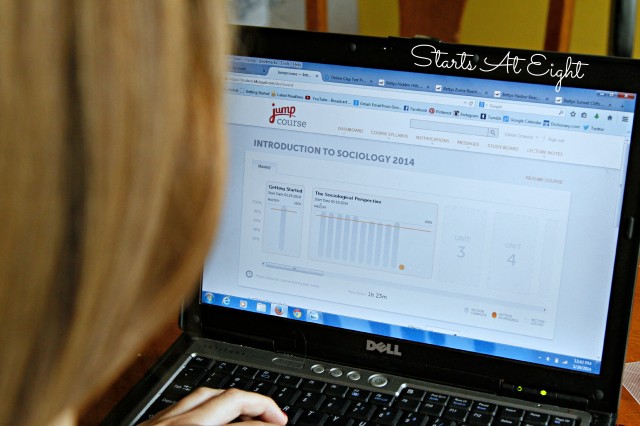 More Courses Soon To Be Coming Are:
You can sign up to be notified and receive a 20% off coupon when the course goes live!
Statistics
Principles of Marketing
Microeconomics
Intermediate Algebra
Stay Connected With JumpCourse.com:
First and foremost you can check out the JumpCourse.com Blog information and tips pertaining to things like earning college credit, graduation, study tips, and more!