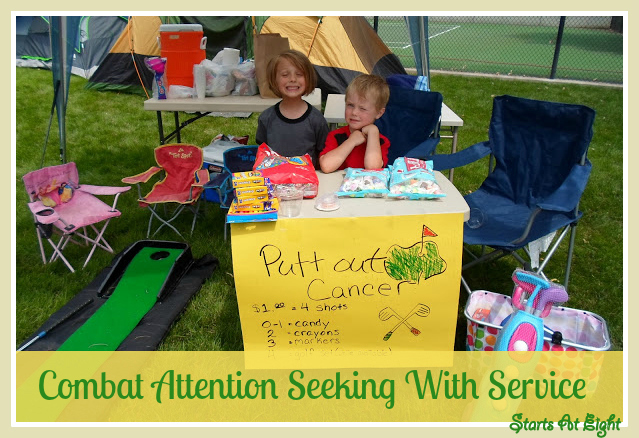 I've read so many articles over the years about why you shouldn't always tell little girls that they're pretty, and fewer but still some about why you shouldn't focus on little boys being handsome. I think the jury's back and we've all agreed that there's more to life than being adorable. No debate left on that.
Still, kids love, love, love attention from strangers. A nod to their awesomeness from someone who isn't obligated to think they're awesome (i.e. not mom, dad, or grandparents) can puff up their little spirits for days. But when we see a young person that we want to connect with, what's the first thing that pops to mind to say to them? "You are such a doll!" or "Aren't you a handsome young man?" And because kids love that stranger attention, and so easily associate it with how they look, it's no wonder they slowly start to spend a little time trying to get that same attention in a deliberate way by dressing and behaving in ways that got them that feel-good comment in the first place. It pains me to see my daughter seek out that looks-based attention, because as she gets older, it's harder to come by and I don't want her self-esteem to be too closely tied to how strangers think she looks. I mean, let's face it. Almost no one escapes the awkward, goofy stage. Certainly no one in my gene pool is going to escape it! But I think I've found a way to combat this little problem. Service.
"That was the most fun I've ever had! Can we volunteer at every Fishes and Loaves meal? People really liked having a kid there, don't you think? And people usually think that kids won't work hard, but I did, and they were impressed!"
I realized early on that my kids will try to repeat almost any behavior that gets them positive stranger feedback. Not just attention for being cute, but attention for being kind and careful with younger kids, for engaging in community service, or for helping someone in need. And while I'll admit that doing good just to get the attention isn't necessarily the goal, as a parent I know that doing the right thing for the wrong reasons gets you started down the right path and eventually you'll enjoy doing it for the right reasons. It's like potty training. At first, they're going on the potty just to get the M&Ms. But eventually they're going on the potty because they recognize that it's more convenient and they stop expecting candy for doing it. I find myself looking more and more for opportunities for my kids to do things of value that will be noticed by adults, so that they will get the charge of a compliment for something of worth rather than something so fleeting and shallow, and hoping that they continue it for the right reasons. And so far, it's working!
For example, my daughter recently spent a Saturday serving food at a community meal called the Fishes and Loaves lunch at a local church. It's a great event that happens twice a month and teams of people from various religious groups or companies or community organizations come volunteer their time to cook, serve, and clean-up after a free lunch open to anyone in the community. While we expected it to be a meal mostly for low income families, what we found is that it's more attended by lonely people, be the elderly, disabled, or non-native English speaking families looking to plug in and feel a sense of community. What a great place to serve!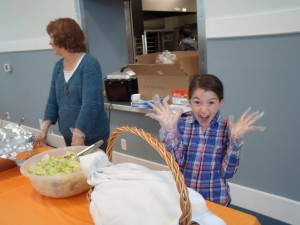 Hannah Jane was the only child serving that day and she loved how all of the adults stopped by her station to tell her how impressed they were that she was there and working hard, putting a roll on each plate and meeting each person with a smile as they passed by. In fact, she was enjoying it so much that when they tried to relieve her for a lunch break, she wouldn't budge. Finally they made her eat and she ate quickly and then started going from table to table asking if she could bus people's dishes for them. Everyone was so delighted to have a child ask to do their dishes and she just beamed with pride.
In the car, she said, "That was the most fun I've ever had! Can we volunteer at every Fishes and Loaves meal? People really liked having a kid there, don't you think? And people usually think that kids won't work hard, but I did, and they were impressed!" I could see right away that her motivation was the compliments. And for now, that's okay. As she grows and matures, she'll be in the habit of service. When she's old enough that no one notices her out of the crowd of volunteers, she'll still be there because she's formed the right habit and she understands the value of serving others.
For Girl Scouts, she's supposed to design her own badge over the summer and a list of requirements to earn the badge. She's decided to design a service badge and have a variety of community service activities that must be done in order to earn it. The goal, she says, is to help girls figure out what kind of service they'd be good at by having them try a variety of projects. Next week, she's going to serve with a group called Four Paws and feed and brush the homeless cats at a shelter with a friend of ours, Kim, who does this almost every weekend. If it goes well, she wants to serve meals 2 Saturdays a month and help cats the other 2. While I think she may be biting off more than she can chew, I smile and nod and agree to get her where she wants to go as long as she's doing good for others.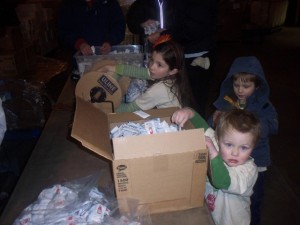 So for now, I'm not going to worry about her motivation. Kids love attention. Nothing much you can do about that. I'm just happy to see her seek attention by serving her community rather than by spending hours in front of the mirror.
Here are some things to consider when helping your children engage in service:
• Consider their temperament. If you've got a rowdy crew, maybe you don't want to take them to serve cookies at the old folks home where knocking someone down could result in a broken hip, or worse! I've made this mistake with a group of teenagers I work with and it made for an unenjoyable service time. Instead try something like sorting food at the food bank or cleaning up invasive pest plants in a patch of nature. Activities where energetic kids can be energetic without inconveniencing anyone are ideal for some.
• Consider the commitment. Our family loves an interpretive history center near our house so we decided to become volunteers once a week in the 1918 farm house. We dressed up and learned how to do the old style laundry and run the stove. And my kids loved it about twice. Then they were done. For them, it was mostly about standing there and looking cute (exactly what we're trying to avoid, right?) and they soon begged not to go back. But we committed to going every week for the whole summer. I don't know what I was thinking! With younger kids, start with a one time job. If it goes well, you can commit to more. But be careful not to take on too much too soon. Kids are fickle and it's good to be able to back out when you need to.
• Make sure it's a positive experience! If your goal is to have your kids want to develop the habit of service, but you choose a project that they loathe, it doesn't matter how many compliments they receive, they're not going to develop a love of service. That is ultimately why I felt okay backing out of our commitment at the interpretive history center. The kids were learning that serving their community is boring and something to whine about. That's not what we're going for here. Choose something that brings your family joy! That's the only way it will become sustainable.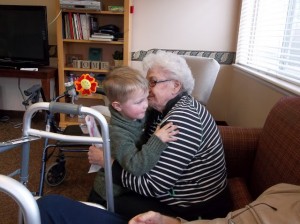 Some kid friendly service activities:
• Host a game booth at Relay for Life to raise money for cancer research
• Sort food at a food pantry.
• Weed an elderly neighbor's garden.
• Have a lemonade stand or bake sale for charity.
• Deliver meals for a program like meals on wheels.
• Be a friend and schedule regular visits to someone who is home bound.
With that in mind, get out there and get your kids engaged in service! It's a great way to bond as a family, to see your children grow in their awareness of the needs of others, and it just might be the cure for the common childhood looks-based attention seeking! 🙂
---
Author Bio: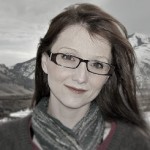 Skyla King-Christison currently living in a neighborhood in Utah that is populated by real, actual cowboys with her husband and three children.
She is author of the book Home Field Advantage: A Guide to Choosing Teaching Methods for Your Homeschooling Champions, a comprehensive, indispensable guide for families teaching their children of all ages at home, and of the blog At Home with Momma Skyla.