Studying abroad is no longer a dream, like most of us imagine it to be. Once you start looking beyond America or United Kingdom – there are a plethora of locations that are both affordable as well as being home to some of the best universities in the world.  One of the many options it to choose Canada as a study destination.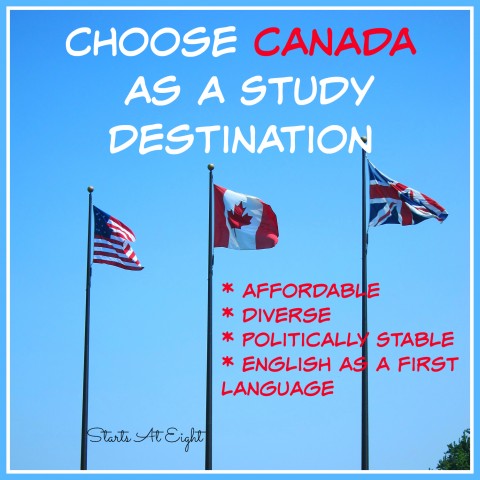 Why Choose Canada As A Study Destination
Affordable: A survey proved that international students who are studying in Canada find the fees lowest among the other western developed countries. Out of 13 countries that were studied, Canada falls 5th in terms of monetary expenditure. The cost of living for an international student for a year would be around $26000 per year.
Diversity: The quality of living if not better, is as good as any top western country. Students come here from all around the world. It is the perfect amalgamation of diversity and culture. Because of the wide crowd that has settled here, people are more liberal and accepting.
Also of the wide ethic groups that are present here, international students feel right at home. There are plethora of recreational places that are dedicated to the various ethnic groups. From restaurants to clubs – you can find everything here.
Degree Value: Canada has a high value for their higher educational degrees. Students who have passed from a Canadian University are highly valued throughout the world. The universities here are some of the best in the world.
Safety: Canada is politically stable, peaceful and all in all a safe country. If you compare it to United States etc. Canada is definitely much safer. Any international student who comes here, should be as careful as they are in their own home country. But other than that, the crime rate is relatively low.
No Language Barriers/Bilingual Nation: Canada has two main languages – English and French. Majority use English as their first and working language.
Work Possibilities: The possibility to get a job in Canada is higher than any other western country. International students who have studied here can work for a year on their student visa. Post that they would have to apply for a work visa. Which is easier to get than US or UK.
Immigration Possibility: International Students who have a Canadian credential and have worked here can opt for immigration or permanent residency. So if you are planning to settle abroad, there cannot be a better place than Canada.
Top Colleges in Canada
University of Toronto

Students who are looking for MBA degree should definitely apply here. It offers the best MBA program in Canada and has ranked 20th of the top 100 list.
You would have to score a minimum of 7 in IELTS. (IELTS is the International English Language Testing System which tests English proficiency across the globe.)
Fees is: 40,000 USD

University of British Columbia

Their engineering program is one of the best especially the Environmental Engineering Program.
You would have to score a minimum of 6.5 in IELTS
Fees is: 24,000 USD

McGill University

Their best program is their Postgraduate degree in Masters of Engineering.
If you apply here you would have to score a minimum of 300 on GRE. (The GRE is the Graduate Record Examinations which is a standardized test taken by students who are applying to postgraduate courses in the US and in some other parts of the world.)
Fees is: Approx 13,000 USD
Apart from these courses most of the universities offer a variety of degrees ranging from bachelors, masters to research and PhD. You would also find certificate courses, offered by some of the institutes. If you want to know more, you would go online and check the prospectus of your shortlisted universities.
 Author Bio:
Trisha is a professional writer and adviser on education and career. She is an ardent reader, a traveler and a passionate photographer. She wants to explore the world and write about whatever comes across her way. You can find her on Google+  and LinkedIn.