Her One and Only is the fourth novel in the Porter series by Becky Wade. This series is a true testament to strength, love, and the power of relationships.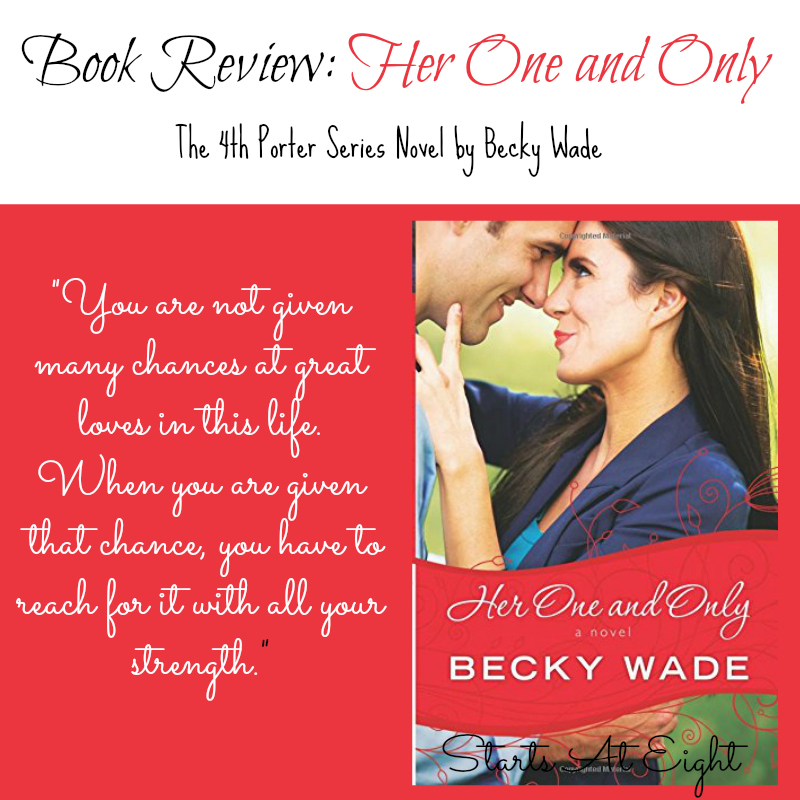 The Porter Series Novels
Undeniably Yours – When Meg Cole's father dies unexpectedly, she's forced to return home to Texas and to Whispering Creek Ranch to take up the reins of his empire – The last thing she has the patience or the sanity to deal with is her father's Thoroughbred racehorse farm. She gives its manager, Bo Porter, six months to close the place down.
Meant to Be Mine – Ty Porter has always been irresistible to Celia Park. All through high school—irresistible. When their paths cross again after college—still irresistible. This time, though, Ty seems to feel exactly the same way about Celia. Their whirlwind romance deposits them at a street-corner Las Vegas wedding chapel.
A Love Like Ours – A glimmer of the hope Jake thought he'd lost returns when Lyndie lands back in Texas, but fears and regrets still plague him. Will Jake ever be able to love Lyndie like she deserves, or is his heart too shattered to mend?
About Her One and Only
After ten years in the NFL, super star Gray Fowler is accustomed to obsessive fans.
But when Gray starts receiving death threats from a stalker, his team hires an executive protection agency to guard him until the culprit is caught. Dealing with bodyguards 24/7 is a headache, especially when one of them is a young, beautiful woman. How can a female half his size possibly protect him better than he can protect himself?
Dru Porter is a former Marine, an expert markswoman, and a black belt—none of which saved her from disaster on her last assignment. In order to rebuild her tarnished reputation, she's determined to find Gray's stalker and, since relationships between agents and clients are forbidden, avoid a romantic attachment between herself and the rugged football player with the mysterious past.
Yet every secret that leads Dru closer to the stalker also draws her closer to Gray. As the danger escalates, they'll survive only if they can learn to trust their lives—and their hearts—to one another.
Purchase a copy of Her One and Only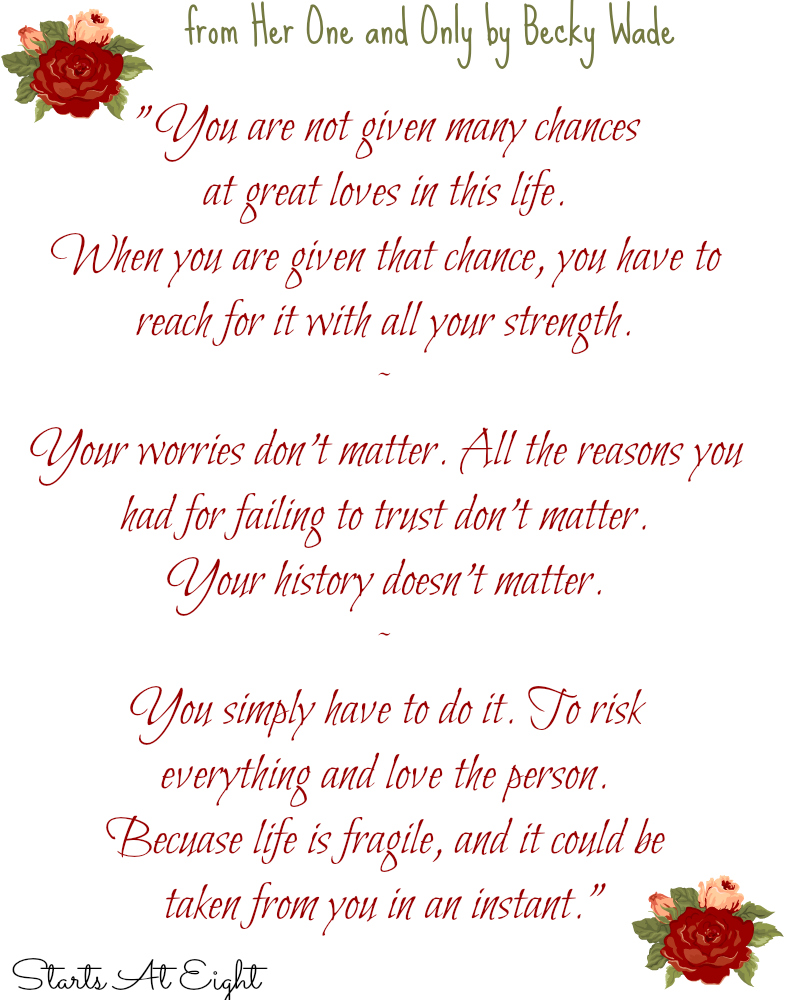 ---
Disclaimer: I want to thank Becky Wade and Litfuse Publicity for supplying me with a copy of this book for me to review. While I received this free of charge in exchange for my review, my opinions are my own, and have not been influenced in any way.
---
About Becky Wade
Becky Wade is a native of California who attended Baylor University, met and married a Texan, and now lives in Dallas. A favorite among readers of Christian contemporary romance, Becky has won a Carol Award, an Inspirational Reader's Choice Award, and an INSPY Award.
Website | Facebook | Twitter | Pinterest | Instagram
What I Thought
I can't believe we have waited years to find out how this story ends!
Each of the books in the Porter Series can stand alone, but reading them all, and following the story of the Porter children has been so fulfilling.
I gravitate towards the messages about strong marriages, the bonds between husband and wife, and the need to find that person who completes you.
What is fun about a series like this is that each book has a focus on one character while the others still play a role. Therefore in each book you see each of the Porter siblings and hear a little about them, but each one is also the focus of one book.
Dru was a little different because she is the only girl in the family. It was awesome to see her mix of strength and vulnerability. Plus we got to see a little bit of each one of her brothers and find out how their lives were turning out!
The Porter Series is a 5 star read in my book!