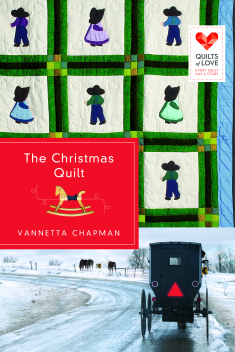 About Christmas Quilt:
Annie's life is deliciously full as the Christmas season approaches. She helps her husband, Samuel, attend to the community's minor medical needs. She occasionally assists Belinda, the local midwife, and most days, she finds herself delivering the buggy to her brother Adam.
Annie's sister-in-law Leah is due to deliver their first child before Christmas morning, and Annie is determined to finish a crib quilt before the boppli (baby) arrives. With six weeks to go, she should have no problem . . . but God may have a different plan.
Leah is rushed to the English hospital when the infant arrives early, and Annie discovers the Christmas quilt may hold a far greater significance than she ever imagined.
Purchase a copy: http://ow.ly/qKnYD

About The Author:
Vannetta Chapman has published over one hundred articles in Christian family magazines, receiving over two dozen awards from Romance Writers of America chapter groups.
She discovered her love for the Amish while researching her grandfather's birthplace in Albion, Pennsylvania. Chapman lives in the Texas hill country with her husband.
Find out more at: http://www.quiltsoflovebooks.com
What I Thought:
I should probably start by saying that I haven't read a ton of Amish fiction, and maybe this book has demonstrated to me one of the reasons why.  If I didn't have to read this for a review I probably would not have finished it.  The first 150 or so just dragged on.  I felt it was difficult to keep straight and get to know the main characters in the book.
While I loved the concept behind the 9 squares of the quilt each representing one of the Fruits of the Spirit, and some of the stories we fulling and endearing, I found the way it was presented to feel choppy.  In contrast to the beginning of the book dragging on, I felt the latter half of the book whizzed through and without enough depth or detail.
One of the things I enjoyed about this book was the glimpse into the Amish world.  From the use or (lack there of) of telephones and automobiles, to the words they used that are different than ours in the English language, I found it interesting to peek into what their lives are like.  The mini Amish dictionary in the back of the book helped to fill the gaps in where the characters may have used an Amish word that you did not understand.  The way they stick together as a community and support each other when in need is so refreshing compared to what seems like a trend in our our for ourselves society.
Find Out What Others Are Saying:
To see what others are saying about this book check out some other reviews here: Quilts of Love: The Christmas Quilt and Aloha Rose Landing Page
---
Disclaimer: I want to thank Vannetta Chapman and Litfuse Publicity for supplying me with a copy of this book for me to review. While I received this free of charge in exchange for my review, my opinions are my own, and have not been influenced in any way.
---
In honor of their new Quilts of Love releases, The Christmas Quilt and Aloha Rose, authors Vannetta Chapman and Lisa Carter are gearing up to ring in the Christmas season with a Kindle Fire HDX giveaway and a "Christmas Bee" Facebook Party on December 10th with fellow Quilts of Love author Lynette Sowell!


One winner will receive:
A Kindle Fire HDX
The Christmas Quilt by Vannetta Chapman
Aloha Rose by Lisa Carter
Enter today by clicking one of the icons below. But hurry, the giveaway ends on November 30th. Winner will be announced at the "Christmas Bee" Facebook Party on December 10th. Connect with the authors from the Quilts of Love series, Vannetta Chapman, Lisa Carter, and Lynette Sowell, for an evening of book chat, quilt trivia, Christmas traditions and gifts, PLUS get an exclusive look at January's Quilts of Love book!
So grab your copies of The Christmas Quilt and Aloha Rose and join Vannetta, Lisa, and Lynette on the evening of December 10th for a chance to connect and make some new friends. (If you haven't read the books, don't let that stop you from coming!)
Don't miss a moment of the fun; RSVP today by clicking JOIN at the event page. Spread the word—tell your friends about the giveaway and party via FACEBOOK or TWITTER. Hope to see you on December 10th!