A Love Like Ours is the third book in Becky Wade's Porter Family Series. But never fear! You don't have to have read the other two previous books in this series to read and enjoy this one!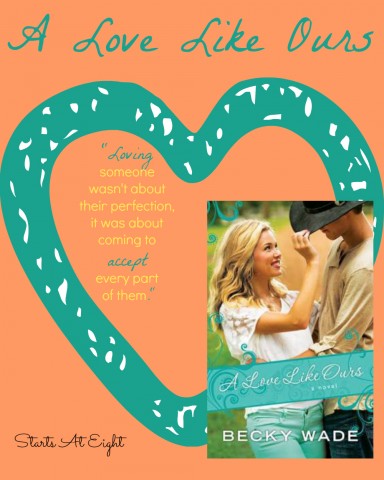 About A Love Like Ours
Fall in love with Becky Wade's new book, A Love Like Ours, a story of healing, romance, and cowboys. A glimmer of the hope Jake thought he'd lost returns when Lyndie lands back in Texas, but fears and regrets still plague him. Will Jake ever be able to love Lyndie like she deserves, or is his heart too shattered to mend?
Former Marine Jake Porter has far deeper scars than the one that marks his face. He struggles with symptoms of PTSD, lives a solitary life, and avoids relationships.When Lyndie James, Jake's childhood best friend, lands back in Holley, Texas, Jake cautiously hires her to exercise his Thoroughbreds. Lyndie is tender-hearted, fiercely determined, and afraid of nothing, just like she was as a child. Jake pairs her with Silver Leaf, a horse full of promise but lacking in results, hoping she can solve the mystery of the stallion's reluctance to run.
Though Jake and Lyndie have grown into very different adults, the bond that existed during their childhood still ties them together. Against Jake's will, Lyndie's sparkling, optimistic personality begins to tear down the walls he's built around his heart. A glimmer of the hope he'd thought he'd lost returns, but fears and regrets still plague him. Will Jake ever be able to love Lyndie like she deserves, or is his heart too shattered to mend?
Click here to read on excerpt.
Purchase a copy: A Love Like Ours
---
Disclaimer: I want to thank Becky Wade and Litfuse Publicity for supplying me with a copy of this book for me to review. While I received this free of charge in exchange for my review, my opinions are my own, and have not been influenced in any way.
---
About Becky Wade
Becky Wade is a native of California who attended Baylor University, met and married a Texan, and moved to Dallas. She published historical romances for the general market, took time off to raise her children, then felt God nudging her to pursue contemporary Christian fiction. Becky's work has been a finalist for both a RITA and an INSPY Award.
Find Becky online: Website, Facebook, Twitter
What I Thought
One of my favorite things about this book (and this series) is that it focuses on characters that are connected together. You can revisit characters in this book that you visited and shared in their stories from previous books in this series.
You can check out my review of the two previous books: Undeniably Yours (Book One) and Meant to be Mine (Book Two). But know that you do not have to read these two in order to read and fall in love with Jake and Lyndie!
Jake and Lyndie's story stands all on their own. I love the under-riding current of a deeper connection between these two that runs throughout the book. Beyond that I love the inside peek you get at the world of horse training and horse racing. The humorous way Lyndie and her neighbor Amber go about fulfilling their 3 date quota will have you laughing and rooting for the two of them to find the true love they so desire. This is a love story worth the read!