Sometimes, there's no easy transition from high school to college. Grads must save for tuition, books, and housing. So, rather than study, prepare for matriculation into a university in the years following high school.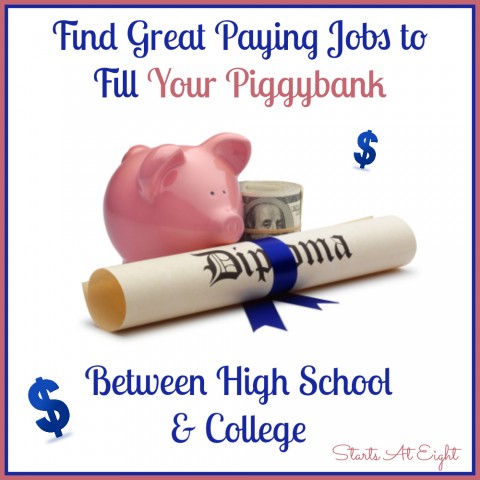 Get a Part-time Job
Ironically, experience impresses those looking to fulfill fulltime positions. So, gather experience after high school by working part time or as a volunteer within your intended industry of study. By the time you get to college, you'll be able to couple theory with actual practice. And, upon graduation, you'll have more to offer employers as compared to peers. You'll be earning money and experience before college.
If you have limited work experience, consider a career in the retail and food industries. You may not become an overnight millionaire, but you can support yourself and get regular promotions within the company. According to Glassdoor.com, a website for employees to rate and review their own companies, the top places to work both before and after high school graduation include:
Home Depot
Lowe's
Starbucks
Apple
Nordstrom
Publix Super Markets
Chipotle Mexican Grill
Whole Foods Market
Costco
Hire a Service
High school grads grow confused as to how to get a job despite hosting sellable skills and qualities. Let a hiring service help you devise a resume, improve interview skills and apply for jobs within your range of experience. There's no time to waste in finding a position, and there's no shame in getting help from professionals with experience in helping high school grads.
Find the Best-Paying Jobs
Find the best-paying jobs that don't require a college diploma. Save more money faster in the years following high school by working a good-paying job. Fashion designers, taxi drivers, and power dispatchers are positions that don't require a college diploma – only dedication to training and learning a trade. Focus your efforts on the following promising industries:
Transportation – Airplane, railway, bus systems and other types of transportation services are always on the lookout for operators, inspectors, repairmen, ticket sellers and security guards. They are willing to train the right individuals, and offer great benefit packages.
Law Enforcement and Security – Police officers, detectives, dispatchers and meter checkers are an integral part of the law enforcement community. Although most police officers attend police academy, it leads to a variety of roles. In addition, you could work as a security guard. One of the best places for security guards to work is Wells Fargo, for example.
Energy – Workers are always needed in solar, gas, electrical and nuclear power plants. In addition, they need help with customer support, billing, meter reading and energy audits. Power line workers get overtime after a storm or other natural disaster.
Computer and IT – Building, securing and maintaining networks, and providing help desk support for computers and software are jobs available with just a small amount of training and certification. Many companies provide their own training programs.
Delivery and Communications – Jobs in the postal service and companies like FedEx and UPS are highly lucrative. Also look in the cellular, cable and satellite services, which also offer training, and competitive pay and benefits.
Attend Fairs
Job fairs are going on all the time. Use online resources to get on mailing lists, and to find the location of fairs in your city and surrounding metro areas. If you live in a rural area, consider applying to jobs in areas with more employers and opportunity.
Bring your resume to the fair and dress for success. Find free resume templates online and via university web sites. Be prepared for on-the-spot interviews and questions about particular employers of interest.
Be Sociable
Never miss an opportunity to make an impression on a stranger or acquaintance who has connections or information related to an open position. Make business cards online or go to an offline vendor, such as Kinkos. Even if you're seeking a position, you have talents. Therefore, put your phone number, skills and address leading to an online resume on the card, and don't be shy about giving them out.
Often, who you know is equally important to what you know after high school. Help others help you via a winning smile and windows of socialization.
Ask the School
High schools continue to help students after graduation. Get aid with job placement and resume building. Ask your school principal or guidance counselor about helping you make money after graduation. Many large companies contact their local high school career counselors looking for sharp, fresh minds.
It's okay to take alternative routes upon graduation. For many, going straight to college while young and immature turns out to be a regrettable mistake. Have the school place an effort toward getting you a great job, rather than into a university.
Making money before earning a college degree is a path a number of high school graduates take. There's money to be made and experience to gain. Be proactive in finding opportunities in addition to asking for assistance.
Author Bio:
Ron Wilson is a high school counselor and father of five who feels a break between high school and college can work for some students. A passionate blogger, he likes to help young people realize their career goals. Look for his enlightening blog posts on various career and educational websites.