Do you feel your kids could help with the daily chores? They will be more willing to get involved if you make cleaning fun. Here are five chores kids will enjoy.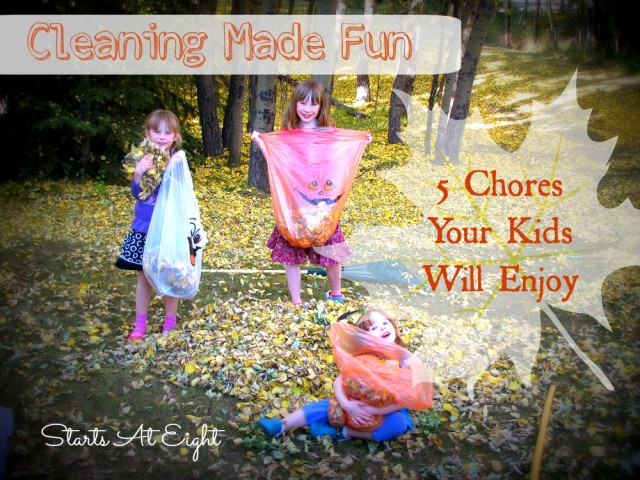 While chores can seem like drudgery to us, kids often find it fun to help out. Use your judgement with the ages of your children and the chores you give them and get them involved in the cleaning. While it might not get done exactly the way you desire, you can involve your kids and get chores done in fun way!
Check out this article with a list of age appropriate chores to help give you some ideas.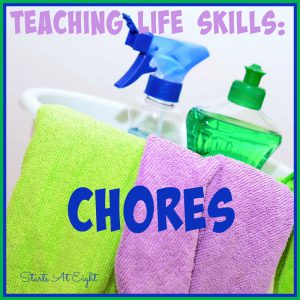 5 Chores Your Kids Will Enjoy
1) Wash the Windows
Summer time is the best time of the year. Your kids like to have fun outside and you enjoy the quietness of your home. But if you want to take this a little further, give your children a hose and a few rags and sponges and get them to wash the exterior of the windows (at least those they can reach). Fill a bucket with water, add some soap and let your kids get the job done while having fun in the sun and water!
2) Dance and Dust
Dusting is a fairly mundane task but if you add a little dancing to it, dust will be gone before you know it, especially if you involve your kids. Choose a fast song. Show them how to dust with their rags and have fun and clean at the same time. Make sure to put away all valuables or breakable items that mean a lot to you. It may be a good idea to supervise them throughout the job, or better yet join them! Pump up the tunes and make work light like Mary Poppins!
3) Clean the Bathroom
Another cleaning routine your kids might find pretty enjoyable is cleaning in the bathroom. Where there are bubbles, there is kids' laughter.  So, if you think that your children would love to lend a hand, just gather them into the bathroom and show how to get the job done. You will need old clothed, old toothbrushes, sponges and soap. Get your small ones to clean the walls and floors. Then make sure to rinse well. Since you don't want them to breathe in toxic fumes, make sure to replace your standard bathroom cleaner with a green cleaning alternative or stick with mild soap.
4) Clean up the Bedroom or Yard
It's really hard to coax your kids into cleaning their own rooms. Generally, they like clutter and are never bothered by the sight of dirty socks on the floor or empty plates on the nightstand. However, there is a way to have your kids willingly clean their rooms.
Often if they know they can make a few bucks, they will be more willing to participate. Ask them to declutter their rooms and to set to the side a few items they never use. After the clean-up, get together and inspect the stuff they have put aside. Decide which items can be sold. Your kids will be happy to make some cash themselves (and will probably want to get rid of lots of stuff for that matter).
Note that this game can be used to clean up the yard as well. Task your kids with gathering leaves, weeds and fallen branches. Offer them an incentive for the number of bags filled, or have them ask the neighbors if they would like their leaves raked for a small fee.
5) Find and Put Away
Children are notorious for scattering their stuff all over the place. Their toys can be found in all the unexpected places such as the cabinet under the kitchen sink or the window sill. Somehow their toys always get lost. Task your children with having a good walk-through of the house and locating all their lost treasures. Then let them sort their stuff, put some things away and trash the rest. No more LEGO pieces under the sofa. Why do we think your kids will have fun during this "game"? Because they will find their long-lost "buddies". Every kid gets excited when they find their favorite stuffed toy or missing puzzle piece.
So, these are five chores your kids will enjoy doing around the home that will make your place much cleaner and tidier!
Author Bio: Kathleen Crane works as a manager of a small cleaning company situated in London and she loves writing about cleaning.
Other Chore Related Articles