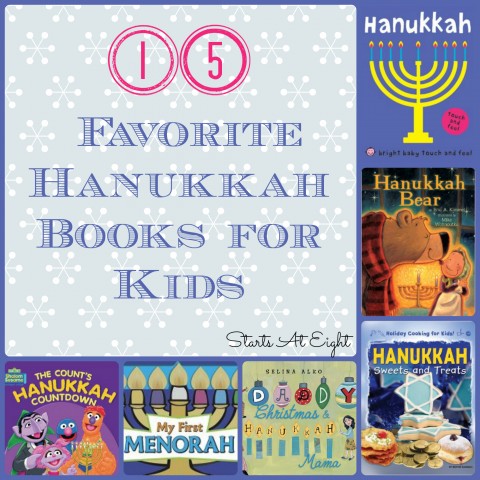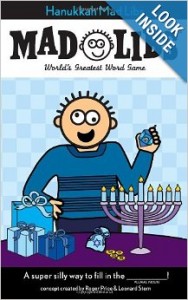 Hanukkah Mad Libs
 – Celebrate Hanukkah with our newest original Mad Libs all about the Festival of Lights! Our book features a ton of hilarious stories about lighting the menorah, spinning the dreidel, and much, much more! With 21 stories, you'll have more than enough blanks to fill in to cover the eight nights of Hanukkah!
Bright Baby Touch and Feel Hanukkah
 – This is an ideal first board book to share with your baby or toddler as a first step to discovering Hanukkah traditions. The pages feature familiar Hanukkah images, such as lighting candles, eating latkes and playing dreidel, and there are lots of different touch-and-feel textures, which little fingers will love to explore.
Light The Lights! A Story About Celebrating Hanukkah And Christmas
 – Every December, Emma and her family celebrate two special holidays. First comes Hanukkah, with dreidel games and lighting the menorah. Then comes Christmas, with carols, bright lights on the tree, and presents for everyone!
Daddy Christmas and Hanukkah Mama
 – At Sadie's house, she has "a mix of two traditions," and so begins the description of what life is like with Daddy Christmas and Hanukkah Mama. Christmas trees and candles, angels and menorahs all come into play. Songs about dreidels and a silent night are sung. Ironically, it's Daddy Christmas who knows how to make the latkes and kugel dressing for the turkey. Then the relatives come and everyone tells stories of their own traditions.
My First Menorah
 – Hanukkah miracles fill the pages of this sparkly foil menorah book! Turn the candle-shaped pages one by one to learn about the eight days of this Jewish holiday and celebrate with blessings, gifts, and family fun.
Hanukkah For Kids: The History, Traditions, Foods, and Games of This Important Jewish Celebration
 – an entertaining and educational guide to Hanukkah for you and your children. You will discover…  The Meaning of Hanukkah,   How Did Hanukkah Start,  What We Do on Hanukkah, Hanukkah Foods,  The Dreidel, How to Play Dreidel, Hanukkah Gifts, The Menorah, How to Light the Menorah, The Blessings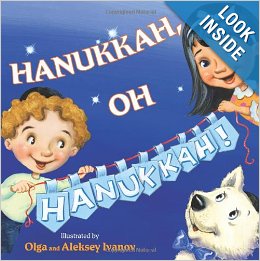 Hanukkah, Oh Hanukkah!
 – A family gathers joyfully to celebrate Hanukkah by lighting the menorah, enjoying tasty latkes and other holiday dishes, dancing the hora, and spinning dreidels. Based on a popular Yiddish folksong (music included), the text and illustrations portray the warmth, beauty, and historical significance of the Jewish holiday
The Trees of the Dancing Goats
 – Trisha loves the eight days of Hanukkah, when her mother stays home from work, her Babushka makes delicious potato latkes, and her Grampa carves wonderful animals out of wood as gifts for Trisha and her brother. In the middle of her family's preparation for the festival of lights, Trisha visits her closest neighbors, expecting to find them decorating their house for Christmas. Instead they are all bedridden with scarlet fever. Trisha's family is one of the few who has been spared from the epidemic. It is difficult for them to enjoy their Hanukkah feast when they know that their neighbors won't be able to celebrate their holiday.  Based on a long cherished childhood memory, this story celebrates the miracle of true friendship.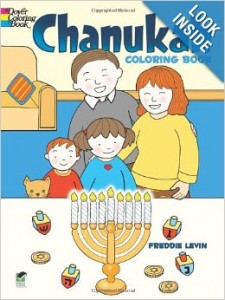 Chanukah Coloring Book (Dover Holiday Coloring Book)
 – From lighting the menorah to making potato latkes, this coloring book celebrates beloved Chanukah traditions. Color 25 endearing scenes of a family's preparations for the winter festival and their joyous observances — making decorations, exchanging gifts, learning the story behind the holiday, and following other treasured customs.
The Hanukkah Mice
 –  With flaps hiding shiny foil surprises, readers will find a different Hanukkah tradition on each page, until the very end when they finally discover the beautiful menorah, with all eight candles burning bright.
Festival of Lights: The Story of Hanukkah
 – Long ago in Jerusalem, the greedy king Antiochus IV ordered his soldiers to steal treasures from the Holy Temple. When the Jews tried to defend their temple, the furious king punished them harshly, and the Jews were forced to observe their faith in secret. But a brave man named Judah led his people, the Maccabees, against the king's armies. Victorious, the Jews restored the Holy Temple. They dedicated it once again to God in a joyous celebration — the very first Hanukkah.
Hanukkah Around the World
 – Provides a history of Hanukkah's origins, a discussion of current traditions, and fictional stories (set in Israel, the U.S., Turkey, Uzbekistan, Italy, Australia, Poland, and Tunisia) highlighting the ways in which contemporary families celebrate the Festival of Lights. For each country the author includes a large map, full-color paintings, a nation-specific historical sidebar, and a holiday recipe.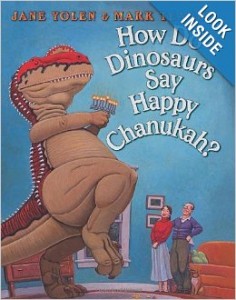 How Do Dinosaurs Say Happy Chanukah?
 – From the warm glow of holiday candles in the menorah to the fun of family gatherings, little dinosaurs love to celebrate the Festival of Lights. But sometimes the excitement of Chanukah, its treasured rituals, and the tradition of gifts can tempt a youngster to misbehave. . . .  Come along on a joyful romp filled with tumbling dreidels and melting gelt as America's favorite prehistoric pals spread a little mischief this season. Children will laugh out loud as dinosaurs fidget, fuss, and stomp through every occasion, while their human parents shift from shock to weary patience.
Hanukkah Bear
 – A bear wakes to a wonderful smell that leads him to the house of Bubba Brayna. Bubba Brayna makes the best latkes in the village, but at ninety-seven, she doesn't hear or see well. When the bear arrives at her door, she believes he is her rabbi.  Bubba Brayna and the bear light the menorah, play the dreidel game, and eat all the latkes. The mix-up is revealed, Bubba Brayna has a laugh about it, and everyone works together to make more latkes.
The Count's Hanukkah Countdown (Shalom Sesame)
 – At a gala Hanukkah party on Sesame Street, Grover and the Count welcome visiting Israeli Muppet friends Brosh and Avigail, tell the story of Hanukkah, feast on latkes, and learn that EIGHT is the perfect Hanukkah number.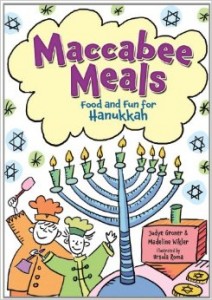 Maccabee Meals: Food and Fun for Hanukkah
 – Eight nights of food, fun, and games for Hanukkah. With recipes for young and old, party themes, and holiday trivia.   Beginning with an introduction that emphasizes the victory of the Maccabees over the Syrians and the rededication of the Holy Temple, the book is organized into eight festive meals including a brunch, afternoon tea, Shabbat dinner, winter picnic, and Rosh Chodesh Twilight Supper. Each one features a type of latke, stretching the definition to include several nontraditional items that contain no potatoes but are fried in oil, such as Apple Latkes.
Hanukkah Sweets and Treats (Holiday Cooking for Kids!)
 – Families will enjoy celebrating the Festival of Lights with the delicious treats they learn to make! Readers will be introduced to the Traditional Hanukkah favorites, as well as some exciting new ideas, as they begin making treats. The recipes are presented with fun, easy-to-follow instructions and are accompanied by full-color photographs.
---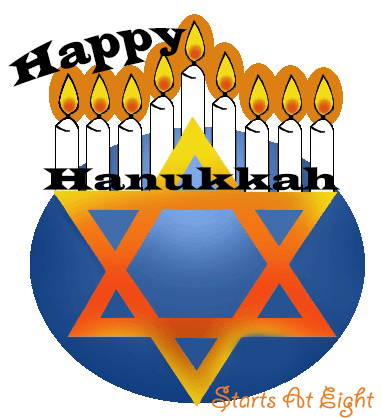 For more Hanukkah books, activities and resources check out my Learn About Hanukkah for Kids post.
Enjoy things like:
Hanukkah videos
Coloring Sheets
Hanukkah Printables
Hanukkah Crafts
Flashcards
More Great Hanukkah Books for Kids