Welcome to the 12 Pearls of Christmas!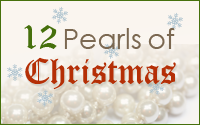 Enjoy these Christmas "Pearls of Wisdom" from some of today's most beloved writer's (Tricia Goyer, Suzanne Woods Fisher, Shellie Rushing Tomlinson, Sibella Giorello and more)! Please follow the series through Christmas day as each contributor shares heartfelt stories of how God has touched a life during this most wonderful time of the year.
AND just for fun … there's also a giveaway! Fill out this simple form and enter for a chance to win a beautiful pearl necklace and earring set ($450 value). Contest runs 12/14 – 12/25 and the winner will on 1/1. Contest is only open to US and Canadian residents. You may enter once per day.
If you are unfamiliar with Pearl Girls, please visit www.pearlgirls.info and see what we're all about. In short, we exist to support the work of charities that help women and children in the US and around the globe. Consider purchasing a copy of Pearl Girls: Encountering Grit, Experiencing Grace or one of the Pearl Girls products (all GREAT gifts!) to help support Pearl Girls.
***
A Christmas of Kindness
By Suzanne Woods Fisher
"You can give without loving, but you can¹t love without giving." Amish proverb
I do it every year.
I plan for a simpler, less stressful Christmas season and, every year, by Christmas EveŠ I'm exhausted! After our delicious and very-time-consuming-to-make traditional Swedish meal to honor my husband's relatives (think: Vikings), it's time to head to church. I'm embarrassed to admit it, but the last few Christmas Eve's, I have sent my husband and kids head off without me. The pull to spend an hour of quiet in the house feels as strong as a magnet.
It's odd. My children are young adults now. Wouldn't you think that Christmas would be simpler? Instead, it's just the opposite. Jugging schedules to share the grandbaby with the in-laws, trying to include our elderly parents at the best time of day for them, dancing carefully around recently divorced family members whose children are impacted by the shards of broken relationships.
The thing is: you can simplify your to-do list, but you can't really simplify people. We are just a complicated bunch.
Here's where I borrow a lesson about simplicity from the Amish. It's easy to get distracted with the buggies and the bonnets and the beards, but there's so much more to learn from these gentle people if you're willing to look a little deeper.
Yes, they live with less "stuff" and that does make for a simpler, less cluttered life. But it's the reason behind it that is so compelling to me: they seek to create margin in their life. Not just empty space‹but space that is available to nourish family, community, and faith. Their Christmas is far less elaborate than yours or mine, but what they do fill it with is Šoh so right.
Christmas comes quietly on an Amish farmhouse. There is no outward sign of the holiday as we know it: no bright decorations, no big tree in the living room corner. A few modest gifts are waiting for children at their breakfast place settings, covered by a dishtowel. Waiting first for Dad to read the story of Christ's birth from the book of Luke. Waiting until after a special breakfast has been enjoyed. Waiting until Mom and Dad give the signal that the time has come for gifts.
Later, if Christmas doesn't fall on a Sunday, extended family and friends will gather for another big meal. If time and weather permits, the late afternoon will be filled with ice skating or sledding. And more food! Always, always an abundance of good food. Faith, family, and community. That is the focus of an Amish Christmas.
And it's also how the story begins for A Lancaster County Christmas, as a young family prepares for Christmas. A winter storm blows a non-Amish couple, Jaime and C.J. Fitzpatrick, off-course and into the Riehl farmhouse. An unlikely and tentative friendship develops, until the one thing Mattie and Sol hold most dear disappears and thenŠ. Ah, but you'll just have to read the story to find out what happens next. Without giving anything away, I will say that I want to create a Mattie-inspired margin this Christmas season. Mattie knew inconveniences and interruptions that come in the form of people (big ones and little ones!) are ordained by God. And blessed by God.
Creating margin probably means that I won't get Christmas cards out until the end of January, and my house won't be uber-decorated. After all, something has to give. But it will mean I make time for a leisurely visit with my dad at his Alzheimer's facility. And time to volunteer in the church nursery for a holiday-crowded event. And time to invite a new neighbor over for coffee. Hopefully, it will mean that my energy won't get diverted by a frantic, self-imposed agenda. Only by God's agenda, the essence of true simplicity.
And that includes taking time to worship Christ's coming at the Christmas Eve service. You can hold me accountable! This year, I will be there.
***
Suzanne Woods Fisher is the bestselling author of The Choice, The Waiting, The Search, and The Keeper, as well as nonfiction books about the Amish, including Amish Peace. Her interest in the Anabaptist cultures can be directly traced to her grandfather, W. D. Benedict, who was raised in the Old Order German Baptist Brethren Church in Franklin County, Pennsylvania. Suzanne is a Christy Award nominee and is the host of an internet radio show called Amish Wisdom and her work has appeared in many magazines. She lives in California. www.suzannewoodsfisher.com.