Homeschooling high school comes with many questions and unknowns. (See the precursor to this series – So You're Scared to Homeschool High School) From how you are going to teach upper level math, to what about prom and everything in between.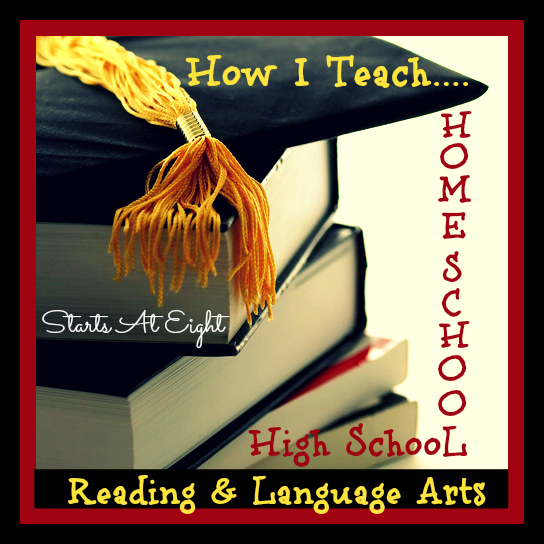 In this series I will share with you some of the ways we are homeschooling high school in our house. Today is all about how I teach homeschool high school reading and language arts.
We are using Lightning Literature and Composition from Hewitt Homeschool for both reading and language arts. We started this program when Chloe (our current 9th grade child) was in 7th grade. I was actually down to the wire with what I felt was a big gap in the subject for her 7th grade year. Upon speaking about it with some other homeschool mothers, one of them suggested I look into Lightning Literature and Composition.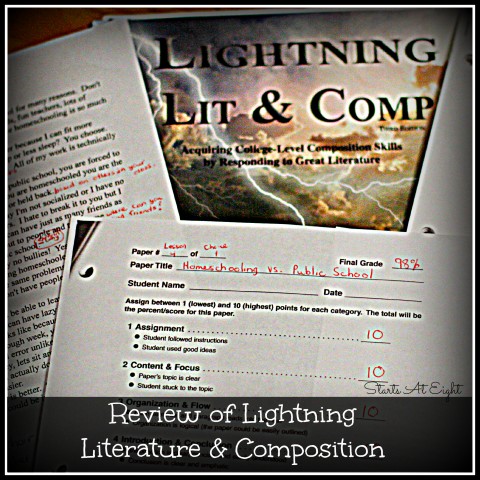 What I have found is that Lightning Literature and Composition is a solid reading and language arts program for both the middle and high school years. From the vast array of quality literature the program uses to the semester and year schedule options that are done for you, this programs is thorough and comprehensive.
What I Love About Lightning Literature and Composition:
quality literature
diversity in reading selections
semester and year schedules for you to chose from
reading comprehension questions included for every selection, even poetry (and the Teacher's Guide contains the answers)
a selection of written paper options to choose from for each lesson (and corresponding reading selection)
each lesson the program teaches is done so by using the reading selection as the specific example for that lesson that is being taught.
In the middle school years there are specific vocabulary lists
includes tips on grading writing as well as checklists and grading sheets to help you (the mom/teacher) better evaluate your child's writing
How We use Lightning Literature and Composition To Homeschool High School Reading and Language Arts:
While this is still not our daughter's favorite program, we use it because of how thorough it is.  From teaching specific writing skills and reinforcing vocabulary, to keeping up with comprehension and including so many classic literature pieces to read, Lightning Literature and Composition is a complete Reading and Language Arts program.   For the high school years you have choice on what type of literature to cover.
List of Course Options for High School:
American Literature Early to Mid 19th Century
American Literature Mid to Late 19th Century
Speech
British Literature Early to Mid 19th Century
British Literature Mid to Late 19th Century
British Medieval
British Christian Late 19th Centuries
American Christian
Shakespeare: Comedies and Sonnets
Shakespeare: Tragedies and Sonnets
World War I: Africa and Asia
World War II: Latin America, Africa, Asia
Our daughter was happy to switch to the high school years because these courses do not contain all the worksheets that the middle school courses do. Speaking from a teaching stand point the worksheets for each topic taught were an important part of building up each written skill in the middle school years. Now the high school years focus on taking those skills and writing more papers with them, thus the student chooses two papers per unit to write.
We follow the semester schedule for high school so that we can cover two courses per year.  We do find them to be quite rigorous to complete.  If your student is a slow or reluctant reader or writer I would suggest using only one course per year, or maybe work through as you can and just start the next one wherever it falls.  You could cross them over from one year to the next.
Join me on a journey through How I Teach Homeschool High School: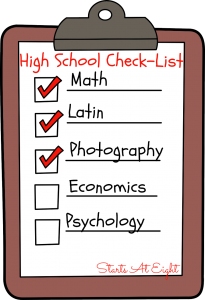 Precursor: So You're Scared to Homeschool High School
Day 1: How I Teach Homeschool High School Language Arts
Day 2: How I Teach Homeschool High School Math
Day 3: How I Teach Homeschool High School Science
Day 4: How I Teach Homeschool High School History
Day 5: How I Teach Homeschool High School Fine Arts
---