As part of my Shakespeare for High School series I would like to like to cover at least one tragedy and one comedy. While we have also covered Romeo and Juliet (which is also a tragedy), for the purposes of talking specifically about a Shakespearean tragedy we are going to study Hamlet.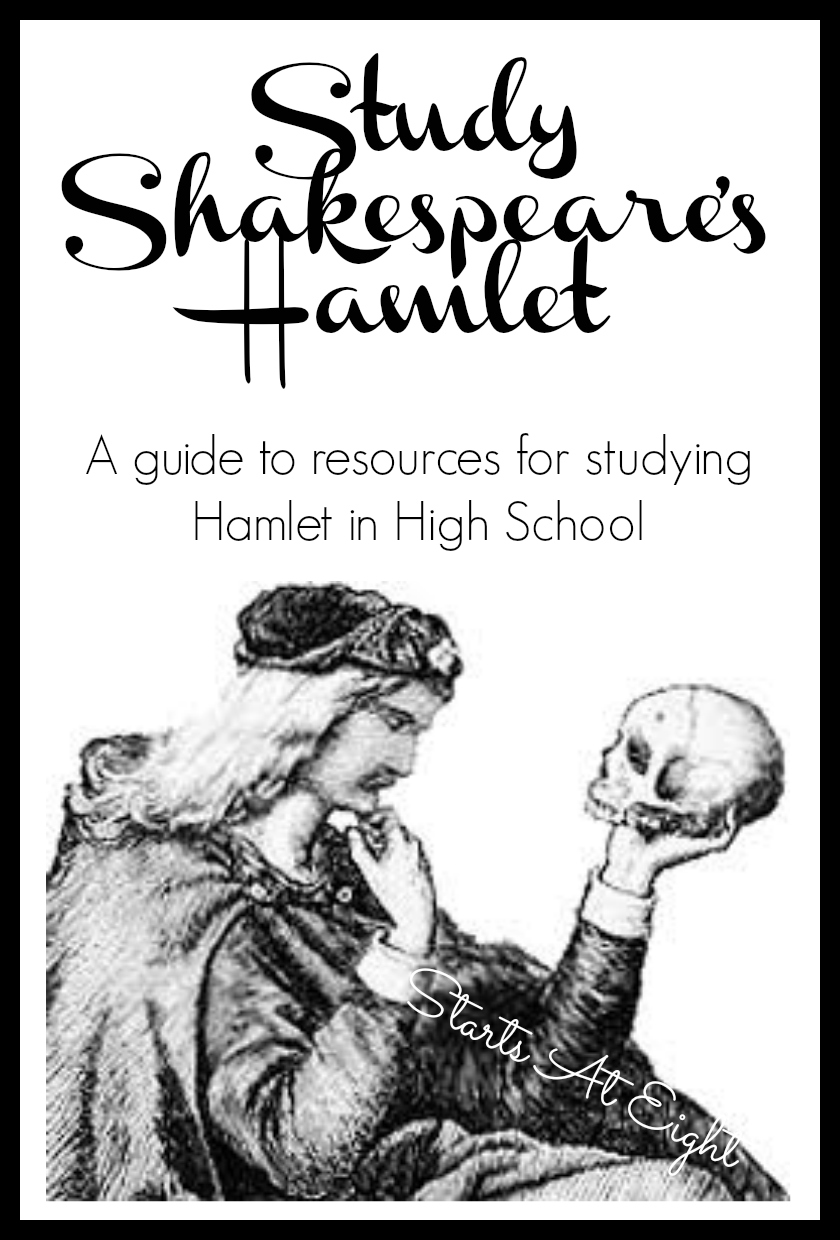 What is a tragedy?
In a tragedy, the main character is doomed by a singular fatal flaw. Shakespeare's tragedies feature a wide array of flaws, and these flaws are the undoing of the main character. For example, you have ambition (Macbeth), vengeance (Hamlet), impulsiveness (Romeo), paranoia (King Lear) and jealousy (Othello).
A tragedy must also end in some tremendous catastrophe involving the death of the protagonist.
Shakespearean Tragedies
Antony and Cleopatra
Coriolanus
Cymbeline
Hamlet
Julius Caesar
King Lear
Macbeth
Othello
Romeo and Juliet
Timon of Athens
Titus Andronicus
Troilus and Cressida
Studying Shakespeare's Hamlet
Brief Summary
Hamlet, Prince of Denmark, is visited by the ghost of his father and told that his uncle Claudius, who is now King, was responsible for his murder. Hamlet is torn about trying to avenge him, and ends up pretending to be insane. He hires actors to do a play about a man who kills his brother to become king to see Claudius' reaction.
Hamlet confirms that Claudius was responsible, ends up being abusive to his mother Gertrude for shacking up with the murderer of his father, and murders his girlfriend Ophelia's dad thinking that it's Claudius.
Ophelia goes insane from having her boyfriend kill her dad and dies. Her brother, Laertes is mad and is convinced by Claudius to kill Hamlet. The two duel, and both are fatally injured. Gertrude accidentally drinks the poison that Claudius had prepared for Hamlet and dies. Hamlet manages to kill Claudius before finally dying himself.
Hamlet via Video
Book Resources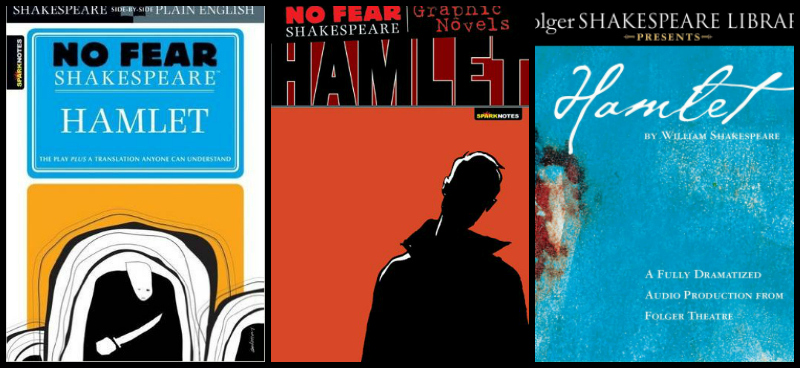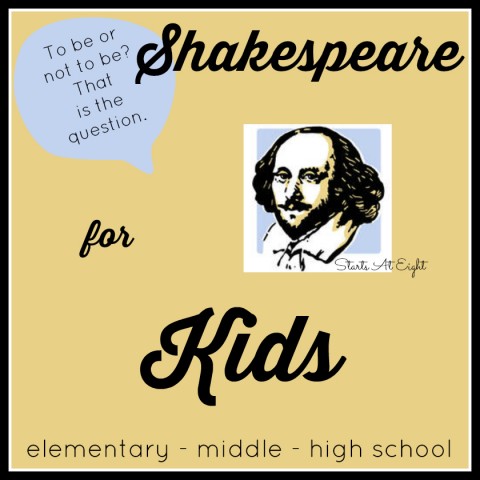 Discussion Questions
Questions to Ask (with answers)
Act One, Scene One 
Q: What is the setting for the play?
A: Denmark; Elsinore Castle
Q: What are Bernardo and Francisco doing at the beginning of the play?
A: They are on watch waiting for their replacements.
Q: What is going on that makes this necessary?
A: There is a military threat from Norway, in the form of Young Fortinbras.
Q: Why is Horatio summoned to the roof of the castle?
A: They want him to witness and/or validate the appearance of the ghost of the dead king.
Q: What decision does Horatio make after witnessing what he does?
A: He decides to tell young Hamlet, because he thinks the ghost will speak to him.
Act One, Scene Two
Q: What has recently happened in Hamlet's family?
A: His father died and his mother married his uncle.
Q: Why is Hamlet being scolded by his uncle?
A: His uncle feels Hamlet has been mourning his father for too long. His mother, Gertrude, tells him to stop dressing in dark clothing.
Q: What does Laertes request of the King?
A: Laertes asks for permission to return to France.
Q: What is a Soliloquy? What is the purpose? How is different from a monologue?
A: Monologues and soliloquies are both long speeches by a single character. A soliloquy is when a character is alone on stage. The purpose is to share his or her thoughts with the audience.
Q: What is Hamlet considering in his first soliloquy?
A: He is contemplating suicide; he will not do it because it is against his religion. He also discusses his hatred for his uncle.
Q: What does this say about his mental state?
A: He is depressed and hopeless; he no longer sees the beauty in things.
Q: How do Hamlet and Horatio know each other?
A: They went to school together in Wittenberg
Q: How is the ghost dressed? How is this interpreted?
A: The ghost is dressed in armor; it is interpreted as foreshadowing a war.
Printable & Study Resources
Classic Stage Company Study Guide – Includes an illustrated plot synopsis, Who's Who, notes on the play and more.
Literature Study – analyzing, vocabulary, written activities and more.
Shmoop Hamlet – A fun video summary with simple character breakdowns.
Shakespeare Made Easy Student Guide – These activity guides are designed by teachers for teachers to help students navigate the complexity. Each guide contains a total of 30 activities divided into six sections of four activities and one review. At the end of each guide is a final test, a variety of culminating activities, and an answer key.
High School Shakespeare Series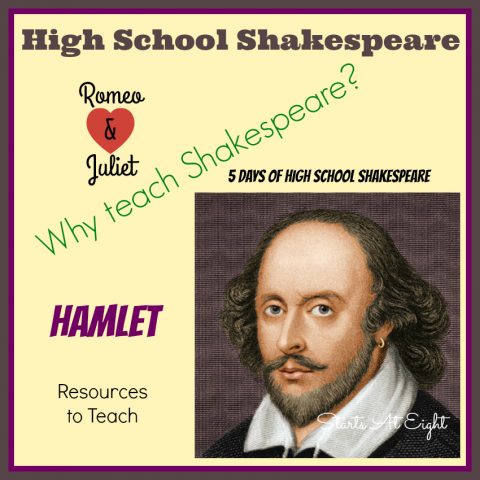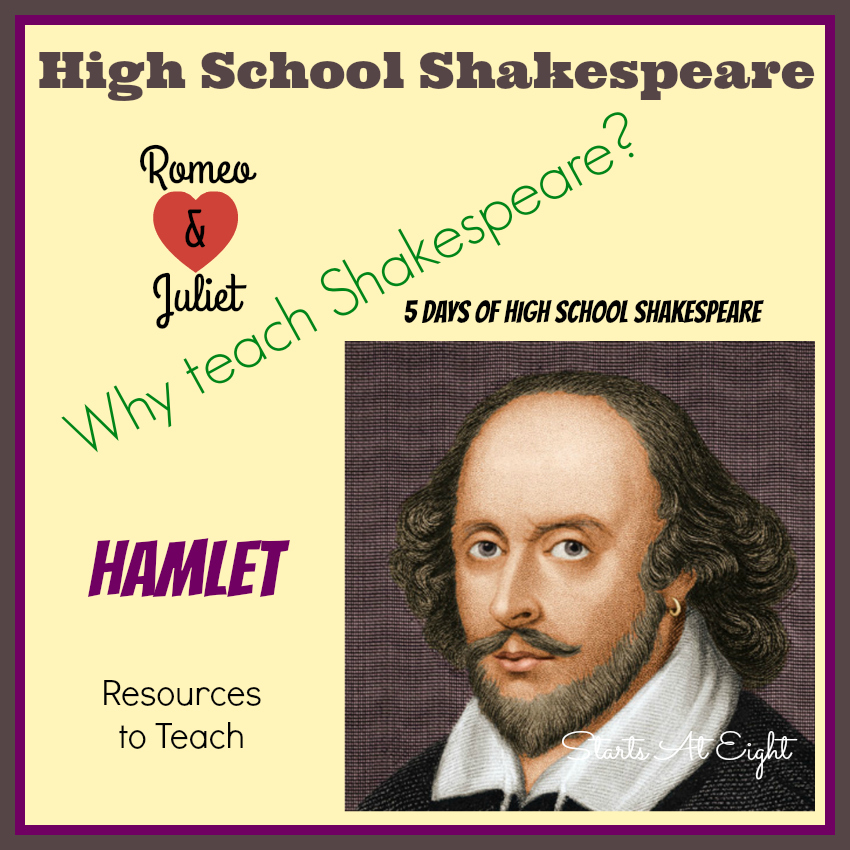 In this High School Shakespeare series I will be covering each one of these topics and linking to them below.
Day One: Introduction and Overview
Day Two: Why Teach Shakespeare?
Day Three: Shakespeare's Sonnets
Day Four: Romeo & Juliet
Day Five: Hamlet (this post)
Bonus: A Mid Summer Night's Dream