It's that time of year again, the time where we are all sighing with relief at another year being complete, and gearing up for the year to come. Typically at this time of year we are putting away last years things and looking for what we will be using for the coming year. If you are looking for a planner then you will be happy to know the 2011-2012 Schoolhouse Planner is available for purchase! Furthermore, it is my pleasure to have the opportunity to review TOS's Schoolhouse Planner for the 2011-2012 year and share my thoughts with all of you.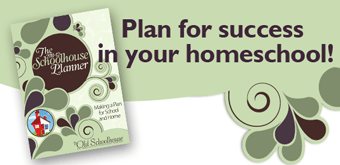 The Schoolhouse Planner contains not only the features you might expect in a homeschool planner – yearly, monthly, weekly, and daily calendars as well as things like report cards, test score records and even a GPA calculating sheet.  It goes on to contain things like field trip planning forms, curriculum planning forms, book log, scouting logs, extracurricular activities, science lab and nature study sheets, etc. Beyond that it also contains planning tools for other areas of your life, such as: household planning forms and schedule charts; grocery, menu-planning, and food logs; and budget and financial planning forms. From Preschooler activity lists, to High School Transcripts; as well as Unschoolers, Co-ops and Unit Study lovers, all your planning needs are in this jam packed 819 page, all in one resource and planner! There are even recipes, articles from seasoned homeschoolers, lists of must know things like:
Kitchen Conversions
Branches of Government
Presidents
Types of Poetry
Books of the Bible
Periodic Table of Elements and so much more!
The feature which stands out most to me about The Schoolhouse Planner is the enormous amount of information you can have all in one place. Not only your standard daily/weekly planning sheets, but things I would have never thought of that are so great to have in one place. For instance, just as I was receiving this planner for review I was beginning to start researching some changes in curriculum for next year. I opened up this planner to find some useful sheets in keeping track of what I found.
1. Websites and Vendors Log – This is a place for me to log the web addresses, company/site names, and notes about places that I want to keep track of. This is great for when something pops up on another blog, or homeschool group, tweet, etc and you don't have time to check it out, but want to find it easily when you have the time. Simply log it here in the interactive fields, save it, and return later.
2. The Curriculum Planning Sheet – which includes fields for subject/grade level/curriculum/price/vendor/contact. This means that as I find items I am really interested in using for the following year, I can log them here and have all the information together when I am ready to purchase.
3. Curriculum Wish List – Ahh, the Wish List. I think every homeschooler has one of these. The things you would like to use when you finish with what you have, or that awesome looking curriculum that you just can't afford right now, or ones to keep in the back of your mind in case what you are using doesn't work out. Either way, this is a great space to keep track of all of them!
We are currently in Summer "Light" Mode here and The Schoolhouse Planner even has a place for that! As you can see in the photo below, on the left side is my daughter's plan for the week. It includes basic generalized subjects that I typed in on the left of the paper, and the specific activities on the right. Then the right piece of paper is the kids Chore Chart. I print one for each one of the kids each week and put in under their planning sheets on their clipboards. It is their way to keep track of their accomplished chores, thus having a chance to earn an allowance for their efforts.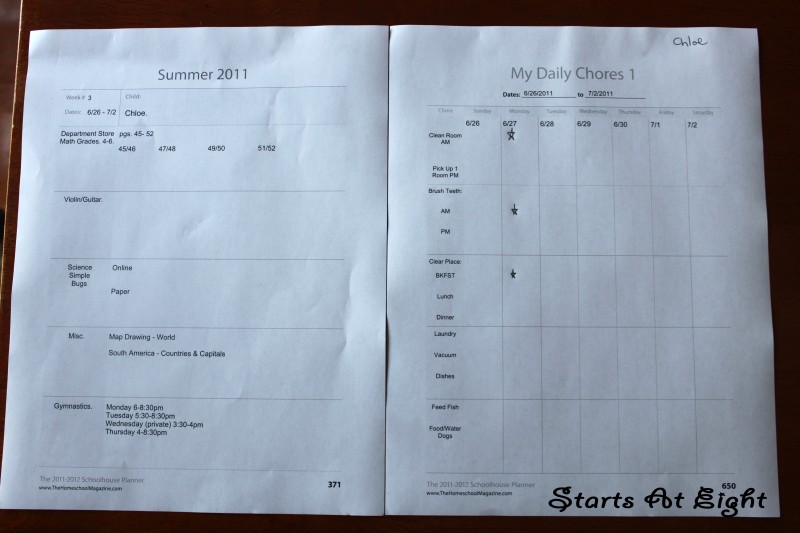 The main thing I wish for this planner is that you could somehow save only a page or a set of pages. For example, I filled out the Summer forms above for two of my children. I would like to be able to save just that page (for each child) – with a file name like ChloeSummer2011LogSheet.pdf – to open again and again to easily print it each week. I know you can save within the planner, but I want to be able to save one page with my son's base activities and one with my daughter's, but I have yet to find a way to do that within the planner. It would be much quicker to open the specific page/file I want instead of opening the 800+ page planner and having to navigate to the form I would like to see and retype it each time I need to switch from one child's information to the other. Of course, this may be possible and I just haven't discovered how to do it yet!
All in all The Schoolhouse Planner is a planner any homeschool family would be blessed to have. With so many options to choose from and extra resources to use it is a purchase worth making!