Science is one of the subjects I don't typically use a curriculum for in the younger years. While this approach has been very hands on, it has lacked some of the structure and order you can benefit from by using a curriculum. The Pearson Homeschool Science Curriculum is one option for adding some structure to your homeschool science lessons.
Pearson Homeschool Science
Interactive science for 1st grade from Pearson Homeschool comes in an easy to use, consumable workbook style format for the student, with online access to the Teacher's Edition eText for the parent.
The Teacher's Edition eText  includes  the Student Edition Text.  Besides just the Student Edition Text, the Teacher's Edition eText  is annotated with answers, and includes lesson plans in detail with the time needed for you to cover each lesson with your student(s).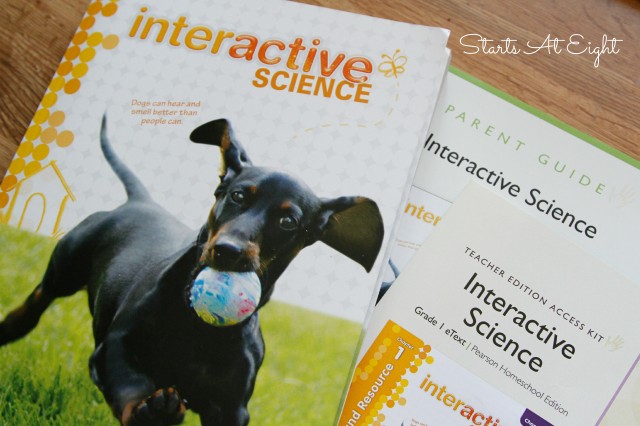 The workbook has large print and large printing lines for young learners.  One of the benefits of this format for young first graders who are newly writing is that the amount of writing required is minimal and plenty of space is given for them to accomplish that writing.
The pages are full of color and include clear, engaging images that your young student can relate to.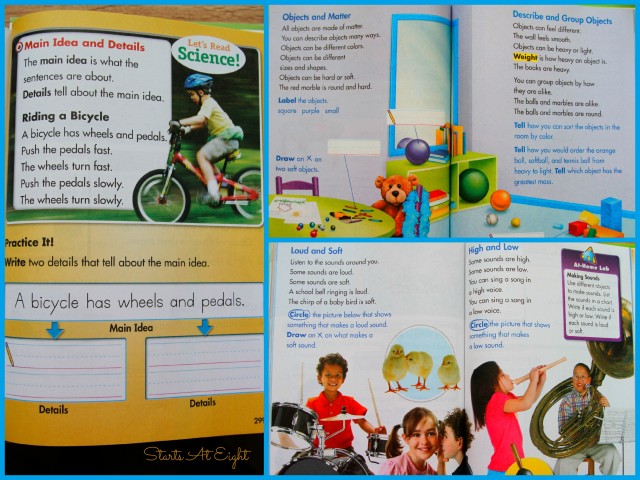 What is Covered
What is a scientist? What do they do? What tools do they use?
Living vs. Non-living
Plants & their parts
Animals & how they grow
Rocks & Soil
The Watercycle
Matter
Energy
Movement
Pre-planned Lessons
If you are looking for a curriculum that is clearly laid out for you, Pearson Homeschool Science provides that. Every chapter is clearly laid out in a predictable sequence with definitions, reading, lessons and a fun Investigate It! hands on learning project at the end. What is very helpful is that each section is clearly defined and in small bite-sized chunks that the attention span of most young learners can manage with ease.
All the materials for the Investigate It! section are common household items that are fairly easy to gather together. If you were looking to simplify even more then you could easily choose not to do the Investigate It! portion at the end of each chapter and just stick to the reading and simple activities in each of the lessons.
---
Quick Practice Tip:
There are Vocabulary Smart Cards scattered throughout the book. I highly recommend laminating them for multiple and future uses.  If you print two sets you can play matching games either just word-word or word-definition. This offers a fun game like manner in which to learn the science terms.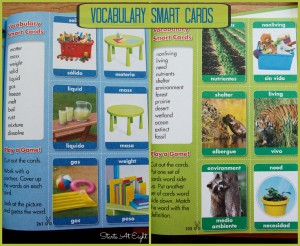 ---
Pearson Homeschool Curriculum Sale
Get 25% off any K­5 Interactive Science bundle through September 15th, 2014:
Use Promo Code BLD25
Also Save 25% on these other Person Homeschool subjects:
Use Promo Code BLD25
enVisionMath Bundle Grades K-6
myWorld Social Studies Bundle K-6
MCP Plaid Phonics Bundle K-6
Follow Pearson Online: