While doing some blog reading and activity searching this weekend, I stumbled upon a new Preschool/Early Learning Activity Site called Making Learning Fun. As I was clicking around looking for things that struck me, I found this My Body Felt Board that I think will be great for Ava. So naturally it is 11:45pm on Sunday night and I am up cutting and tracing pieces onto felt to make this for her.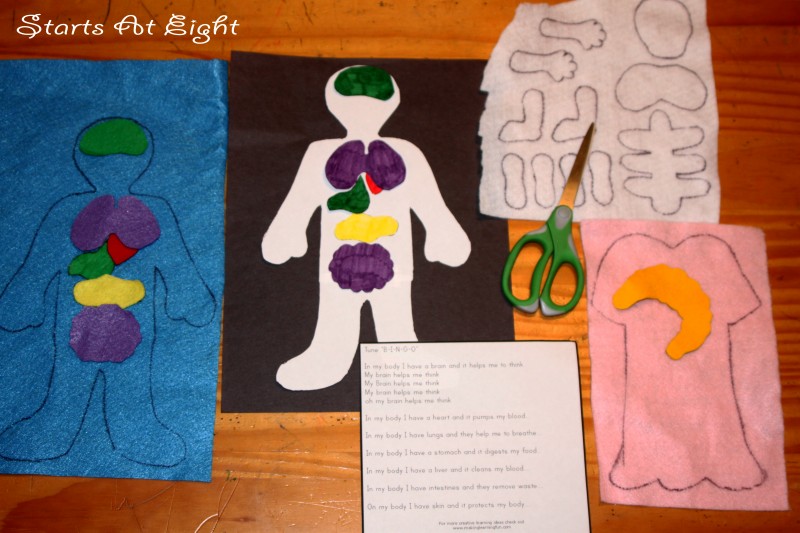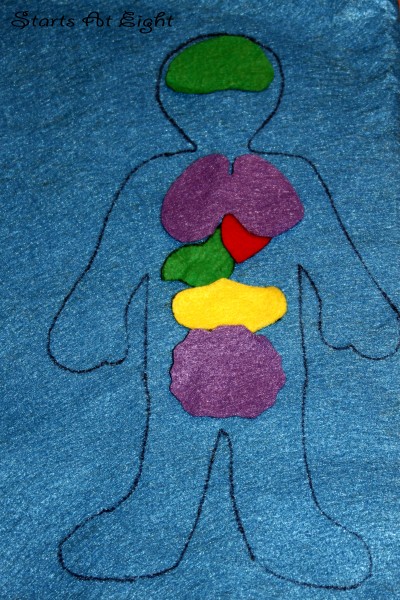 The above photo is the felt body with the basic organs on it, including the brain, lungs, heart, liver, stomach, and intestines. They also do basic bones, including the skull, ribs, pelvis, arms, and legs. This is so cute and preschool friendly. I put it all into a large mailing envelope and added it to her basket of "hands on centers". I especially like the cute words they used put to the song of BINGO for all of the organs and their functions.
In my body I have a brain and it helps me to think.
My brain helps me think
My Brain helps me think
My brain helps me think
oh my brain helps me think.
In my body I have a heart and it pumps my blood…
In my body I have lungs and they help me to breathe….
In my body I have a stomach and it digests my food…
In my body I have a liver and it cleans my blood….
In my body I have intestines and they remove waste….
On my body I have skin and it protects my body….