As you move from elementary school to the middle school years it becomes increasingly more important to teach your student how to plan and organize their academic time.  A good way to work through this process with them is by using a homeschool student planner.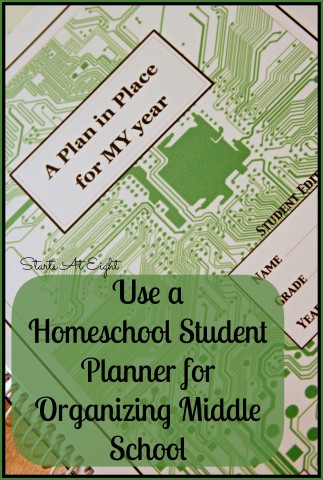 Middle school is a good time to work on planning and organizational skills with your student with a goal of becoming significantly more independent in high school.  One of the best ways to do this is by setting up and using a homeschool student planner with your student.
A Plan in Place offers customizable homeschool student planners that won't break your budget!  For the Student Edition Planner the cost ranges from $19.99 – $29.99.
One thing I noticed right away is the planners sturdy spiral-binding, laminated cover and thick backing to make it a durable resource to withstand the amount of use it will get over the course of a year.
You even get to choose the cover style that meets your child's interests!
There are 4 sections in the Student Edition Planner:

Goals & Planning
Calendars
Weekly Schedule
Notes & Record Keeping
Goals & Planning
Goals & Planning contains key resources for planning and organizing the entire homeschool year.
This section has space for the student to set goals and record information about themselves.
Beyond that, I love the organizational and planning pages to keep an organized record of the student's subjects with corresponding material, books, and curriculum. The Additional Resources List leaves space for the extra resources that pop up along the way!
The Time Schedule pages are an invaluable piece to help your middle school student organize their days.  You can sit down with them to fill out the above mentioned subjects/resources pages and then plan out the time break down of their days accordingly.
This involves them in the planning and organizational process as well as gives them input into how their days will be structured.
Calendars
I love the customization of the calendars!  They give you a full year of month in view calendars and you can decide at what month they start!
Does your homeschool year start in September? No problem!
Does your school report the academic year stating in July?  Then have it start in July!
Do you count your academic years from January to January?  Then have it start in January!
Weekly Schedule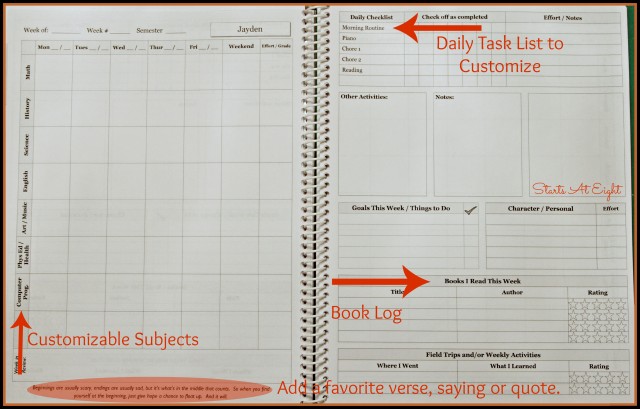 A convenient two page layout makes it easy for me to check on my son's weekly progress. On those two pages I can check his progress in all his academic subjects, view his reading log and daily chores all in one glance!
The first of the two pages per week allows your student to log every subject. Each of these subject lines are customizable when you order your planner.
Then you can customize a daily checklist to suit your needs. We have a white board in our home with a Morning Routine Checklist on it that contains things like making their bed, brushing their teeth, etc. Therefore I included a line for the Morning Checklist in the Daily Checklist location.
Notes & Record Keeping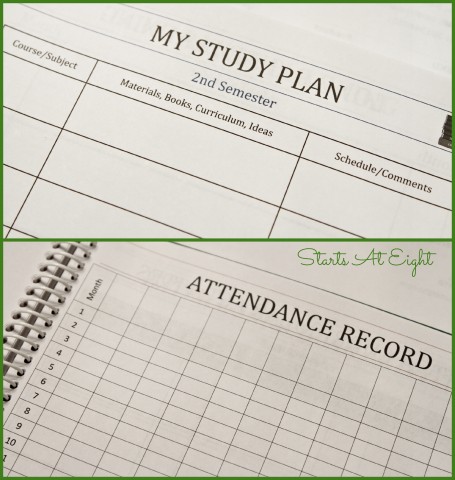 In New York State we are required to keep an attendance record.  The first page in the Notes & Record Keeping section at the back of the homeschool student planner is a full 12 month Attendance Record.
This makes it easy for me to have an accuarate attendance record along with all the other course work and resources lists in this homeschool student planner.
Cost of Homeschool Student Planner
A Plan in Place Planners are an awesome resource tool for your homeschool at a truly affordable price. Plus I love the customization of each planner to suit your needs!
The base price for a non-customized planner is $19.99. But while you are looking at the non-customized planner, be sure to check out the Customized Student Planner options. I have felt it was more than worth the additional $4.99 for the customizable version!
I also chose a couple of other add ons, like the 12-month calendar and a pocket page that can be added for small fees.
Follow A Plan in Place
Have you seen the A Plan in Place Blog?  Over on the blog, Kim Lopez and Suzanne Doeren share about customizing planners, homeschool organization and homeschool planning.
Follow them on social media to receive all their updates and blog posts:
Do you use a homeschool student planner with your homeschoolers? If so share with us their ages and tell us how it works in your homeschool.